EXCLUSIVE: NUB NEWS UP CLOSE WITH LABOUR LEADER SIR KEIR STARMER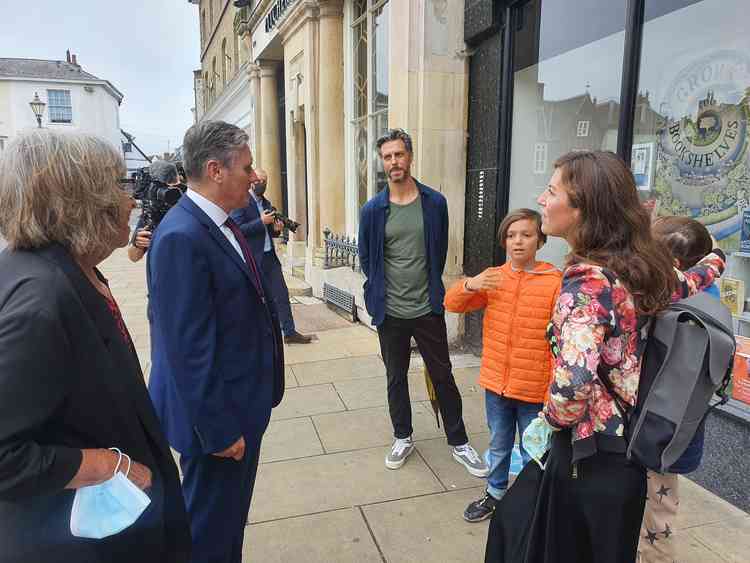 EXCLUSIVE: NUB NEWS UP CLOSE WITH LABOUR LEADER SIR KEIR STARMER. PICTURE: Sir Keir Starmer speaking to successful Hitchin author Zoe Folbigg and her family. CREDIT: Hitchin Nub News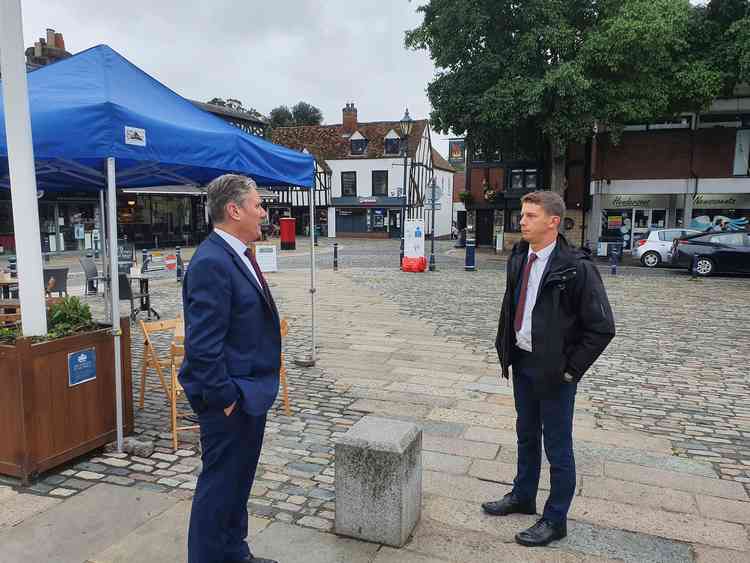 EXCLUSIVE: NUB NEWS UP CLOSE WITH LABOUR LEADER SIR KEIR STARMER. PICTURE: Sir Keir Starmer speaking to Hitchin town centre manager Tom Hardy during his visit to the town. CREDIT: Hitchin Nub News
NUB NEWS UP CLOSE WITH LABOUR LEADER SIR KEIR STARMER
For a man who turned 58 the day before, Labour Leader Sir Keir Starmer had a spring in his step as he visited Hitchin on Thursday morning.
Perhaps it was his evisceration of Prime Minister and foe, Boris Johnson, during Parliamentary questions in the House 24 hours previously.
Starmer's forensic grasp of the facts is legendary, unsurprisingly for a man who can count being a successful barrister and Queen's Counsel on his CV.
And so it was to prove during his visit to Hitchin.
Sir Keir: A man on a mission
Starmer has been busy picking up the pieces after Labour's embarrassing debacle at the last general election.
The party, now his party, were routed in their worst showing at the ballot box in 100 years after the Conservatives picked up a 78 seat parliamentary majority last December – precipitating the fall of previous incumbent and fellow Arsenal supporter Jeremy Corbyn.
Perhaps it was the draw of north Herts that saw Sir Keir return as leader – after he launched his successful leadership campaign in nearby Stevenage back in January, a pre-Covid, lifetime ago.
If 1990s PM John Major escaped the circus to join a bank, Starmer appears to be doing his best not to be seen as a stuffy suit.
Not just because he went to a voluntary-aided state school where one of his classmates was Norman Cook – aka Fatboy Slim.
On the cobblestones of Hitchin's market square, Starmer, off the cuff, spoke engagingly - despite the best intentions of panicky advisers hovering, jawbones taut with a predatory surveillance lest, perish the thought, he go off message.
Starmer chatted with an eloquence and a quiet, understated charisma laced with intellect, to successful Hitchin author Zoe Folbigg.
He revealed he had visited Hitchin's renowned music festival Rhythms of the World, which is sadly no more, the pair also finding commonality through a warm discussion about a mutual friend.
Of course, Starmer being the consummate pro, deftly swerved a question on what was his favourite animal, posed by Zoe's adorable boys.
While his fidgety advisors held their breath, the laughable absurdity of their fretting over an unscripted Starmer played out numerous times during the political satire The Thick Of It, the magisterial Labour leader, full of an easy and effortless charm, sidestepped the issue, preferring to complement the bright youngsters by highlighting their animal laden t-shirts. ('He was a nice man' the boys agreed, confiding to Nub News afterwards.)
For a man with Labour in very his DNA – his parents, loyal party supporters to the core, named him after Keir Hardie, the legendary politician with social justice flowing through his veins – in person, Starmer is alert, articulate, engaged and intelligent.
But why was Starmer here, in Hitchin?
With the constituency a Conservative stronghold since before anyone can remember, and with present Tory incumbent Bim Afolami holding a 7,000 majority from the last election – surely there was no reason for him to think a Labour leader could influence opinions by deigning to visit such a blue fortress?
"I'm coming here to visit Hitchin to look at local businesses and talk to local people," Sir Keir told Nub News in an exclusive interview, adding he was trying to: "Understand how the last few weeks and months have been for everyone here and learn about the challenges ahead – so it's fantastic to be here."
It hadn't escaped his attention that Hitchin is a town full of creative talents and independent businesses – many of which are attempting to flourish, as they emerge once again, following lockdown.
Fresh from his excellent performance in the House of Commons against a rambling, stumbling and at times bumbling performance from PM Johnson, it was indicative Starmer appeared to have had done his homework on Hitchin.
When asked his views on government support for people and businesses during the Covid crisis he replied: "I think the government needs to support all sectors - it's really good to see businesses here in Hitchin have opened once again.
"I've been busy here," he added, saying: "I've been hearing that 95 per cent of businesses are back up and running and that's collective spirit – which is great to see."
Perhaps it was understandable he would not be drawn on the thorny issue of unitary councils in Hitchin and up and down the country when asked.
Even if a report commissioned by the County Council Network suggested replacing two-tier authorities, such as Hertfordshire, with 'unitary' authorities, could save almost £3bn over five years - Starmer remained tight-lipped to say: "I don't think I'm discussing a unitary council at this stage."
No matter. The Labour leader had more pressing topics at hand. Such as how Hitchin is coping post-lockdown.
He spoke with energetic town centre manager Tom Hardy who explained how he sucessfully facilitated the welcome provision of PPE to allow businesses to function in the town centre in the post-lockdown world.
Hardy represents the umbrella of the Hitchin Business Improvement District and the Hitchin Initiative - an effective and award winning town partnership whose aim is to ensure Hitchin thrives through the efforts of businesses, community organisations, residents and the local authority.
The inquisitive Starmer chatted to, discussed with, and surveyed Hardy at length - as befits a man who became a barrister in the Middle Temple in 1987, Queen's Counsel in 2002 as well as a human rights adviser to the Northern Ireland policing board and the Association of Chief Police officers – while also being a member of the Foreign Office's death penalty advisory panel.
For a man who takes his job extremely seriously – not least from the experience of successfully defending convicts sentenced to the death penalty when he was called to the bar of several Carribbean countries earlier in his career - no wonder Starmer was quietly furious, when, the previous day, PM Johnson falsely accused him of being 'an IRA-supporting leader who wanted us out of NATO.'
Johnson was subsequently slapped down twice by the Speaker – when did that last happen to a PM? – before the outraged Starmer stood up to interrupt his forensic interrogation of Johnson to highlight the years he spent in the province, prosecuting terrorists - who, back then, would have had him killed if they could have.
No wonder Starmer appeared genuinely interested in what Hardy had to say about his sensible and successful provision of PPE for Hitchin businesses.
During challenging times Hardy and his staff stepped up in a bid to keep people safe, and help ultimately save not only businesses in the town - but in a small way lives too.
As Starmer told Nub News: "I have enjoyed visiting Hitchin. It's been good to see the collective spirit shown by people and businesses here."
Perhaps the last word on Starmer should go to the hugely-respected local Labour councillor Judi Billing – who knows the town, county and politics inside out – with her rare but engaging mix of empathy, knowledge and political savvy which has seen her help generations of local people with local concerns.
Judi, who has met more than a few Labour leaders in her time, gave Starmer her emphatic and weighty seal of approval, saying: "I think he's absolutely terrific. An engaging, warm, intelligent man – what more could you want, well, apart from having a woman in charge of Labour.
"He's absolutely the right person for the job and it was great to have him here taking an interest in Hitchin today.
"It was great seeing him take an interest in people and their lives," adding: "He's ust a really nice bloke."