Hitchin Up Close: Lockdown and challenging life events tested me - but now I have Penny says Kate Peto owner of successful VW campervan wedding company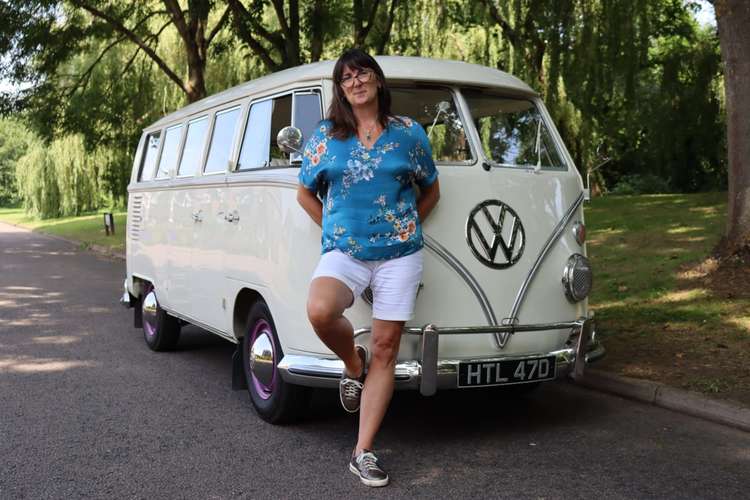 Kate Peto with Penny, her VW campervan specially equipped for weddings. CREDIT: Kate Peto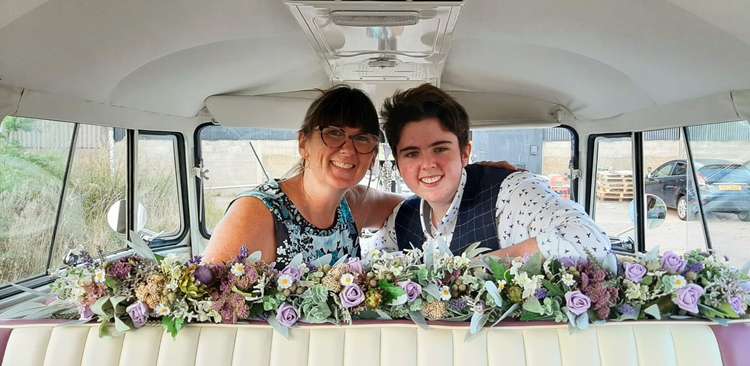 Kate with daughter Amy in VW wedding campervan Penny. CREDIT: Kate Peto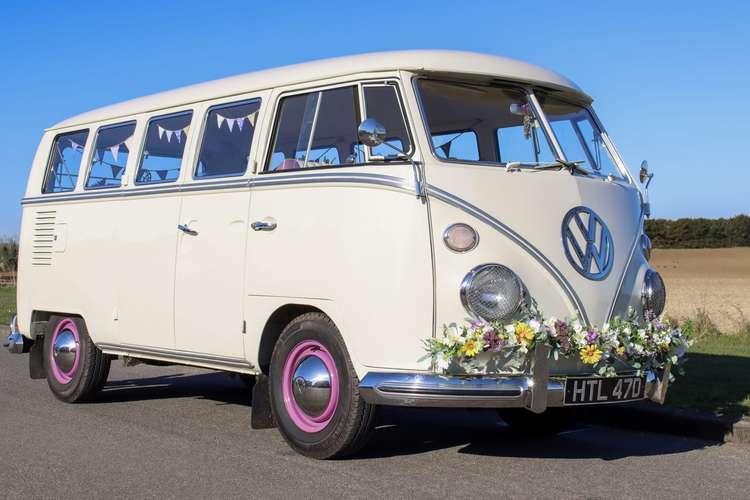 Kate Peto's VW campervan called Penny - specially equipped for weddings. CREDIT: Kate Peto
Hitchin Nub News supports our community, showcasing talented individuals, great businesses, inspiring charities and popular sports clubs.
We highlight some of the most interesting people, companies, charities, community groups and organisations every week in our in-depth Nub News feature called 'Up Close in Hitchin'.
For this week's Up Close meet Kate Peto who runs a successful VW campervan wedding company.
...............
Lockdown and major life events have tested us all over the last few years, but a Hitchin woman has certainly risen to the challenge, to thrive, as the owner of a successful VW campervan wedding business.
Prior to the Covid pandemic, Kate Peto worked as marketing manager for a Hitchin care home, engaging with local community groups and individuals to provide events that inspired and elevated the people she cared for above and beyond the usual offering of simply bingo and knitting.
However after feeling under pressure on lots of levels in her career and private life, Kate became very unwell.
While she was bravely recovering, another blow was dealt, which at the time left her feeling extremely low, when her beloved uncle sadly passed away.
Yet, the sorrowful event was to alter the course of Kate's life entirely, for her cherished late relative had made her his sole beneficiary, with a life changing amount of money.
While Kate was in the process of obtaining her inheritance, the coronavirus crisis struck and the world changed again.
Inspirational businesswoman Kate took the positives from the situation as she recalled to Hitchin Nub News: "The pandemic turned out to be a good thing for me as it enabled me to fully recover from my illness, make changes in my life and plan.
"Last year after the money arrived into my bank account, I decided to buy a camper van and travel.
"While I was investigating which van to buy, I kept seeing vintage models for sale that had been used for weddings.
"I just thought: 'What a great idea, I can do that.'"
Dynamic Kate added: "I'm good at organising things, I love working with people. At the time I didn't know anything about running a business, but I was determined to learn.
"So, last July I brought myself a 1966 Split Screen VW Micro Bus. I've called her Penny, my Lucky Penny."
Meet Penny
Penny is our vintage 1966 split-screen, cream coloured VW Microbus, says Kate proudly.
She is beautifully appointed inside and out just for wedding parties and can be decorated to match your chosen colour scheme, she adds.
"Seating up to seven people (plus the driver) space is the key, with room to carry the bride – and dress – unruffled and in comfort and style.
"Or you can use her to transport your bridesmaids and VIP guests to the reception. The choice is yours," explains Kate.
Kate's journey
After her struggles, Kate is very much looking forward to the process of growing her business.
Kate and Penny already have nine weddings booked in so far this year as a sense of normality returns to the world after the suffocating restrictions Covid imposed on us all.
Kate is also set to exhibit at plenty of wedding fairs throughout the year, and of course, is looking forward to taking part in a lot of networking.
Reflecting on the changes and her subsequent success, modest Kate adds: "I am also involved with as many local events as I can with Penny, I just love her so much I want to share that love.
"I'm doing some stuff with the Todd in Hole guys and I will be in Hitchin Market Square with Penny and a photographer over the Queen's Platinum Jubilee weekend offering photos with Penny.
"I am also hoping to do something with Hitchin Pride too."
Busy Kate says she is making contact with as many local business and creative groups in Hitchin and across North Herts as she can, to not only grow my business, she explains, "but also for the sheer joy of sharing my amazing bus and collaborating with this fantastic community we live in."
Kate adds, "What a journey I've been on. The trip of a lifetime.
"I am happier and healthier than I have ever been, my life has changed beyond recognition."
For more information visit Lucky Penny Weddings
.........
If you or your business or organisation would like to be featured in a future UP CLOSE please email [email protected] or tweet us @HitchinNubNews
[H1]LIKE/FOLLOW NUB NEWS ON FACEBOOK HERE[H1]
...........
A SELECTION OF PREVIOUS HITCHIN NUB NEWS UP CLOSE FEATURES:
UP CLOSE: Hitchin author Danny Pearson on his new brilliant book Life in Extremes
[L]https://hitchin.nub.news/n/up-close-bowled-over---bowmans-and-ickleford-cc-are-the-perfect-match[L+]UP CLOSE: Bowled Over - Bowmans and Ickleford CC are the perfect match
UP CLOSE: Angels' Share owners Harpreet and Preeti's exciting new plans for Lower Stondon's Bird in Hand pub
UP CLOSE: How backpacking trip led to Lauren and Toby creating acclaimed Bite Around the World - that has now catered for Nike, Google and Just Eat
UP CLOSE: Amanda Reed lollipop lady – our town's true unsung Hitchin hero
UP CLOSE EXCLUSIVE interview with Sir Kier Starmer
UP CLOSE: Bim Afolami, Hitchin MP on racism, NHS, Brexit, lockdown, welfare, Marcus Rashford, Kier Starmer and much more
UP CLOSE: Matt Bean, owner of Cantina Carnitas
UP CLOSE: Chris Cheah, owner of Chicken George
UP CLOSE: Fabio Vincenti, owner of Fabio's Gelato
UP CLOSE: Simmy and Jhai Dhillon, owners of Rice and Spice
UP CLOSE: Danny Pearson, Beano comic writer
UP CLOSE:Hitchin Squirrel Rescue
[L]https://hitchin.nub.news/n/feature-hitchin-food-rescue-39seeing-volume-of-food-that-would-otherwise-go-to-waste-makes-it-very-real39[L+]UP CLOSE: Hitchin Food Rescue
UP CLOSE: Adam Howard, organiser BackToSchoolival
UP CLOSE: Hitchin's inspirational Black Lives Matter movement
UP CLOSE: RuPaul revolutionised positive perception of drag among mainstream says north Herts' Magenta
UP CLOSE: The brilliant Keith Jones - master butcher and master crooner
UP CLOSE: Freddy and Em, landlord and landlady of The Half Moon pub
UP CLOSE: Tradee On Demand - the brilliant new app dubbed 'Uber for property maintenance'
UP CLOSE: Flip Connect and Hitchin Town - The Perfect Match
UP CLOSE: Introducing Wellington Evans - Hitchin's newest estate agents
......................
New hitchin Jobs Section Launched!!
Vacancies updated hourly!!
Click here: hitchin jobs