Up Close: Amanda Reed lollipop lady – our town's true unsung Hitchin hero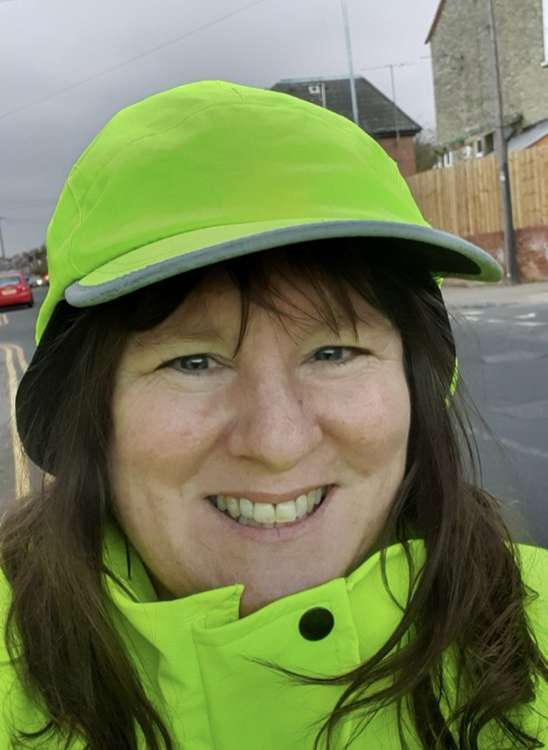 Up Close: Amanda Reed lollipop lady – our town's true unsung Hitchin hero. CREDIT: Amanda Reed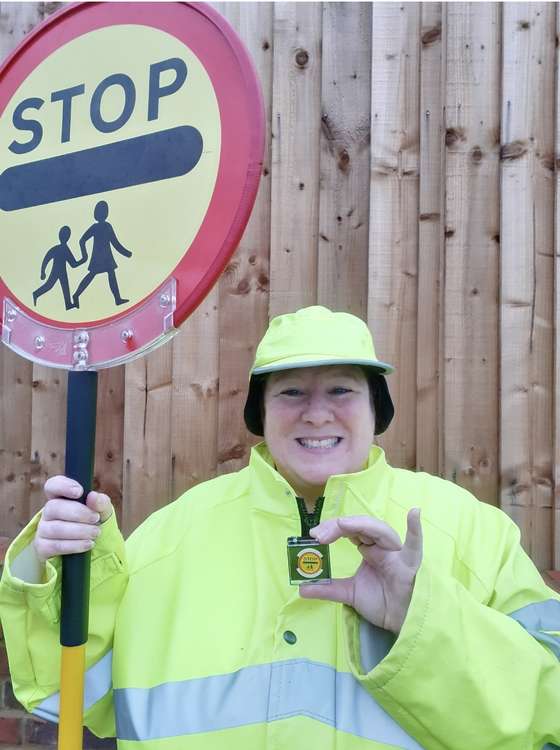 Up Close: Amanda Reed lollipop lady – our town's true unsung Hitchin hero. CREDIT: Amanda Reed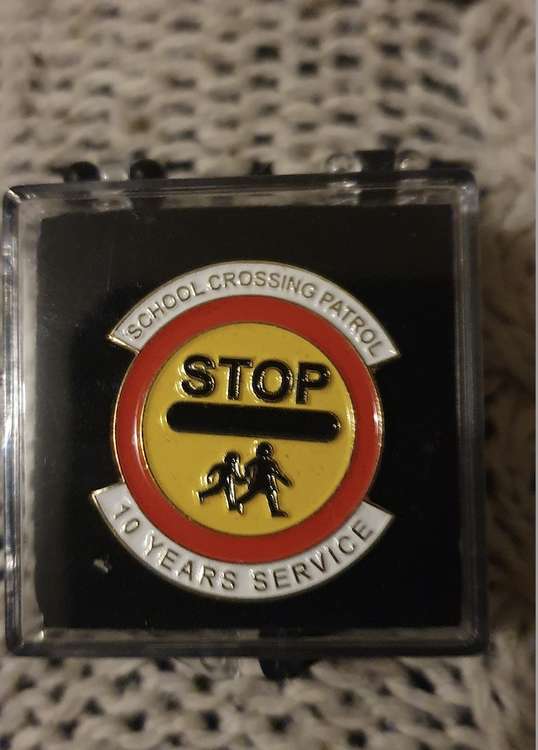 Mandy's service medal that she wears with pride. CREDIT: Amanda Reed
Up Close: Amanda Reed lollipop lady – our town's true unsung Hitchin hero
Lollipop lady Amanda Reed - or Mandy as she is known to many - is a greatly loved member of our Hitchin community, popular for her friendly character and winning smile.
The wonderful Mandy has recently marked a decade's outstanding service in helping to keep our town's children safe.
So, we thought it would be nice for Nub News to shine the spotlight on a true unsung Hitchin hero.
...............
Firstly, congratulations to Mandy, ten years-worth of service, day in day out, in all weathers is something to be proud of.
No wonder she considers it an honour to wear her service medal, awarded to her after a decade's loyal and diligent service.
Mandy says she absolutely loves her job, explaining "I am incredibly proud to be part of our community as a school crossing patrol.
"Over the years I have built great relationships with parents and residents on the road."
The best things about the job
"The best things about being a school crossing patrol is developing a great relationship with a parent and child, as they trust me to get them across the road safely. Everyone knows me as the lollipop lady which is really nice.
"I am a friendly face they see every day and I love interacting with the little ones - especially those that are shy at first, and then once they get to know me, they get more confident and wave, actually speak and say hello. It gives them a confidence boost to know they will get a response from me every time.
"Over the years I have had people stop and thank me for waving at them and having such a happy face all the times.
"I've been told that I make people smile and one lady commuter said she had changed her route so that her and her son could wave at me in the morning on their way to school."
Mandy is part of the fabric of our town and a generation of youngsters have grown up around her. But how do you become a lollipop lady?
The wonderful Mandy was a midday supervisory assistant and wanted another job to work around school hours. The school crossing patrol team came into school and handed out flyers.
Mandy recalls: "I saw one and thought why not, it worked around my other hours of work and genuinely thought it could be fun.
"I went for the interview and when they said I had got it. I couldn't wait to tell people what I'd be doing as they would think I was joking.
"I honestly didn't think I'd still doing it 10 years later that's for sure."
The first British school crossing patrol officer was a Mrs Hunt in Bath, appointed September 1937.
But it was the post-war period that saw lollipop ladies grow in number and popularity, with patrols becoming widely adopted everywhere in a bid to curb the large number of road accidents involving children.
At that time ninety percent of children walked to school unaccompanied. To make lollipop ladies more distinctive they were issued with a 'lollipop', white coats, yellow armbands, and peaked caps.
I love my job
The familiar uniform is a reassuring balm to parents everywhere in Hitchin.
No wonder affable Mandy, who patrols on the busy Bearton Road at the intersection with York Road and Brampton Park Road, is a soothing sight.
"Commuters and people who use the road on a regular basis tend to beep and wave," she recounts.
"Even local businessmen who have nothing to do with school will wave at me. I have had people stop and thank me for being such a breath of fresh air due to my smiley face every morning. This makes me love the job.
"I had a lady who stopped and came over to me, I had never met her before, so I thought she was asking me for directions, but she said she drove down the road every day and wanted to thank me for putting a smile on her face as I made her laugh.
"She said to keep up the good work and then left. I was rather in awe for most of that day.
"On another day, I had another lady stop and gave me a box of chocolates as she said wouldn't be seeing me on her way to work anymore, but wanted to say thank you.
"I honestly didn't realise I had made such a difference to someone's life by simply smiling and waving."
I also get to stroke all the lovely dogs
The School Crossing Patrol Service, part of The London Traffic (Children Crossing Traffic Notices) Law passed in 1952.
The act gave any person authorised by the Commissioner of the Metropolitan Police - using the prescribed traffic sign - to halt vehicles allowing youngsters to cross the road safely. Traffic was required to halt before reaching the patrol or be fined the princely sum of £5.
The 1953 School Crossing Patrol Act extended the idea nationally - since then patrols have the right to stop cars to escort adult pedestrians across the road as well as children.
As a lollipop lady Mandy has seen a fair few sights and sounds, while being on the end of kindness and generosity from the Hitchin public.
Being a school crossing patrol I have seen many things over the years, animal lover Mandy tells Nub News.
"I had one commuter who stopped his car, got out shouted he was getting married that day so I gave him a loud whoop and then he got back in his car and drove off.
"I love getting pictures that the children draw of me, or cards they have made especially for me.
"I have a box at home with them all in. I also get to stroke all the lovely dogs that come past me when I am on duty.
"There are certain dogs who will pull on their owners lead if they see me standing there and won't move until they have had a fuss."
Mandy, professional to the last, adds: "I also make sure this does not distract me from doing my job -though but they are quite happy to wait."
You have to have a good sense of humour
The round lollipop was introduced in the 1960s and the uniform changed to the familiar yellow coat in 1974.
However, with the removal of the legal requirement to provide patrols in 2000 many are now disappearing from the streets up and down the land, with communities far poorer for the fact.
Thankfully, that won't be happening in Hitchin anytime soon with our wonderful Mandy – despite the awful weather at times.
"I would say the worst thing about being a lollipop lady is the weather," she confirms.
"It's incredibly unpredictable and can be rather miserable at times. I don't actually mind it raining, however when it's windy and raining then it does get horrible to be standing out in it.
"I tend to focus on the job in hand rather than bother that I'm getting wet though. I don't stay in one place for long as I keep myself moving. I hope I haven't put anyone off driving with me bouncing around in the rain," she smiles.
With a number of schools around her patch, from the York Road nursery to Strathmore as well as Wilshere Dacre, not to mention our town's three secondary schools a stone's throw away, Amanda takes her duties seriously.
"You have to have resilience," she underlines, adding: "You have to be observant, show patience and have a good sense of humour.
"You need to be professional at all times - even in horrible weather conditions. A happy disposition certainly helped me."
The friendly Mandy explains: "I can't recommend this job enough. You get massive job satisfaction from the gratitude you receive from all kinds of people and it's not just for the old and retired.
"I started at 36 so very far away from reiring. I would say a younger person would enjoy it more, but any person would be able to be a school crossing patrol.
"I love making people smile."
Here's to the next ten years of service with Mandy keeping our town's children safe – and making us all smile as well.
In troubling times, we should all be grateful for Mandy being such an outstanding asset in our community.
Mandy reflects with her trademark smile: "Over the 10 years I have seen many children grow up and different families come and go.
"I have made many friends through being a lollipop lady and enjoyed every single moment of it and I honestly say that.
"It certainly has it's moments, but all jobs have those. I am very proud of being a lollipop lady and love the job I do.
"I will continue to be the cheerful person who will give you a wave and smile if you beep or wave at me regardless whether you are a group of big burly lads in a scaffolding truck to a family in a car with children waving from the backseat.
"One of the best things in life is seeing a smile on a person's face and knowing they are smiling because of you."
.........
A SELECTION OF PREVIOUS HITCHIN NUB NEWS UP CLOSE FEATURES:
UP CLOSE EXCLUSIVE interview with Sir Kier Starmer
UP CLOSE: Bim Afolami, Hitchin MP on racism, NHS, Brexit, lockdown, welfare, Marcus Rashford, Kier Starmer and much more
UP CLOSE: Matt Bean, owner of Cantina Carnitas
UP CLOSE: Chris Cheah, owner of Chicken George
UP CLOSE: Fabio Vincenti, owner of Fabio's Gelato
UP CLOSE: Simmy and Jhai Dhillon, owners of Rice and Spice
UP CLOSE: Danny Pearson, Beano comic writer
UP CLOSE:Hitchin Squirrel Rescue
[L]https://hitchin.nub.news/n/feature-hitchin-food-rescue-39seeing-volume-of-food-that-would-otherwise-go-to-waste-makes-it-very-real39[L+]UP CLOSE: Hitchin Food Rescue
UP CLOSE: Adam Howard, organiser BackToSchoolival
UP CLOSE: Hitchin's inspirational Black Lives Matter movement
UP CLOSE: RuPaul revolutionised positive perception of drag among mainstream says north Herts' Magenta
UP CLOSE: The brilliant Keith Jones - master butcher and master crooner
UP CLOSE: Freddy and Em, landlord and landlady of The Half Moon pub
UP CLOSE: Tradee On Demand - the brilliant new app dubbed 'Uber for property maintenance'
UP CLOSE: Flip Connect and Hitchin Town - The Perfect Match
UP CLOSE: Introducing Wellington Evans - Hitchin's newest estate agents
......................
If you or your business or organisation would like to be featured in a future UP CLOSE please email [email protected] or tweet us @HitchinNubNews
New hitchin Jobs Section Launched!!
Vacancies updated hourly!!
Click here: hitchin jobs