Up Close: Angels' Share owners Harpreet and Preeti's exciting new plans for Lower Stondon's Bird in Hand pub - find out more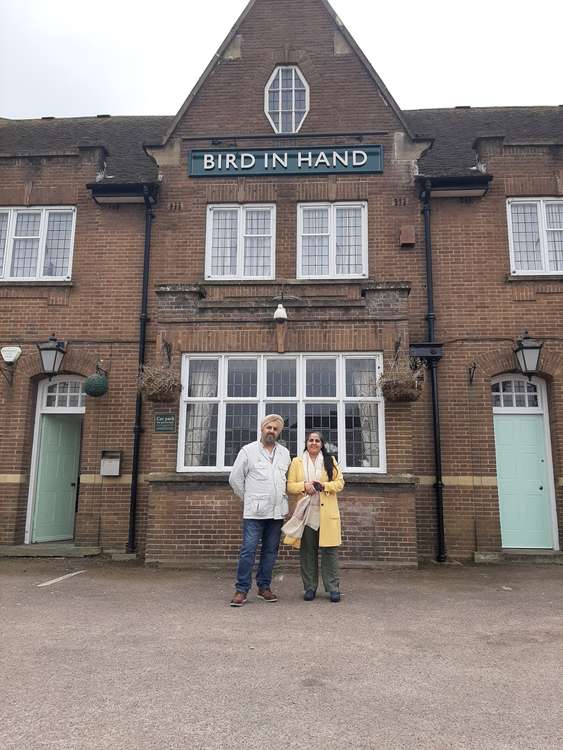 Up Close: Lower Stondon's Bird in Hand under new management - find out more. PICTURE: Harpeet and Preeti outside the Bird in Hand. CREDIT: Harpreet Singh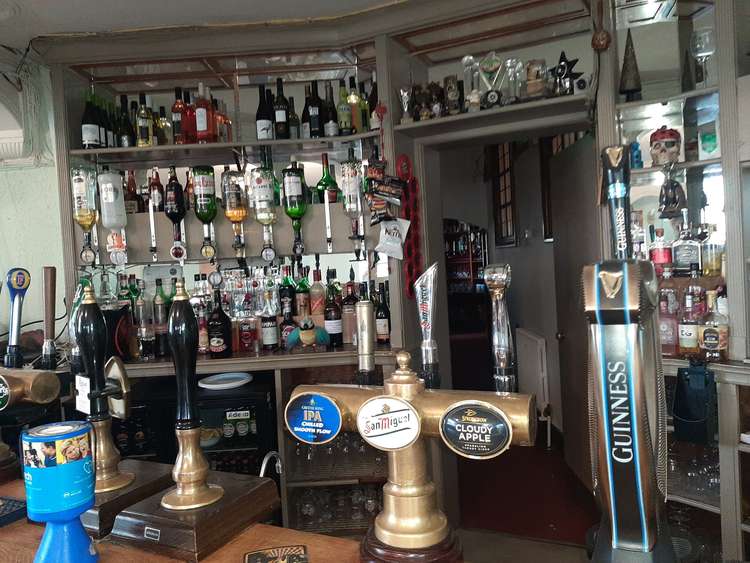 The Bird in Hand is under new management with the bar being refurbished by Good Earth Decorators, Richard Vickery and Jo Calver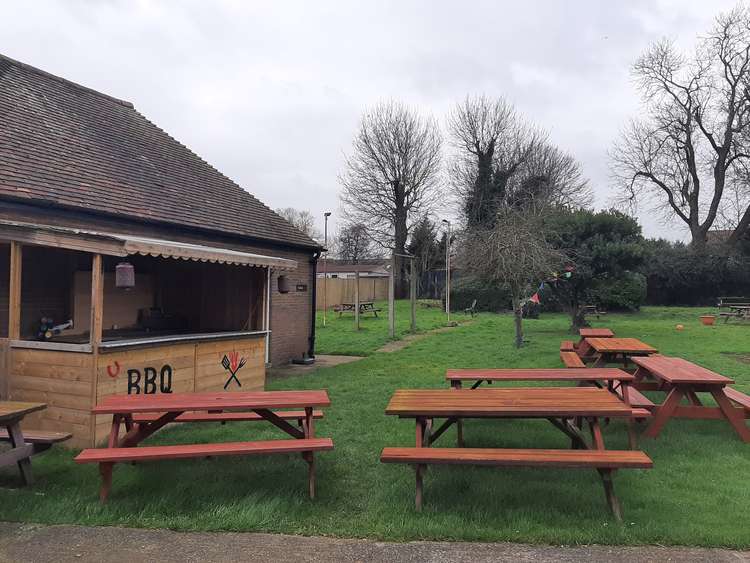 The BBQ hut and spacious play area at the Bird in Hand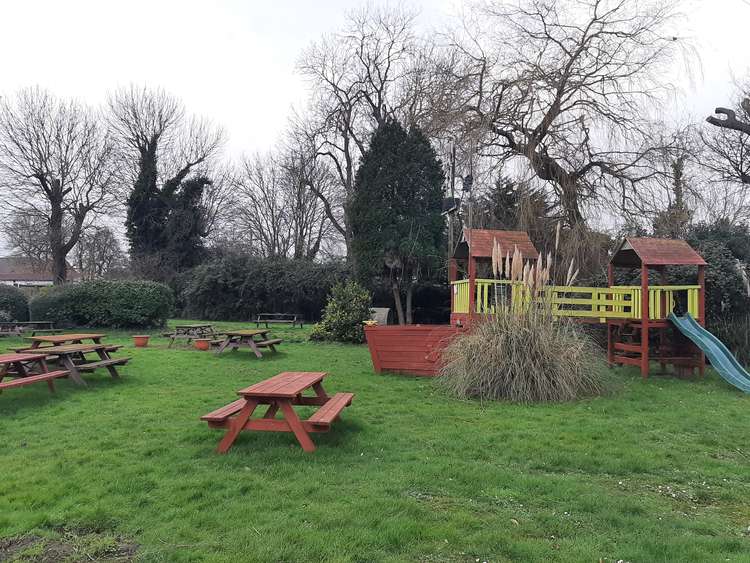 The spacious play area at the back of the Bird in Hand
[H1]Hitchin Nub News supports our community, showcasing stores, businesses, charities, clubs and sporting groups.[H1]
We highlight some of the best businesses, organisations and individuals regularly in a feature called 'Up Close in Hitchin'.
For today's Up Close meet Harpreet Singh and his new venture.
Harpreet is a popular face in Hitchin as owner of The Angels' Share in the Arcade, renowned for its live music and welcoming atmosphere.
He and his wife Manpreet Kaur aka 'Preeti' have now taken over the Bird in Hand pub, 'over the border' three miles away in Lower Stondon near to Henlow Camp.
Read on for his plans to breathe life into a well-known venue.
..............
Residents of Henlow Camp and Lower Stondon are in for a treat with the Bird in Hand pub now under new management.
Under the leadership of Harpreet Singh, the pub re-opened this week in Lower Stondon, a small village in Central Bedfordshire, near to the border of Hertfordshire, with Hitchin a mere three miles away.
Many will be aware of The Angels' Share bar in Hitchin that showcases live music in a convivial late night atmosphere, and it is that successful recipe that Harpreet aims to bring to the Bird in Hand.
Speaking to Hitchin Nub News, good-natured Harpreet outlined his plans.
"We hope to bring lots of great live music and good food to our customers," he explained, adding: "We will be refurbing the public bar and hope to relaunch that area of the establishment on Friday, March 4 - but great live music acts start this weekend.
"Patrons will be invited to drink in the restaurant area of the pub - an airy and spacious area which seats approximately 65.
"So please come by this weekend to enjoy some truly top class live music acts."
[H2]Lower Stondon: The perfect place[H2]
Harpreet is a familiar face to many in Hitchin and had been on the lookout to build on the success of The Angels' Share.
But why Lower Stondon? Passionate Harpreet explains: 'I was driving through the area to my mum's in Hitchin and we saw an opportunity as sellers had put up a 'For Sale' sign in the Bird in Hand.
"We had been looking to scale up what we offer at The Angels' Share because business is very seasonal and weather dependent there. We love the architecture of the Bird in Hand and the expansive feeling of space inside and out. We also love the beautiful gardens - and there is power at the back for live musicians!"
Harpreet also added that Preeti specialises in Indian vegetarian and vegan cuisine and he specialises in Indian meat dishes, with food to be introduced during the second week of March. There is also a BBQ hut and spacious back garden.
Harpreet is keen to praise Good Earth Decorators, Richard Vickery and Jo Calver for the refurbishment of the bar.
[H2]Live music[H2]
It's fair to say Harpreet and the team have hit the ground running with a selection of live acts already booked for this weekend.
This Friday (February 25) Harpreet tells us that Mike King 'a great singer-songwriter with a superb guitar technique' will be playing live at the Bird in Hand and will is 'beautifully accompanied' by David Hayzen with his 'superb array of covers including Queen, Pink Floyd, Cameo, Tina Turner, Bon Jovi. The list goes on,' says Harpreet, adding: 'With fantastic originals that will be top notch."
Twenty four hours later, on Saturday (February 26) Ben Smith will play.
Harpreet warms to the theme: "Ben is an awesome, internationally renowned guitarist and vocalist, who has accompanied the likes of Mica Paris and played on Quincy Jones productions."
He adds that Ben plays "Mind bogglingly astounding lead guitar with great vocals too: His unique 'whispering' technique allows Ben to tame the most challenging of vocal lines. Truly fantastic."
Harpreet is passionate about live music and adds: [I]"We want to say hello to those in the Henlow Camp and Stondon community.
"We hope to see as many people as possible in our relaxed, warm and inclusive pub - everyone is welcome
"A huge thanks to those that have taken the time to come by already."
A SELECTION OF PREVIOUS HITCHIN NUB NEWS UP CLOSE FEATURES:
UP CLOSE: How backpacking trip led to Lauren and Toby creating acclaimed Bite Around the World - that has now catered for Nike, Google and Just Eat
UP CLOSE: Amanda Reed lollipop lady – our town's true unsung Hitchin hero
UP CLOSE EXCLUSIVE interview with Sir Kier Starmer
UP CLOSE: Bim Afolami, Hitchin MP on racism, NHS, Brexit, lockdown, welfare, Marcus Rashford, Kier Starmer and much more
UP CLOSE: Matt Bean, owner of Cantina Carnitas
UP CLOSE: Chris Cheah, owner of Chicken George
UP CLOSE: Fabio Vincenti, owner of Fabio's Gelato
UP CLOSE: Simmy and Jhai Dhillon, owners of Rice and Spice
UP CLOSE: Danny Pearson, Beano comic writer
UP CLOSE:Hitchin Squirrel Rescue
[L]https://hitchin.nub.news/n/feature-hitchin-food-rescue-39seeing-volume-of-food-that-would-otherwise-go-to-waste-makes-it-very-real39[L+]UP CLOSE: Hitchin Food Rescue
UP CLOSE: Adam Howard, organiser BackToSchoolival
UP CLOSE: Hitchin's inspirational Black Lives Matter movement
UP CLOSE: RuPaul revolutionised positive perception of drag among mainstream says north Herts' Magenta
UP CLOSE: The brilliant Keith Jones - master butcher and master crooner
UP CLOSE: Freddy and Em, landlord and landlady of The Half Moon pub
UP CLOSE: Tradee On Demand - the brilliant new app dubbed 'Uber for property maintenance'
UP CLOSE: Flip Connect and Hitchin Town - The Perfect Match
UP CLOSE: Introducing Wellington Evans - Hitchin's newest estate agents
......................
If you or your business or organisation would like to be featured in a future UP CLOSE please email [email protected] or tweet us @HitchinNubNews