UP CLOSE WITH: FABIO VINCENTI OWNER OF FABIO'S GELATO – HITCHIN SATURDAY Q&A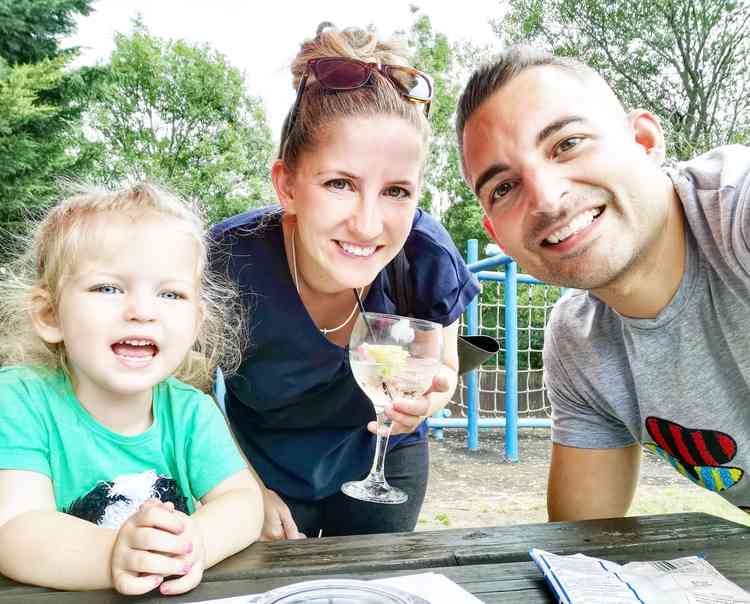 UP CLOSE WITH: Fabio Vincenti with wife Hannah and daughter Willow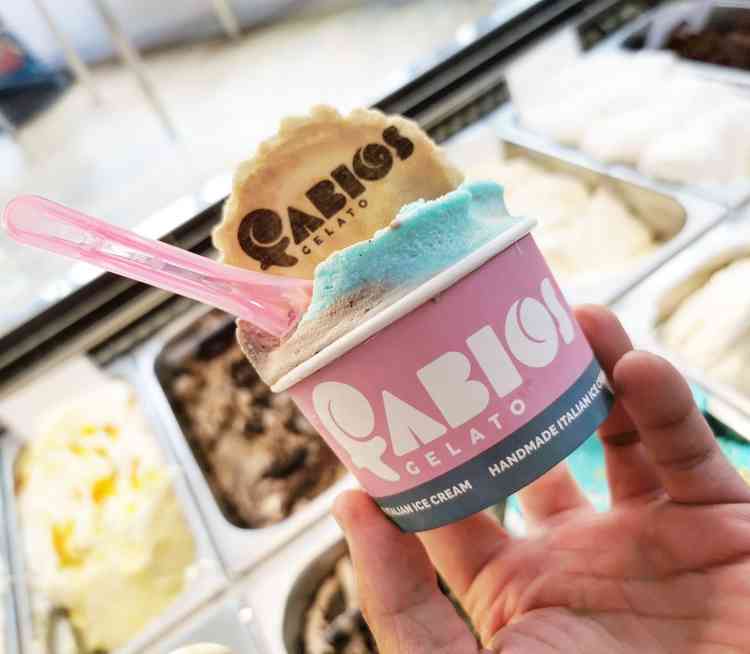 UP CLOSE WITH: Fabio's Gelato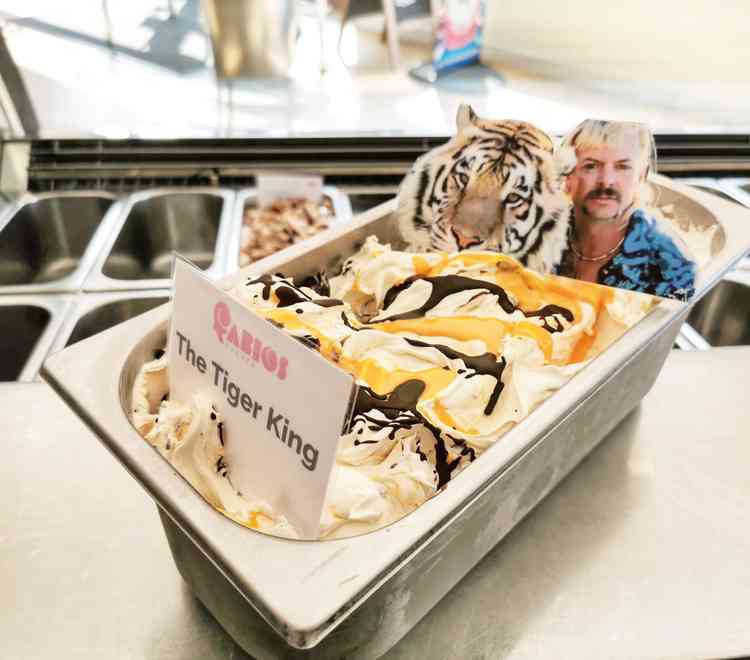 UP CLOSE WITH: Hitchin's Willy Wonka of Ice Cream. PICTURE: Fabio's popular Tiger King ice cream.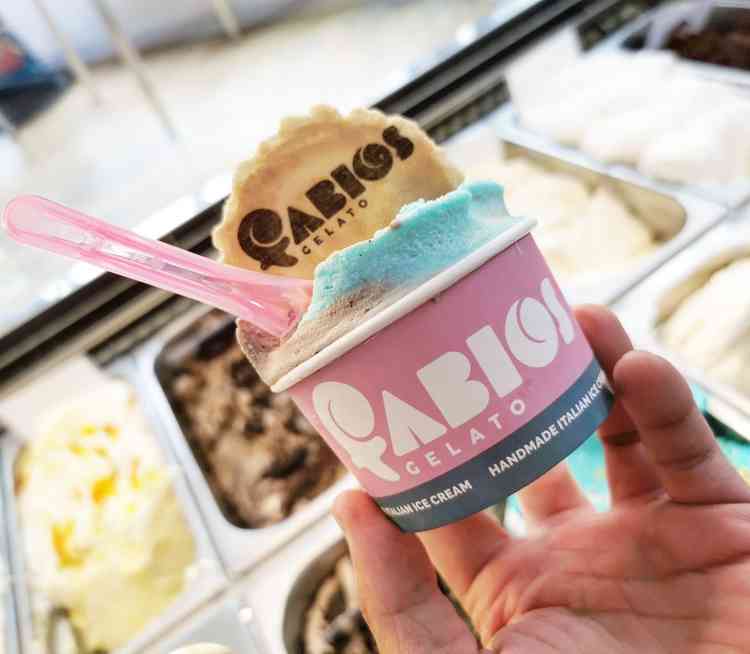 UP CLOSE WITH: Fabio's Gelato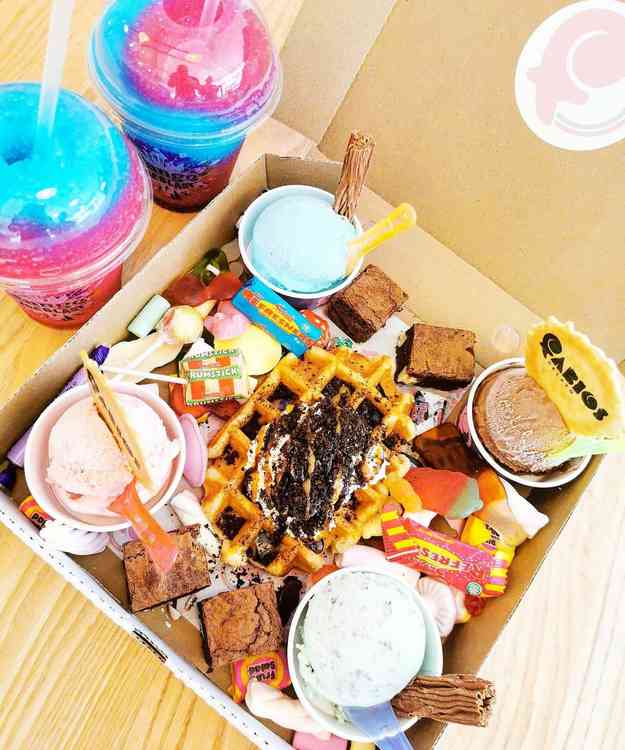 UP CLOSE WITH: Fabio's Gelato
Hitchin Nub News: Hi Fabio, how have you been?
Fabio's Gelato: Hi Hitchin Nub News – can we just say, we love what you're doing by the way. Yes, it's been a tough ride, something we didn't really expect.
We've gone from closing our shop on day one of lockdown, to potting up hundreds of tubs of ice cream – we didn't want our stock to go to waste so we thought, let's pot it up in a Ben and Jerry style tub and hit the road, taking orders for delivery.
That was crazy for two weeks solid. But with having a two-year-old daughter, we had to survive Covid - but we also had to survive family life with a lovely, lively two-year old. There comes a point where family's got to come before business.
So our next option was to run a takeaway service. People purchased online and came to pick it up on a certain timeslot.
We were driving home from work, listening to the news on the Friday when they said shops had to shut. Our hearts sank. We thought that was the end of it for our business, we'd worked so hard to make work, the same as it was for so many people. I think fear and pure panic took over and I needed that night to process what was going on in my head – what we were going to do, how we would pay for the bills, who was going to help us.
HNN: That must have been hard…
FG: Because everyone was in the same boat and there was a feeling that we hadn't failed.
It was worrying because summer is our busiest time. And on that first Monday of lockdown the sun turned up big time, which further compounded our panic. We knew we had to keep fighting.
HNN: The heatwave through lockdown can't have helped…
FG: It was the worst time. The heatwave was the worst thing that could have happened to us as a business that serves ice cream because we knew we would have been so busy – and to see the sun but not be able to open our ice cream shop was hard. We use our summer to take us through the while year and any financial storms that crop up. Our business model is weather dependent, so having that nice weather in April during the height of lockdown yet watching our trade disappear was frustrating.
We could have cried all night.
But I think having the support of my wife, who is a director of our company, our family, we got through it. And of course support from our customers really helped. They really backed us through moral support and lovely messages, as well as placing orders with us. Even local Hitchin business placing business orders with us.
HNN: Great to see our town of Hitchin supporting you
FG: Yes, Hitchin is a town full of community values and the support we've had from people has been amazing. We didn't realise that support was there, from messages saying: 'What you're doing is amazing, keep going.'
HNN: Can you recall any specific instances?
FG: Yes. What really touched us were families that got in touch to say their children were suffering from mental health problems, and that they needed treats to keep going in such tough times, to be able to look forward to something happy in dark moments.
Others also got in touch to say that when they dropped off our ice cream as a present to family members they said it made their week. They told us the experience was 'priceless'. They couldn't go to supermarkets so we were a lifeline in a way, which is humbling.
Ice cream might be seen as a non-essential item but actually it is essential to happiness for so many reasons. It brings back childhood memories, ice cream is always a positive memory and helped during such a dark time. It also helped by facilitating visits to family members.
People told us they could see their families smiling through their windows when they dropped off our ice creams. It also connected them to happy family memories, which was important during the dark days of lockdown.
The feedback was incredible. We had a family outside their house clapping us, saying 'we love ice cream.' I had to bite my lip and hold back the tears. I just said 'thank you and enjoy' and drove off as quick as possible otherwise I would have cried with emotion.
HNN: We all faced our own challenges during lockdown but it must have been strange for you guys too…
FG: Yes. The roads were quite empty but it was still quite a quick process as we don't have big portable refrigeration. So I'd pull up and Hannah would jump out and delivery the ice cream and then we'd drive off to the next delivery. It was all a bit 'Mission: Impossible' to make sure our customers got their ice cream in as good a condition as possible.
We probably did 30 or 40 a day. It's a lot for two people, but for a business this size, it's not that much.
Were constantly checking the news and number crunching how we could survive on a lower income. I was exhausted. The process was that one day I would make ice cream for around 12 hours a day, then Hannah would pot it all up which was a 12 hour day for her. Then we'd deliver. We were doing 20 hour days at times. We'd come in at the crack of dawn and turn up Spotify for the top 40 and just go to work.
HNN: What kept you going?
FG: The joy on people's faces when we delivered our ice cream during the dark days of lockdown kept us going.
Sometimes we'd bring Willow, our two-year old daughter, into the shop for a morning, and she'd come in and play games while were potting up. We tried to make it a family experience. I don't think she understands exactly but she's sad when she can't go and hug and play with other kids. She was quite upset at the beginning and sensed something right. She's wonderful, she loves ice cream.
HNN: [Smiles] Do you recall when I wrote you were the 'Willy Wonka of Ice Cream years ago…?
FG: [Laughs] People stop me in the street and either say the label you gave me: 'The Willy Wonka of Ice Cream', or they call me the 'Pigs in Blanket' guy after we went viral through Ladbible's social media. I was in Wilko's once and someone shouted: 'There's the Pigs in Blanket guy'. I didn't know where to look. I did want to say, 'I have made other flavours…'
We turn ice cream into fun. It prompts nostalgia, grandparents can take grandkids out, parents can take kids out, it creates happy memories and prompts happy memories from the past. We embrace that whole Mediterranean vibe when the whole family gets involved.
Pigs n Blankets went viral, people went crazy for it. We've done that for the last two Christmases, though we went one better last year and actually put it in a real Yorkshire Pudding.
HNN: I need to know more about your 'Tiger King' flavour!
FG: The most popular ice cream through lockdown has probably been our Tiger King flavour after the Netflix show that went viral.
It had Frosties for the Tiger reference, Orange ganache and dark chocolate ripple to give it the Tiger look. It was delicious. The feedback was off the scale. We had pictures of Carole Baskin. It started off as a joke but as soon as I tasted it I knew we hadn't made enough. As soon as I put the picture online it went viral. Hannah looked at me and said: 'It's blown up', you need to go back to work.
I think at the time people need something to take their minds off Covid and I think our Tiger King ice cream chimed with the popularity of the Netflix series.
Heinz have launched a range of ice cream recipes. Ketchup, salad cream. We're going to launch it in the shop some time soon but I have to say Salted Caramel, Vanilla and Chocolate are our most popular favourites.
HNN: Do you think the government has done enough to help businesses like yours?
FG: I think what the government have done has gone above and beyond what we could have expected through Rishi Sunak's bounceback loans, and grants and the furlough scheme which has protected people.
For us we had 20 members of staff. If they hadn't done the furlough scheme we wouldn't have been able to keep them. I feel massively grateful. I understand they couldn't fix everything for everyone but the packages they have delivered were quick, responsive and responsible that have allowed us to survive this - without their packages we wouldn't have been able to survive, it's as simple as that.
At the moment we just need to get past the summer. This is our make or break period now schools have broken up. Basically we have until the end of August and then see what the new changes are – and then restructure the business based on what the rules are. At the moment we're juggling between safety, affordability, staffing – it's not viable at the moment.
I think there's too many rules at the moment – not in a bad way, but you've got to make those rules viable. There's no point running our business into the ground. At the moment we are studying our delivery system and after the summer is over we will revisit that and analyse how we can regrow our delivery system in a more efficient way.
HNN: Has Covid and lockdown made you think about things and analyse your business in a different way?
FG: Yes. Big time. Covid and the changes we have had to make during lockdown have made us revaluate our business and the way we do things – from our product line to how we package products, to what the customer wants. It's given us some good ideas – maybe we don't have to be as seasonal – we can take our product to the customer if there's rain for example.
Covid has focused our attention on our business and it's really made us tear the while business apart, micro-manage it and analyse everything. We changed suppliers, we've even changed our cones for example.
Before Covid they were never wrapped, but we felt they weren't safe for customers so now we have them wrapped. That's because we know people will handle a cone and pass it around. It's one of those of those tactile things that's always been done through families and friends.
Everyone is touching that cone, and we've had to rethink how to prevent people from doing it. The answer was simple but we'd never had to think about it before Covid. So now we wrap our cones in cornetto style coverings. Cone sales had dropped substantially because of the fear of infection. We trialled it and the feedback was great. And now our sales our 50 per cent cones and 50 per cent tubs – and that's because Covid has made us rethink everything about our business. Customers feel safer and there's a sense of trust.
HNN: Fabio's celebrated its firth birthday recently…
FG: Yes. We celebrated our fifth birthday recently. It was actually National Sour Candy Day so we made sour Skittles and gave it away free in the shop. As well as giving 100 free scoops to Chicken George customers around the corner. People said it was great to see us back open as well as great to see businesses in Hitchin co-operating together.
We when we reflect back on our five years I think being called Willy Wonka helped us raise the bar. I think people expect us to invent new, quirky flavours.
HNN: We can see how hard you guys have worked in following your dream. Any advice to those thinking of doing what they want to do after lockdown…?
FG: I did follow my dream – my advice would be follow your dream but don't jump in feet first. Tear it apart and look into everything first so you have the information to help you decide whether you want to start your own business, or change career or whatever it is that you want to do to realise your dream of doing something you want to do for a living. And I think Covid has made many people conscious of that too.
Write a thorough business plan as well. Although you should never have to include 'How to survive a pandemic' which is what we've all had to do in Hitchin and across the country. It was never in our business model. But we did look at can our business survive adverse whether, can it survive a shutdown. Can I survive hardship? Do people want my product? Is my product different in the market? You've really got to look at everything to build a really strong business plan – which is what we did and thankfully we're still here.
Don't be scared to try something. Go for it. If it fails it's not a failure, look at how it failed, you've still got to dream it's really going to work. Next time try something different to make it work. And after all that, sometimes it's just not meant to be – but at least in your heart you know you've tried it and given it your best shot.
We've done charity days in the past which has been hugely satisfying. And during lockdown we donated a lot of our stock to a homeless charity to Feed Up Warm Up. To me it small but it was good to know that someone would have appreciated it, and secondly it would only have gone to landfill, so you've stopped two problems there.
HNN: It must be so rewarding to have your job as your passion because we're lucky enough to do that too…
FG: Yes. It is a rewarding job. There was one occasion prior to lockdown when a young child, who had been at Great Ormond Street because they couldn't eat solid food, was finally allowed to taste ice cream. The look on her face was priceless as she tasted ice cream for the first time. It was quite emotional.
Ice Cream does bring people together. We do vegan ice cream for children who are lactose intolerant and you can see the happiness on their faces when they come to birthday parties held here as they can join in with eating ice cream.
I think it's funny that I'm always introduced to people as Hitchin's Willy Wonka of ice cream. We bring a bit of fun and enjoyment to people through our unusual ice creams - so there's far worse things I could be called.
HNN: Fab, you're a legend. Thanks for your time mate.
FG: Cheers Layth. Can we just say we love Hitchin Nub News!
New hitchin Jobs Section Launched!!
Vacancies updated hourly!!
Click here: hitchin jobs