Back to the Drawing Board
---
North Hertfordshire Museum, Brand Street, Hitchin
15th Oct 2022 - 29th Jan 2023
UNTIL Sunday 29th January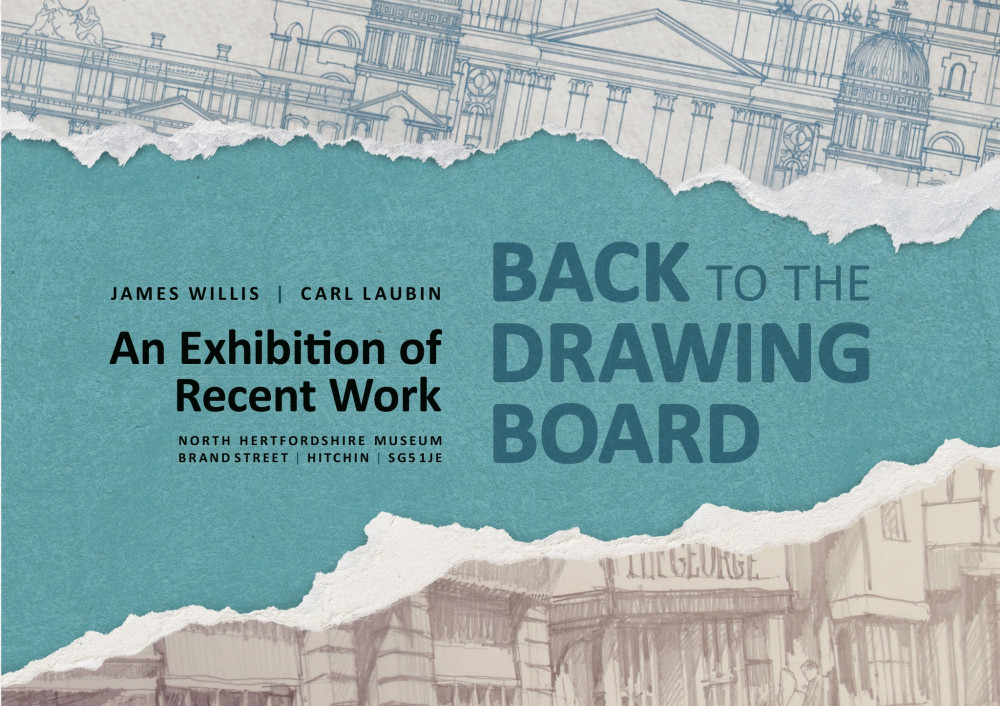 Back to the Drawing Board: an exhibition of recent work
15 October 2022 – 29 January 2023
What are the chances of two artists, living 200 feet away from each other for 30 years, meeting by chance in 2019? Carl Laubin and James Willis met at a friend's house and discovered they were painters of local architecture and landscapes and - astonishingly - both working on views of the Old Royal Naval College at Greenwich. Now some of their most vibrant and engaging work is on show in their home town, supported by newly-launched Hitchin Creative - a Community Interest Company.
The two neighbours live in the beautiful town of Hitchin in Hertfordshire and immediately struck up an inspiring and creative friendship which connected their paintings, interest in architecture and their home town.
Award winning painter Carl shows us landscapes inspired by his lockdown walks in the surrounding countryside alongside his astonishing recreations of the architecture that Nicholas Hawksmoor designed for the Royal Hospital at Greenwich. It is as if you can step back into the mind of this great architect and experience his unbuilt vision for the place.
James presents his luminous and atmospheric watercolours of local buildings from unusual perspective viewpoints or in imaginative arrangements known as Capricci. These were inspired by many years working at Sir John Soane's Museum; another place which connects the two artists.
A beautifully written and illustrated catalogue accompanies the show, featuring writing by some of the artists' friends from the world of architecture, art history and heritage, as well as informative and interesting essays by both artists.
The free exhibition at North Hertfordshire Museum has been expertly curated by Ros Allwood and her team to present these new pieces for the public to enjoy. It runs from 15 October to 29 January 2023 and the launch includes a celebration of Hitchin Creative.
About Hitchin Creative
Hitchin Creative – since August 2022 a Community Interest Company – is an inclusive and diverse group of creative professionals focused on the town's rich and varied creative community. In particular, the company's ambition is to promote, support and inspire the creative community to provide more opportunities to advance the prosperity of the sector and the well-being of its community.
Add your Hitchin event for FREE here!
Nub It