Arriva pulls out of £6.1m deal to roll out 27 battery-electric buses
By Will Durant - Local Democracy Reporter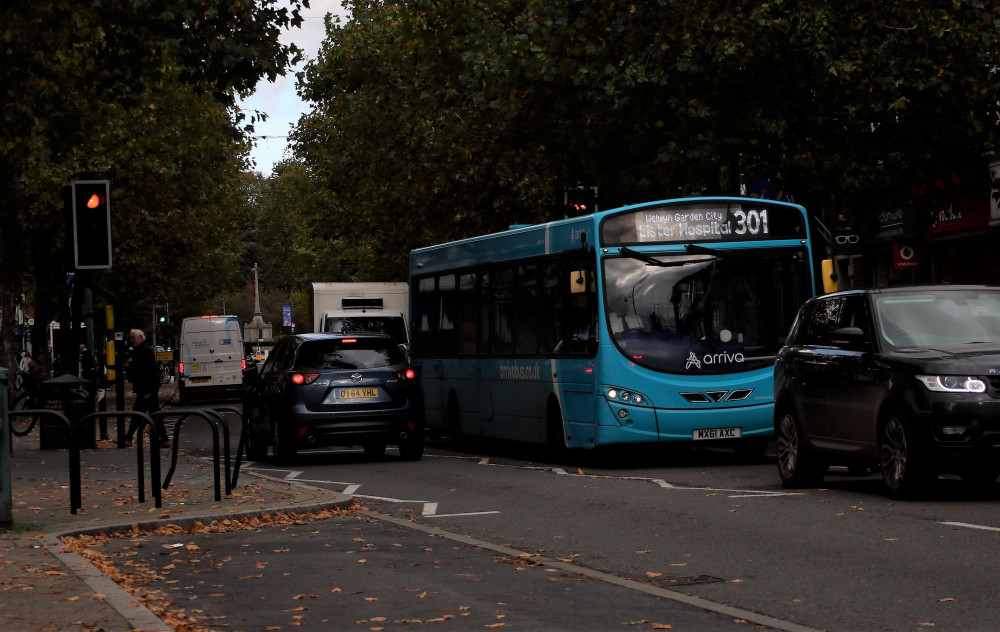 Bus multinational Arriva had pulled out of a £6.1million deal to roll out 27 battery-electric buses. An Arriva bus bound for Lister Hospital, Credit: Will Durrant/LDRS
A "vicious circle" in Stevenage shows why the government must reform bus travel, a peer has warned.
In a debate on local council funding which one Lord labelled "depressing", Labour's Baroness Hayman said the government must reform the bus system to meet national climate goals.
Discussing the government's flagship Levelling Up and Regeneration Bill on Monday, March 13, Baroness Hayman told Earl Howe (Con) bus multinational Arriva had pulled out of a £6.1million deal to roll out 27 battery-electric buses in the Hertfordshire town.
The Department for Transport agreed to award £5.6m to Hertfordshire County Council to support the project – one of several Zero-Emission Bus Regional Areas or ZEBRAs in England.
"There is a great deal for the government to consider if they are to have any chance whatsoever of meeting their mission on transport," the baroness said.
"I will give an example from Milton Keynes and Stevenage.
"They have a ZEBRA project, which was designed to bring in large numbers of electric buses to urban areas.
"We must not forget that part of levelling up transport is how we use it to meet our net-zero targets as well.
"The problem is that Arriva has just pulled out of this project; the reasons given seem to be that it is concerned about lack of use of the bus routes.
"People will not use buses if they do not think they will be reliable and, if they are not using them, the commercial companies pull out.
"You end up with a vicious circle.
"If we are to tackle the problems around lack of public transport, isolation and the need to improve services right across the country, there absolutely has to be a plan as well as funding local authorities properly so that they can run bus services."
Baroness Hayman pointed to a government mission statement that "by 2030, local public transport connectivity across the country will be significantly closer to the standards of London".
She called on the government to introduce checks and balances on transport authorities across the country and said all of Whitehall needs to be "on board" with bus improvements to achieve levelling up aims and combat social exclusion.
Baroness Hayman added: "Bus routes, for example, will often go across political boundaries, so collaboration between authorities is crucial."
Liberal Democrat Lord Stunell said: "My Lords, this has been rather a depressing afternoon.
"We have had a long debate about where money was coming from, and the answer is, 'There isn't any'.
"Now we are on to a debate about another vital aspect of levelling up: you need the money, but you also need a transport policy that works."
Baroness Randerson, another Liberal Democrat peer, said: "Without a transport revolution outside London – I use the word 'revolution' deliberately – levelling up will not work".
Responding, deputy leader of the House of Lords Earl Howe said the bill will give a new tier of government – combined county authorities – the power to coordinate public transport, and that these will be set at a local level.
He said: "We are committed to supporting all forms of transport.
"Indeed, between 2020-21 and 2022-23 we have invested over £850m in active travel alone.
"I plead with noble Lords to have some faith in the government's commitment in this area."
Councillor Phil Bibby (Con, St Nicholas), who is responsible for transport at Hertfordshire County Council, said Arriva's decision to pull out of the ZEBRA scheme was "very sad".
He said: "There is nothing we can really do about this but we have negotiated with the Department for Transport an extra few weeks to phone around and find a new operator."
An Arriva spokesperson said: "We are disappointed to announce that as a result of reduced customer demand post-pandemic, and recovery significantly lower than national trends, we will no longer be moving forward with plans to bring a new electric fleet to Stevenage at this time."