FEATURE Hitchin Food Rescue: 'Seeing volume of produce that would otherwise go to waste makes it very real'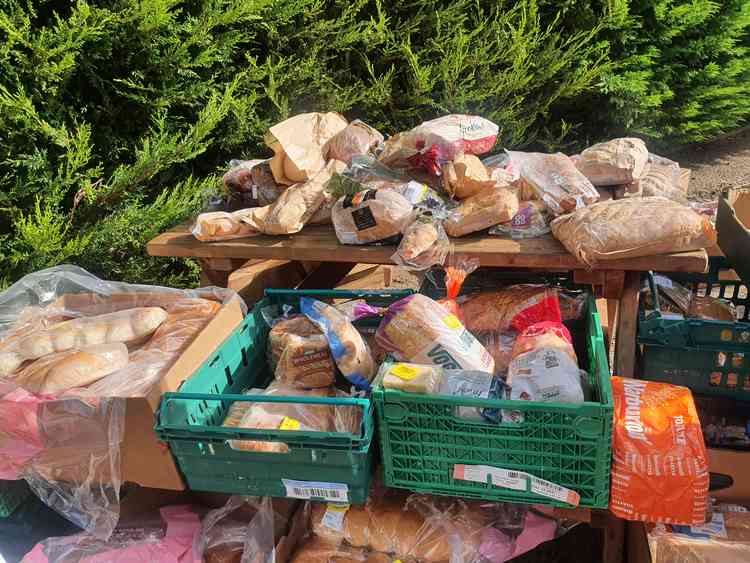 Bread that has been saved by Hitchin Food Rescue which would otherwise go to waste. CREDIT: Hitchin Nub News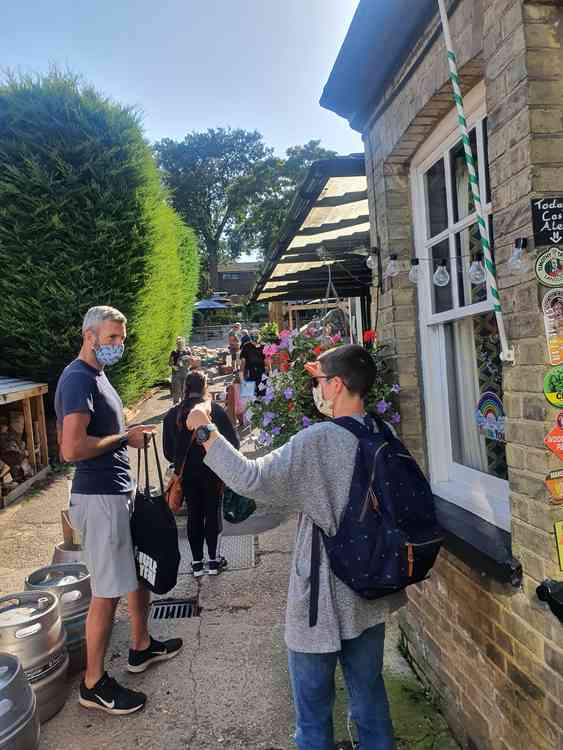 Long queues are a feature of Hitchin Food Rescue as people back the initiative. CREDIT: Hitchin Nub News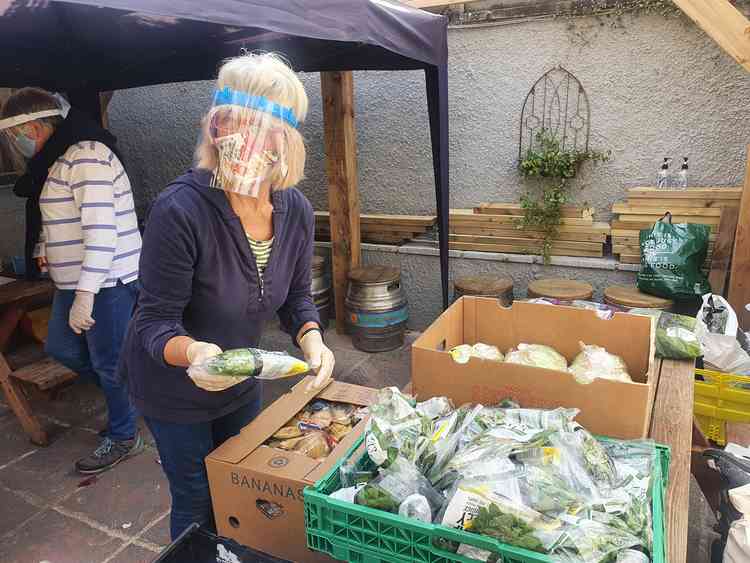 Vegetables which aren't snapped up are given to Hitchin allotments for composting. CREDIT: Hitchin Nub News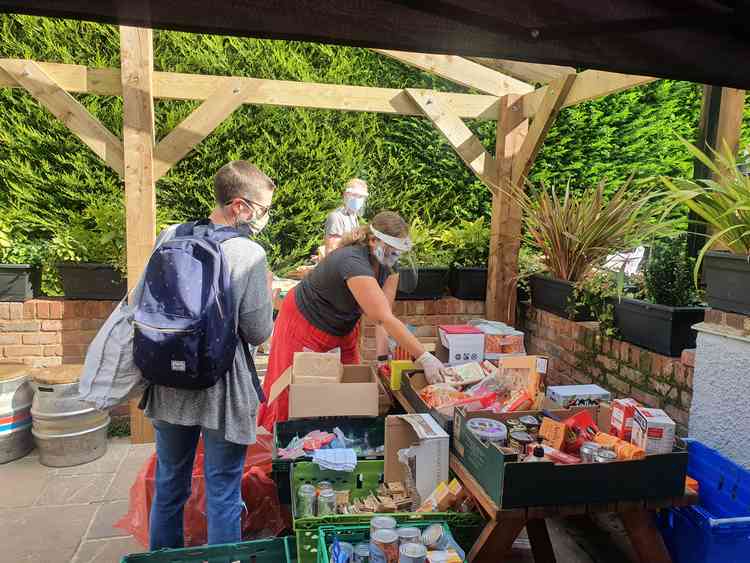 The number of people using Hitchin Food Rescue grows weekly. CREDIT: Hitchin Nub News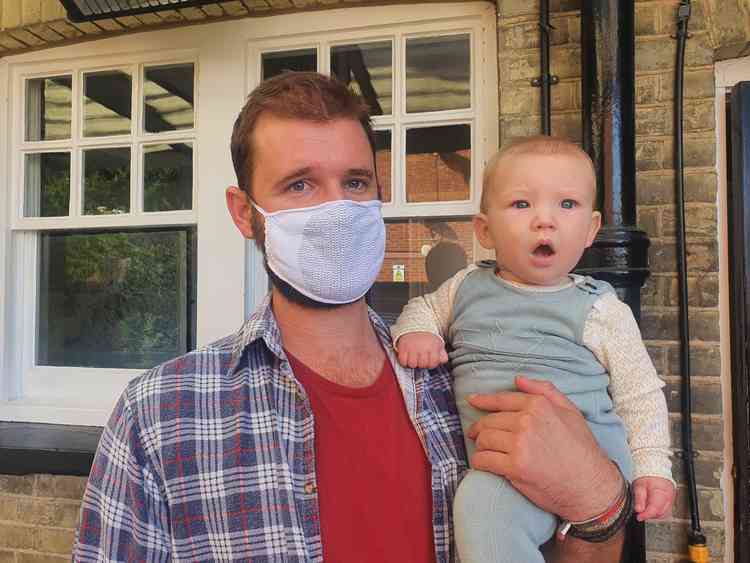 Half Moon landlord Freddie Best is a big supporter of Hitchin Food Rescue. CREDIT: Hitchin Nub News
"Hitchin Food Rescue is a beautiful thing. It's nice to rescue all this food for a good cause." So says Freddie Best.
Freddie is a well-known face in Hitchin as the landlord of the Half Moon pub on Queen Street.
But on this occasion good-natured Freddie is not talking about pulling pints for thirsty punters – for on Thursday mornings he volunteers his pub to be the host for the food rescue, an initiative which sees unsold food, otherwise destined for destruction, diverted from the bin, and instead, offered to our community.
Hitchin Nub News visited the rescue at Freddie's pub to take a look for ourselves.
Read on for our report.
…….
Hitchin's glorious September morning sunshine is bright. But the first thing you notice is the queue. An orderly line of people stretching from the beer garden at the top of Half Moon's outdoor space all the way down to Queen Street. Perfectly socially distanced and keen to support a good cause.
The reason so many people are congregating outside a pub well before opening time, with no intention of imbibing?
Hitchin Food Rescue.
This worthy initiative saves uncooked food about to go to waste, recovered from local businesses and offers it on a 'PAYF' (pay as you feel) basis - making it accessible for all members of our community – with the project also supporting other local causes in and around Hitchin.
A suggested minimum donation of £5 for two bags of food is great value at any time - but in our challenging post-lockdown era represents tremendous value.
Or you can simply pay as you feel and/or what you can afford, for drinks, snacks, meals, vegetables, bread and a whole range of perfectly edible foodstuffs that would have been thrown away previously.
According to a report from the government's department of environment, food and rural affairs, roughly one third of the food produced for human consumption on the planet - around 1.3 billion tonnes - is wasted or lost every year.
It is estimated this figure will rise by a third, by 2030, to a staggering 2.1bn tonnes - equivalent to 66 tonnes per second.
UK households produce around seven million tonnes of food waste each year, of which five million tonnes is 'still edible'.
"As a young family – it's shocking to see some of the perfectly good food that is thrown away," Freddie Best explains.
Freddie is landlord of the Half Moon, which hosts the community event every week. He adds: "The first couple of weeks Hitchin Food Rescue came down to us here at the Half Moon I was taken aback by the amount of food that goes to waste.
"You hear about these things - but until you actually see it with your own eyes you can't really believe it - seeing the volume of produce that would otherwise go to waste makes it very real.
"It's good to get people thinking about all the ecological advantages going forward and we're just happy to be part of it. We're looking forward to growing this incredible project.
"We're more than happy to let them use our property. We're lucky that the Half Moon has space outside, in the open air, which these days is more important than ever.
"They're a very efficient bunch – all I do is 'overlook' stuff."
The group was founded by Emma Goulding with a motto of: "Rescue, reduce, reconnect."
In addition to the provision of rescued food, the group provide regular opportunities to learn about limiting food waste in your own home as well as creating a community of like-minded individuals to come together to share and learn from each other.
Hitchin Nub News also spoke to a number of the food rescue's hard-working volunteers, who explained that vegetables that aren't sold are distributed to local allotments for composting, including on Burford Way.
They explained that food waste amounts to a major squandering of resources – water, land, energy and capital – and needlessly produce greenhouse gas emissions, contributing to climate change.
The demand for higher yields of crops in the UK has left very little ecological value on our farmlands - yet, crops are often thrown away on the premises due to their visual appearance.
Analysis of the purple bin waste for landfill shows each household is throwing away approximately 3.12kg of recyclable material each week. The largest proportion of this is food waste which equates to 21 per cent of the average purple bin.
We can all do a little something to help mitigate this needless waste – which is where Hitchin Food Rescue comes in.
No wonder numbers are growing all the time as word gets out.
Freddie explains that during the first week the Half Moon hosted the event around 30 people came along. The second week saw 70 or 80.
"It's getting bigger all the time," he says, adding: "So, we're just glad we can help in a small way."
Donations are needed to keep this worthy project alive – an initiative which also supports other local causes in and around Hitchin.
Whether you're a big chain supermarket or a small local bakery or food outlet, Hitchin Food Rescue hub want to hear from you if you have surplus food for donation.
For more visit www.hitchinfoodrescuehub.uk