UP CLOSE IN HITCHIN: ADAM HOWARD ORGANISER OF BACKTOSCHOOIVAL FESTIVAL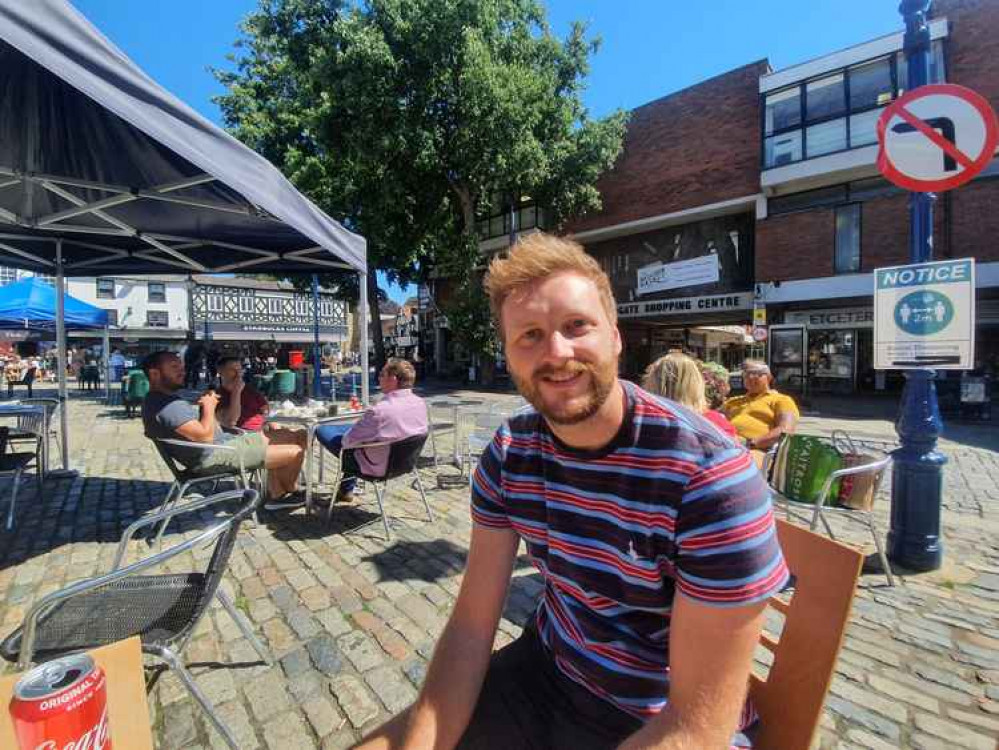 UP CLOSE: Adam Howard. CREDIT: Hitchin Nub News
Hitchin Nub News aims to support our community, promoting shops, businesses, charities, clubs and sports groups.
We will be profiling some of these businesses and organisations regularly in a feature called 'Up Close in Hitchin'.
For today's Up Close we caught up with Adam Howard, organiser of the BacktoSchoolival sports festival in Hitchin.
............
Hitchin Nub News: Hi Adam, great to see you, I know you're a busy bloke, so many thanks for your time. Tell our readers about what you've been up to and your plans for the future?
Adam Howard: We had a couple of years off. It's actually two years ago this week when our last event took place. Since then, the reason we haven't put on BacktoSchoolival is due to 'life getting in the way' really.
I've spent time in Brazil and Peru. I've changed jobs so I'm now working in sport development with a company called Active in the Community.
I've also had two months off after breaking my leg playing rugby – there just hasn't been the time to run another event – so I was at that point when I thought: 'If we don't do something it's never going to come back.
HNN: How has lockdown and post-lockdown been for you?
Adam Howard: Lockdown has been tough for everyone, but it gave me the time to reflect. So I made the decision that we're coming back in 2021.
Lockdown gave me a chance to look back at what our previous events and I've rediscovered that fire and passion to make it a real success, to make it the biggest and best day it could possibly be and for the right reasons.
The original concept was that we were made up of former pupils of schools in out area. It worked really well for the first couple of years but it's really difficult to link everyone up.
Given what's happened with rugby this year and the latest RFU guidance which means we're not going to play rugby again until October at the earliest – realistically November time – I've decided to change it to make it more club based.
The school element will still be in the background in a number of ways, but for next summer the theme is very much going to be 'One day themed tournaments'.
So we plan to have around 30 clubs playing off on one day after the season ends.
We've located the site at Hitchin Rugby Club and we're hoping for a lot of local teams who play at the same level to come down and have that pre-season warm-up.
But also there's not much chance in rugby for those local teams to actually interact with each other off the pitch. So, it's a chance for that social element – and it's the same with netball.
HNN: BacktoSchoolival is not just about the sport, it's a very sociable event isn't it?
Adam Howard: Speaking to a couple of the girls who play netball they miss that chance to spend a whole day with their team, to play the game and socialise in a friendly environment afterwards with other local teams.
It's a very sociable event – 100 per cent.
I don't want it to be too serious. That said the levels we've seen at previous events have been excellent.
There will be really serious rugby played at a really good level – that's what's always surprised me about our previous events, the standards.
I always expected people to come down and have fun and not take it too seriously – but actually the standard has been superb – but in a fun, welcoming environment.
There's definitely that element of light-heartedness, of social interaction – the reason play sports is because it's with their mates. And that's what we're trying to do. Having a bit of a no-pressure laugh.
For anyone who has started their own project and put a lot of hard work and effort into it, you do get that period when you fall out of love with it a little bit. But I'm back, fully refreshed and raring to go. I've learned a lot about organising to say the least.
HNN: Such as?
Adam Howard: In my new job role I've learned so much over the last 18 months which will stand me in good stead with organising the next Backtoschoolival.
For example, project management.
The big thing previously was me running the concept – but now I'm looking for buy out among the players. Hitchin, Stevenage, Letchworth, Welwyn, Datchworth – I'm trying to get their ideas and to learn what works best for them.
What time of the day would they like to play? How would they like to play. Would they prefer a team fee, or an individual fee?
This year I'm being led by people, rather than me dictating. And that's something I've learned from sports development.
For example, we say the statistic around obesity is such and such - so we'll run a campaign this way or that.
But actually, we haven't interacted with the people we need to reach.
That was a massive takeaway for me.
Just putting those building blocks in place to ensure you can walk before you can run.
Then managing expectations. What I consider to be a success. I've never really had that to aim for. Working out what I want from partners. Working out what I want from sponsors. It's much clearer in my head how I want it to work.
HNN: The Hitchin business community has always been supportive of good ideas and projects...
Adam Howard: Yes. We've had great support from local businesses. People like Mason Navarro Pledge. And BeatSchoolUniform on Hermitage Road. Twisted Fabric in the Arcade.
What I really want from sponsors is for them to want to get involved but also for them to really buy into what we want to do. And for me to really understand why they want to get involved. I want partners rather than sponsors.
In these challenging times it's really difficult to get people to part with their money. I want to make sure I want to put in place what they want form it and how I can help. It's not something I would have really thought that much about before, but now I'm much clearer in what I want from those partnerships – and what they want from me.
HNN: I know you're a big advocate of women's sport too...
Adam Howard: Women's rugby will absolutely be involved too. One of the things I've got into is that I've started to coach the Hitchin Ladies.
We've got four coaches and I'm one of them. [The first team raced to their league title last season]. I don't want to put it all down to me [laughs]. No, we've got a great crowd there and one of the things that is impressive is that women's rugby is growing all across the county.
The way the ladies embrace it is superb. Unlike the men's rugby they are there Tuesday, Thursday, Sunday. And they are they come rain or shine. So again, there will be ladies rugby. I want as many women's clubs across Hertfordshire as possible to come on board - so save the date, Saturday, July 10, 2021!
HNN: It's great to see you so excited Adam...
I am so excited. It's going to be the biggest and best yet. We're hoping to use the event to showcase the opportunity to get people playing sport locally. That is really important.
Next year is the Rugby League World Cup – of course we're in rugby union heartlands here but we've got a league side here in Hitchin, in the North Herts Crusaders.
We're trying to figure a way to promote the fact that the rugby league World Cup is going to be in London. Yes, we've got union players but we want to raise interest in it.
HNN: I know you're a passionate believe in the power of sport for good...
Adam Howard: BackToSchoolival presents the north herts rugby and netball festival. We can then use the tournament to promote other sports. I believe there is a sport out there for everyone.
I was lucky enough to find a sport in rugby that I loved from the age of five – but some people don't find sport until they are 65.
Sadly, some people never find it. If you find a sport you're going to be active all your life.
I see my job in sport development as creating as many opportunities for people to try a many different activities as often as possible. If there is anyway the event can showcase others sports then that would be wonderful.
HNN: I'm a firm believer in the benefits of sport, you are too...
Adam Howard: Yes, definitely. 100 per cent. What are the benefits of sport? The physical ones are the obvious ones. Although if I look at me, it's slightly different because I break so easily! But, where I am in my life in terms of my job, I owe to rugby. I genuinely believe that rugby has provided so many opportunities through friendship and solidarity.
I'd always say the benefits of playing rugby far outweigh any physical issues. It's social interaction. It's teamwork. It's discipline. It's knowing how to lose as much as how to win. It's invaluable.
HNN: What's the feedback been like so far?
Adam Howard: My friends and family are all very excited and very keen to help out. Everyone's been brilliant at giving feedback and advice – not just that but the Hitchin community and more than that the rugby and netball communities.
They are just so receptive to ideas. The thing about the sport industry is that it is so passionate. If you come up with an idea people immediately want to help you succeed.
And you simply couldn't do something like this without the help and backing of so many people. Through time and advice and guidance.
I am raring to go – I simply cannot wait.
HNN: Cheers Adam, many thanks for your time
Adam Howard: Cheers Layth, can I just say I love Hitchin Nub News!
For more on BacktoSchoolival follow their Twitter feed
Previous Hitchin Nub News UP CLOSE features:
Chris Cheah, owner of Chicken George
Fabio Vincenti, owner of Fabio's Gelato
Danny Pearson, Beano comic writer
[L]https://hitchin.nub.news/n/feature-hitchin-food-rescue-39seeing-volume-of-food-that-would-otherwise-go-to-waste-makes-it-very-real39[L+] Hitchin Food Rescue