UP CLOSE WITH: CHRIS CHEAH OWNER OF CHICKEN GEORGE – SATURDAY Q&A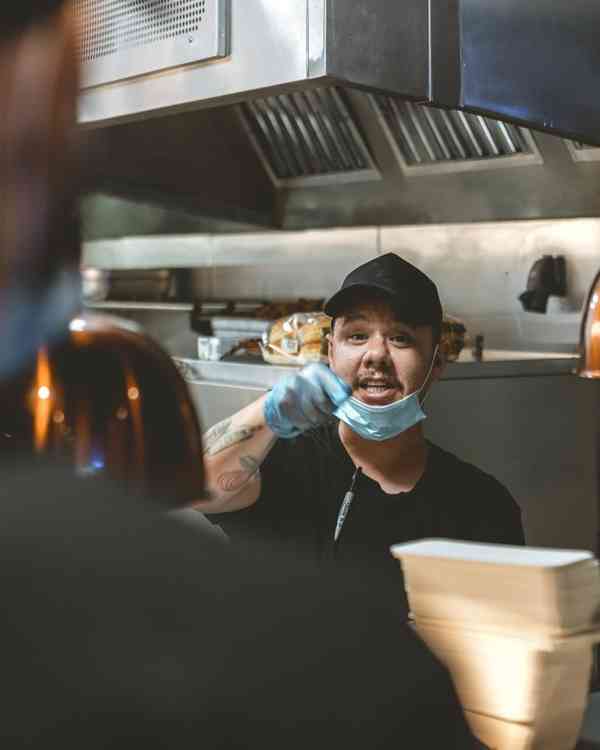 UP CLOSE WITH: CHRIS CHEAH OWNER OF CHICKEN GEORGE – SATURDAY Q&A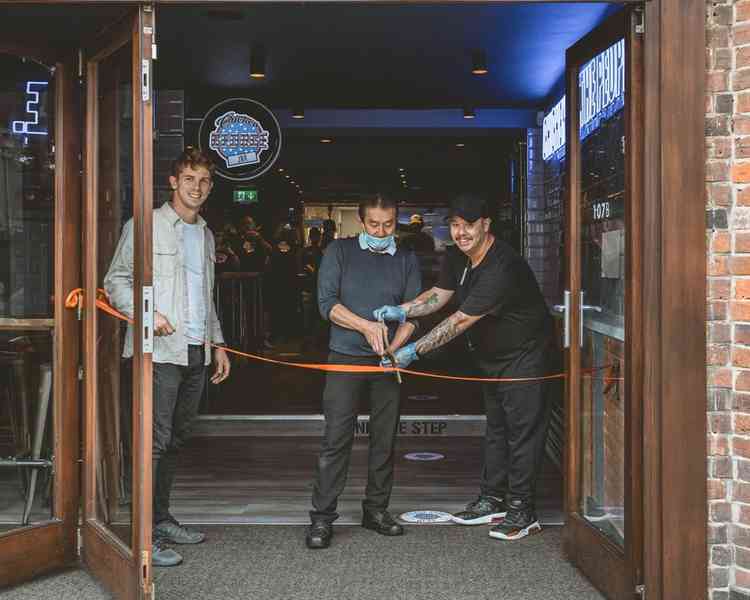 Chicken George has been a huge hit in Hitchin after opening in June.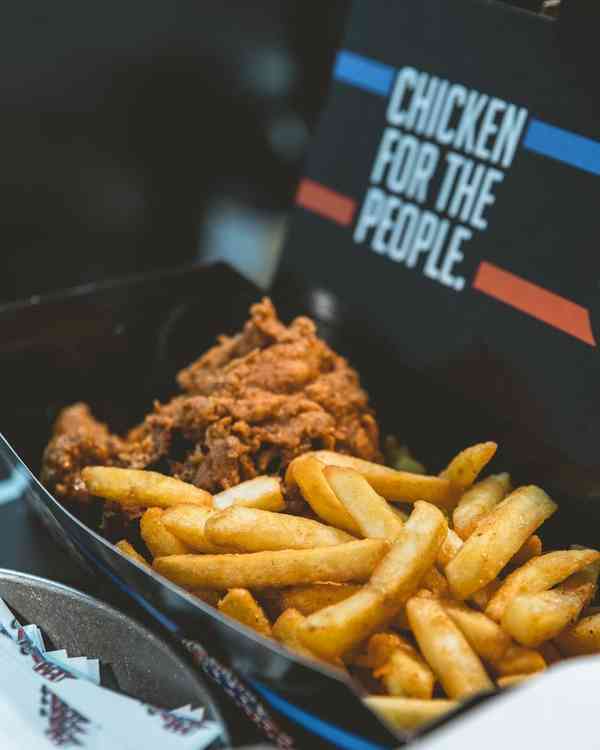 A selection of Chicken George's mouth-watering food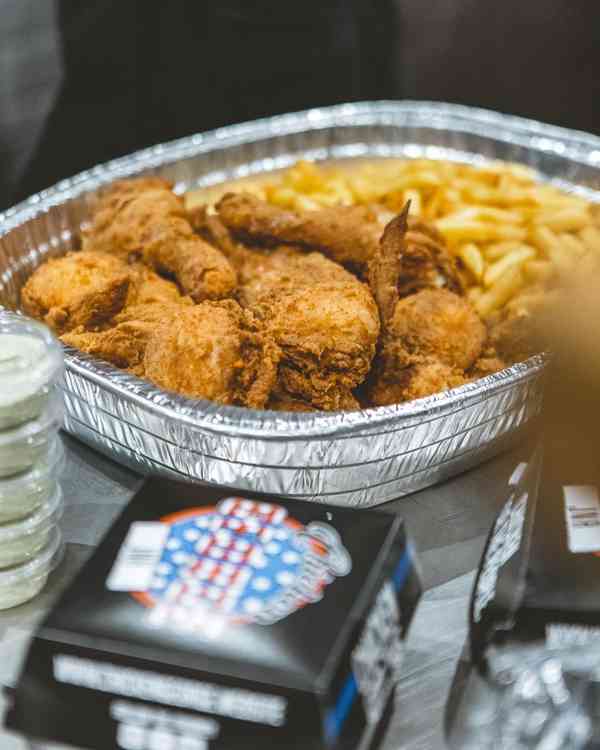 Chicken George in Hitchin has been a runaway success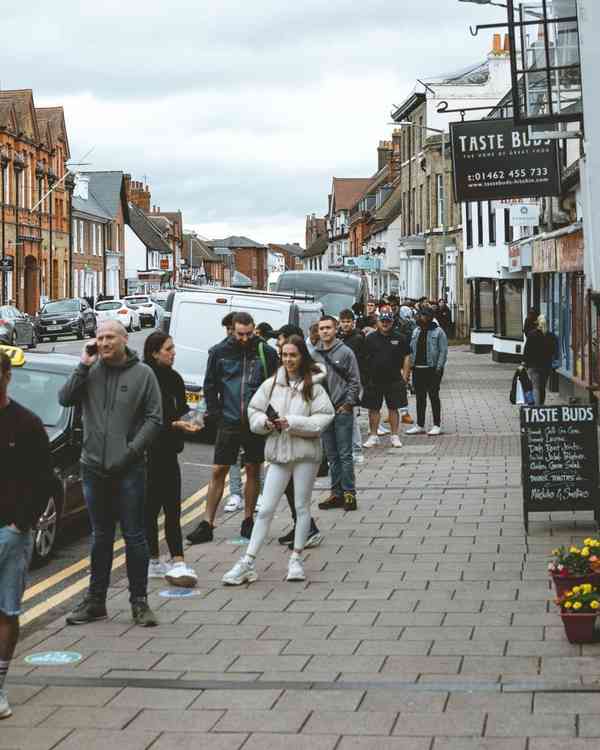 People queuing for Chicken George in Hitchin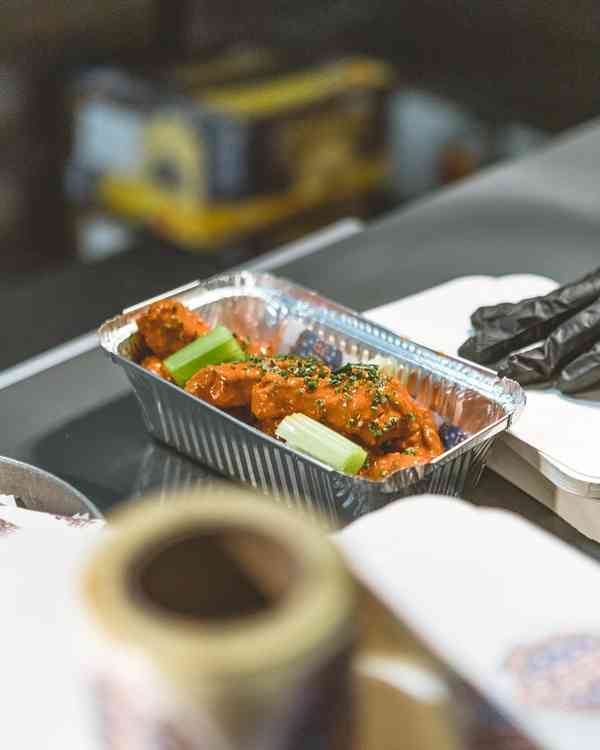 Succulent food from Chicken George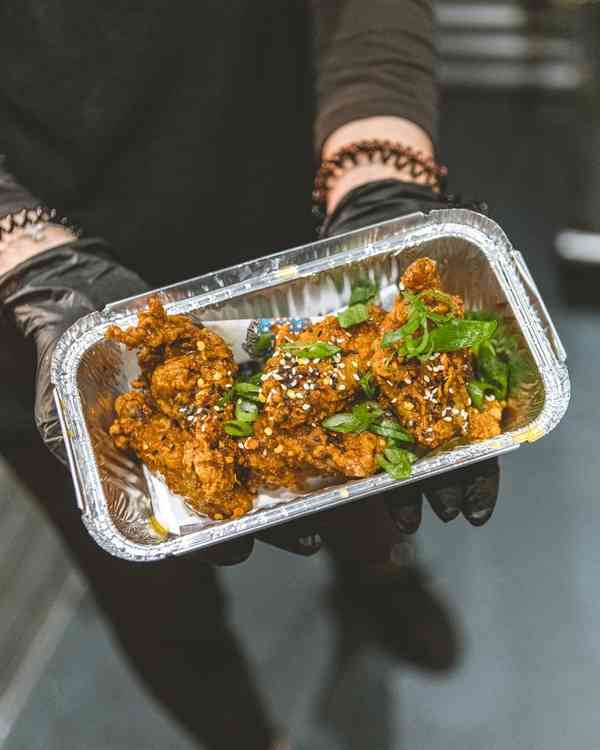 The secret to Chicken George's success? Love and passion says owner Chris Cheah
Hitchin Nub News: Hi Chris, we know you're a busy bloke so thanks very much for your time. Tell us a little bit about yourself and Chicken George…
Chris Cheah: Hi Layth, not at all, we're big fans of Hitchin Nub News. Chicken George started in 1985. It was started by my dad, Ray, who worked for KFC in the 1970s. He brought KFC in Luton, which is still there. He also opened KFCs in London. But in '85 he got to the point when he wanted to branch out on his own. So he set up the shop. For years it was a local legend.
People who come to us in Hitchin tell us they've been visiting our shop in Luton since the 80s. We do have a cult following in Luton. Six years ago I took over from my dad.
I had worked in London for Michelin starred restaurants as a highly-trained chef. I worked with some big names in the industry in London. When I took over the reigns from my dad I wanted to take it to the next level. I got awarded best takeaway in the East in 2015 and then in 2016 we won best takeaway in the country – beating off 35,000 entries. Ainsley Harriot was one of the judges.
Considering we were up against some big boys and some well-established names in the industry – at that point we were a tiny little takeaway shop in Luton – then to lift such a prestigious award was testament to the quality of our food. To be named best takeaway in the country was quite an achievement.
HNN: People have been queuing for hours outside your shop in Hitchin all summer – what's your secret?
CC: Our secret? The quality of our food. People can take their eye off the ball and look for shortcuts and quick fixes but for us it's always been about fresh chicken and doing things right. Doing things hand made. Things that might take longer in the process and more effort but add quality and ultimately results in happy customers. For example all our sauces are made in house.
So it's about love, and passion and care. And the fact we're a family run business with roots in the communities we serve. I live in Hitchin and we have good links with a lot of people here. We're not some faceless corporation.
We keep our prices down, we offer affordable , quality food. There is a sense here in Hitchin that people feel relieved that can actually come back out again and enjoy themselves. We know – because people have told us – that our customers have travelled from London to eat here. Normally it's the other way around. But that's testament to the excellent reputation this town has as a place to visit for quality food and quality independent businesses – as well as the excellent food we offer.
What we have found is that people are using Hitchin as a destination day out. That people are travelling from all over to visit this town from all over the country.
People come to Hitchin and go to Fabio's to keep ice cream, they go to the Beer Shop for their beer and us for their chicken and they go and sit on Windmill Hill and make a day of it. And we feel in a very small way we're helping kick-start Hitchin's economy again – along with a large number of other excellent family run businesses.
When people come to us they don't just come here, they wander around all the excellent independent shops and buy things – which helps us all.
HNN: I've heard you're a workaholic. How 'hands on are you'?
CC: I'm in the kitchen here in our Hitchin branch most of the week, working 60/70 hours a week minimum. I do the prepping, I do all the supply runs, all the sauces, the service, there's no way I'm putting my feet up and watching, I'm very much hands on – which keeps everyone on their toes and standards high. We have around 20 divided between the front of house team and the kitchen. It's fair to say we'll have around 30 people on our books so we are helping boost the local economy too. We've got a wide range of employees from 17-year-old students in their first job, to those with more experience who've worked in other kitchens.
HNN: We think Hitchin is a special place – I'm sure you do too…
CC: We were actually approached by a number of other towns who wanted us there but we chose Hitchin. We chose Hitchin over St Albans, over Bedford, we had conversations over Cambridge and Milton Keynes. Hitchin is a perfect fit. It's full of independent, family run stores. We've got Taste Buds next door who are our good neighbours, they've an excellent example of a successful family run business in Hitchin.
Quite simply Hitchin was always our No1 priority – not just restaurants there are independent clothes shops and vintage shops for example. Hitchin is really foodie as well. There's a great food scene in this town. Plus the fact I live in this town. I'm married to a girl from the area and I love the town and love being here. There's a real sense of community here.
HNN: What would you say to those who have concerns about your success?
CC: From day one all we've wanted to do is come to Hitchin and fit in and not cause anyone any problems. We want to buy into the ethos of Hitchin and the community feel, the family feel, the independent feel and show that the last thing we are is a big corporate chain coming to take and not give anything back – because that's not the 'Hitchin way'.
We want to add customers to Hitchin – we signed up straight away to the Hitchin Bid. So we're all for being part of the community.
Our slogan is 'Chicken for the people'. By that we mean chicken for everyone. For the community For commuters with highpowered jobs in The City of London on mega salaries, high-flying business who want high quality food - as well as someone walking in off the street who want feeding.
HNN: I know Chicken George in Luton does a lot for the local community as well as charities – do you have plans to do something similar for Hitchin?
CC: We always supported charities and clubs in Luton and we have plans to do the same here in Hitchin. We are in talks to sponsor Hitchin Rugby Club. We've done Taco Wars in Hitchin with Matt Bean at Cantinas Carnitas. We sponsored the Hitchin Fireworks last year. We signed up to all the special days Hitchin offers people as a town such as Bancroft Day and we were very much looking to get involved with a number of event this year but Covid has put a stop to that – but we cant' wait for next year to get on board a large number of community events in this town.
We are a big backer of charities. Nothing has been officially set in Hitchin yet but we have plans to – in Luton we provided a number of hot meals to NHS staff and key worker at the Luton and Dunstable Hospital. In terms of ad hoc help during lockdown we actually provided food to staff at Pinehill Hospital in Hitchin.
We're proud to have fed the nurses and staff at Pinehill. We have great relations with a number of agencies in this town – from feeding the police who come in on their night shifts – we give them a discount and get them fed and watered as they do such a great job in our community.
We want this place to be part of the community. Where people can come and sit down and enjoy great food. Have a couple of drinks and get together and enjoy themselves.
HNN: Opening during a pandemic was a bold move…
CC: In a strange way Covid helped us with the fitout as we provided work for a number of builders and labourers who had been laid off during Covid and were suddenly out of work.
We found local contractors were suddenly available a lot quicker during lockdown and were able to get the work we needed to get done – all under social distancing and government guidelines of course.
We haven't opened fully yet but the demand for our food shows people are ready to come out and kick-start the economy.
We are testament to the fact that, like everywhere in Hitchin, if you offer a quality product people are happy to come out and support local businesses in the town. You'll always get people saying don't open during a pandemic, don't do this, or don't do that – but touch wood, the response from our customers here in Hitchin and beyond so far has been phenomenal.
The day we opened, people queued for four hours. There is always a queue for our food. We always respect social distancing measures with spacing outside for those waiting to come in. All our staff wear PPE, we have hand sanitisers all over the place. We want to make it clear we haven't just flung the doors open and off we go.
We have thought about how to keep people safe. We are extremely conscious of our responsibilities. We checked with North Herts District Council, we checked with Hitchin BID, we had the police in, the licensing people – we really did make sure we ticked every box in terms of how to keep our customers and staff safe – which is absolutely the most important thing.
HNN: Do you have a message for your customers and the town of Hitchin?
CC: We want to get across how overwhelmed we have been with the response from our customers in Hitchin and beyond. We want to say thank you to the people of Hitchin because they have been absolutely great for us in coming out to support us.
It's been a challenging time, an uncertain time for everyone – people havae lost their jobs, people have been furloughed - and we just want to say a big thank you to everyone who has backed us since we opened.
People have said we've given a lift to Hitchin. I don't know about that but the response has been incredible.
HNN: Thanks for your time Chris, all the best
CC: Thanks Layth – we love Hitchin Nub News!
New hitchin Jobs Section Launched!!
Vacancies updated hourly!!
Click here: hitchin jobs