Hitchin: Have you spotted new arrivals in our town centre this week - here's why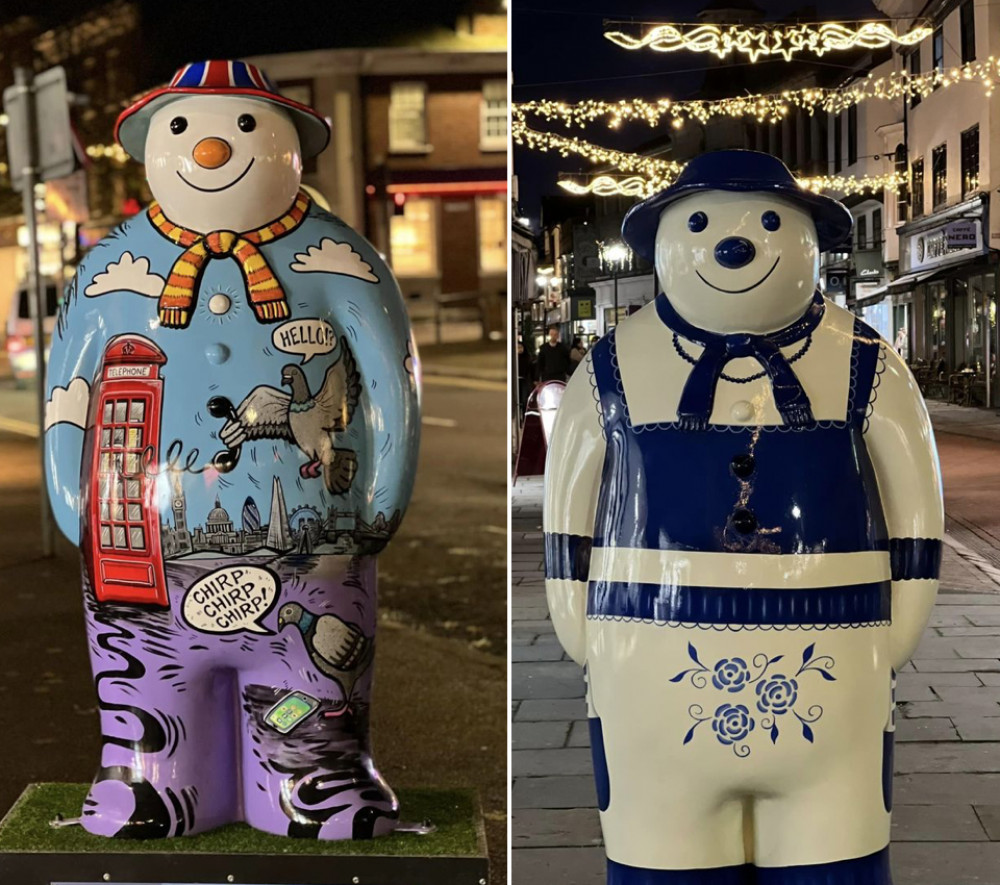 New arrivals in Hitchin this week. Here's why. CREDIT: @HitchinNubNews
Have you spotted some new arrivals in our town centre this week? Read on to find out why they're here.
Hitchin town centre has welcomed the start of the festive period with a free community art trail, called Walking with the Snowman - inspired by the late Raymond Briggs' classic picture book, The Snowman.
The trail, sponsored by local housebuilder Cala, will run until January 20, 2023, and features 12 Snowman sculptures across Hitchin.
Each Snowman in the Walking with The Snowman trail is based on a line from the song 'The Twelve Days of Christmas'.
Former Hitchin Town centre boss Keith Hoskins added: "The Snowman is loved by generations of children, and this trail in Hitchin offers a wonderful way to bring families together, with children who love the book, and the film, taking part with parents and carers who loved The Snowman as kids.
"We're thrilled that one of our local artists and children from a local Hitchin school have been involved, and we would encourage everyone to come along – we'll be snow happy to see you!"
The 10th Snowman on the trail was designed by local Hitchin artist, Sarah Graham, with the help of Year 6 students from her former school, Oughton Primary and Nursery School.
Sarah Graham said: "Working with the children of my old primary school was so much fun, and their designs were so creative.
"Painting has been my passion since I was around their age, so I'm grateful Cala gave me this opportunity to hopefully pass some of that passion on to the next generation."
Walking with The Snowman is presented by Wild in Art in collaboration with Penguin Random House Children's and sponsored by Cala.
Wild in Art is a leading producer of spectacular public art events that bring people together through the creation of uniquely painted sculptures.
Charlie Langhorne, Managing Director and Co-founder at Wild in Art said: "We're really excited to continue our ongoing partnership with Penguin Ventures on another Walking with The Snowman trail in our new location of Hitchin for 2022.
"We can't wait for visitors to discover the magic of the trail and see how the artists have brought Raymond Brigg's iconic character to life."
Over the course of installation, Cala is encouraging the local community to make donations or host fundraising events to support Samaritans, Asthma + Lung UK and local Hitchin charity, Open Art Box.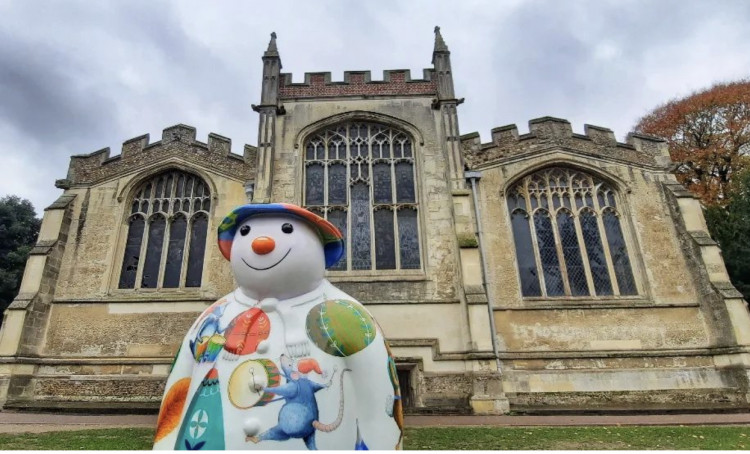 One of the Snowmen is situated outside St Mary's Church. Read A Churchwarden Writes for more here. CREDIT: Danny Pearson
Glenn Copper, Sales & Marketing Director at Cala Homes (North Home Counties), said: "We're so pleased to finally see Walking with The Snowman really come to life around Hitchin.
"The Snowman sculptures have made the town feel so festive and are a real example of the community spirit in the area, which we are proud to be part of at Cala.
"We hope the tenth Snowman is really popular. It's a tribute to the talent of Sarah Graham and the pupils of Oughton Primary & Nursery School.
"This initiative is part of a programme of proactive support for the communities we operate in. We're also delighted to be supporting such important charities. One of which is a Cala charity partner, Samaritans.
Presented by Cala in partnership with Hitchin BID and other partners including the Samaritans charity.
A map of the trail, activity book and completion certificate are available on the Cala website for those taking part.
For more follow @calahomes
Cala has launched three developments in Hitchin to date, including Hurlocke Fields, which launched this year. Summer 2023 will also see the launch of Cala's fourth development in the area, in Ickleford.
Cala continues to contribute to much needed housing in the area alongside a region-specific programme of community support.