Hitchin Town 2-4 Kings Langley: Canaries lose Herts derby in front of bumper festive Top Field crowd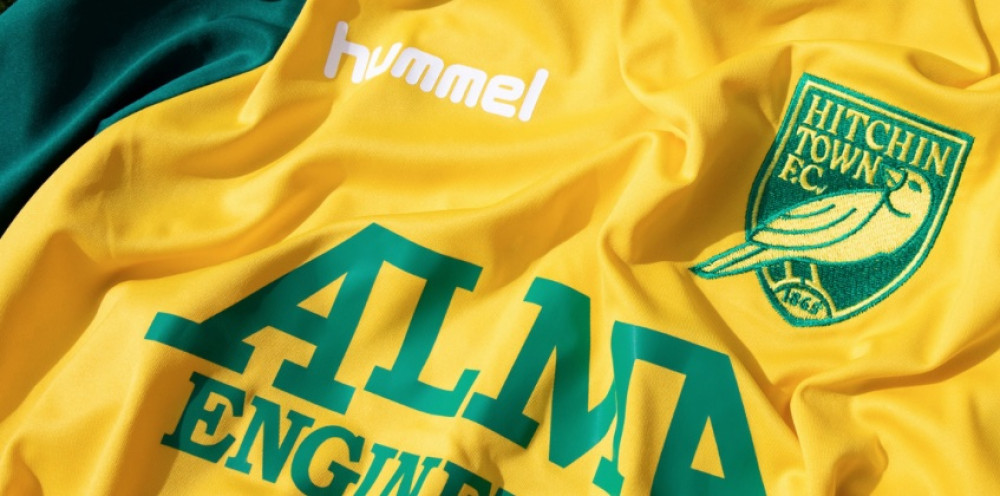 Hitchin Town 2-4 Kings Langley
Hitchin Town 2-4 Kings Langley: Report by Pipeman
An early kick off on Boxing Day at Top Field, and a Hertfordshire derby to increase the interest.
The team news revealed a return to the starting eleven for Toby Syme, and goalkeeper Charlie Horlock who has recovered from chicken pox which with the omission of Steve Cawley were the changes from the Rushall game. In support of charity – Shelter, the Canaries were wearing their purple away kit. The visitors appeared in an Arsenal style shirt, with red shorts and socks. Of interest to home supporters was the return to Top Field of former player Isaac Galliford.
It was something of a shock that in the third minute and with their first attack, the visitors took the lead in a remarkably simple fashion. Ryan Case scampered along the right wing and sent in an undefended cross that was converted by Wilson De Carvalho. So, wakey, wakey, was our thought and Diogo Freitas-Gouveia's shot was relatively good but over the bar.
Lovely footwork by the same player brought another shot and also one from Toby Syme, both being saved by Jack Berman. It was a necessary response from Hitchin. Following this, Case again sent in a cross met by Andronicos Georgiou whose shot was easily saved. Idiakhoa won a corner that brought a blocked shot and an alarming counter run, in solo mode from Georgiou that was snuffed out and just as well.
Syme's cross following a Jones pass saw Hay have an 'air header' but it still looked promising play from Hitchin. But a half hour had passed and they had been contained and needed to defend some smart counter moves. There was a Hitchin free kick wide on the left that came to nothing. Some excitement was caused when a shot from Rio Dasilva looked to be on target but it had struck the side netting. It was clear that Kings Langley wanted to hold on to their lead as much as Hitchin wanted it eradicated. It was also clear that the half would be extended owing to stoppages for injuries and it seemed to make the need for the equaliser all the more urgent. The referee then had to deal with an altercation between Dasilva and De Carvalho which occurred off the ball.
Hitchin failed to make profitable use of the time added on and went predictably discontented to the interval. They could have been two down in this stoppage time there was a cunning lob from range by Andronicos
Georgiou that almost caught Horlock out. Then, with just a minute remaining the visitors did add a second, scored by former Dunstable Town player James Kaloczi. It mattered little to them that it was against the general run of play.The simplicity of the goals was a factor that added further irritation.Possession and earnest attack is all very well but it is goals that count and plainly there was much that Hitchin needed to do.
The second half began with a spirited run from Aheneku who appeared to be upended but the referee ignored his appeal.The matter was not ignored by the visiting assistant manager who ended up having his name taken by the referee for persistently contesting this issue. Following this, a Hitchin free kick saw an attack broken down too easily. There was good work from Idiakhoa and Snelus which brought a shot but also a save. So, still not much to enthuse the majority of the excellent attendance of 665. Another free kick from the left for the hosts saw the ball hooked into the net by Lewis Barker and we had played fifty-three minutes. This was more like it.
Ideakhoa won a free kick on the right that was entirely wasted and in a counter attack the visitors snatched a third in dramatic style with the ball being slipped passed Horlock by Aheneku after fifty-eight minutes. It came once again from a flank movement and only a token challenge to prevent the cross. This was a body blow to Hitchin who had briefly seemed to be clawing their way back to a respectable score against a team they have often struggled against.
Finley Wilkinson made a return as substitute in place of Rio Dasilva.Then Hitchin netted from a free kick when it appeared that the whistle had gone for some infringement – but the referee indicated that the goal stood and it was scored by Ashley Hay after sixty- four minutes. This of course engendered more hope of a favourable result. Layne Eadie then replaced Toby Syme. It was perhaps significant that goal keeper Jack Berman was cautioned for time wasting with a good twenty plus minutes to go. Speaking to the referee after the game he confirmed that he did blow his whistle to award a penalty but conceded that he did this too early, and said the ball had entered the net as he had started to blow.
A Hitchin free kick from the right was ably defended, but still the hosts pushed forward with Freitas- Gouveia seeing his effort cleared off the line. A corner was won and defended and Ciaren Jones was cautioned for what is euphemistically known as a professional foul. Horlock held the ensuing free kick. The next forward manoeuvre from Hitchin was ruled offside and the time wasting by the visitors was becoming more subtle. In the interim I overheard a discussion about the referee's spontaneous change of decision and if such a decision can stand once a whistle has gone. I have alluded to this already and will only add that the referee felt he was mistaken to whistle 'too early', which were his words but also that he felt he was mistaken. We have to accept that the goal and the penalty decision happened simultaneously, and it made no difference to the final result.
Play was becoming more intense and so were the tackles, but where was the Hitchin equalising goal? Steve Gleeson had come on for Josh Coldicott- Stevens and Kings had brought on Parkes for Keller and then Gardiner- Smith for Georgiou.
Time was running out. A cross from Jones was defended. More attacks followed with six minutes added. As this was announced Kings cleared one effort off the line and a Hitchin free kick failed to win the corner they desired. The goalie elaborately wasted time and then a fine combination between Bassadi and De Carvalho saw the latter add a fourth goal which deserves credit for enterprise and earnestness. Coming so late this goal consigned Hitchin to a home defeat but in the frantic stoppage time they did not cease their efforts. Conceding four goals at home will need some addressing.
Kings Langley, languishing near the bottom of the table were in some need of points and will be pleased to have won them here at Top Field and in the audacious manner in which they performed this task. For Hitchin is was a below par performance, with some notable inaccuracies in front of goal. I was urged by one or two to highlight the time wasting shenanigans by Jack Berman, but in doing so I will remind our supporters that our own Charlie Horlock has not been beyond such a 'tactic' and that every team knows how to waste time and keep wishing the bounds of legitimacy.
No doubt this was a bad loss for Hitchin, who , as at Rushall, had played the better football but had little to show for it. Poor defending has meant that seven goals have been conceded in two games, which is a cause for concern as much as the lack of precision in front of goal. The preparatory play, consistently good, needs to be blessed with accuracy.
The team travels to Suffolk on 2 January to take on another 'bogey' team, namely Needham Market and there is a 14.00 kick off for this one. It is hoped that a third successive defeat can be avoided.
There is a statistical note to end on, and here I refer to our secretary's bulletin that reveals our less than impressive sequence of results in Boxing Day encounters and today's poor result adds to that sorry revelation.
HITCHIN TOWN
Charlie Horlock, captain, Daniel Idiakhoa, Stan Georgiou, Toby Syme, (Layne Eadie), Ciaren Jones, cautioned, Lewis Barker, GOAL, 53 MINUTES, Diogo Freitas- Gouveia, Rio Dasilva, (Finley Wilkinson), Ashley Hay, sponsors' man of the match, Josh Coldicott-Stevens, cautioned, (Stephen Gleeson), Jack Snelus. Substitutes not used- Malaki Black and Bradley Bell.
KINGS LANGLEY
Jack Berman, cautioned, Ryan Case, Alexander Lafleur, Isaac Galliford, James Kaloczi, GOAL, 45 +1, Jorell Johnson, Chukwuemeka Okoye- Aheneku, GOAL, 58 MINUTES, Sami Bessadi, Wilson De Carvalho, TWO GOALS, 3 MINUTES AND 90 MINUTES , Andronicos Georgiou, cautioned, (Jacob Gardiner -Smith, cautioned), Cain Keller, cautioned. ( Jordan Parkes). Substitutes not used- Joseph Chidyausiku, Hafed Al-Droubi, GK. Matthew Taylor.
Referee- Mr M Fletcher assisted by Mr D Ing and Mr R Poole.
Attendance 665