Hitchin Town battle to earn point after goalless draw at Alvechurch on Non League Day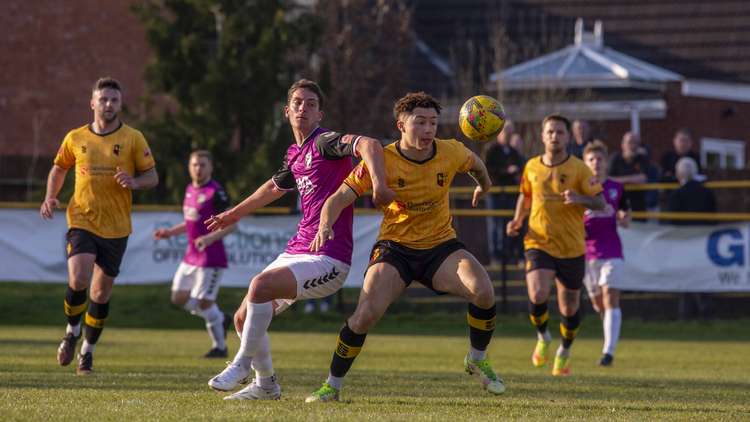 Hitchin Town battle to earn point after goalless draw at Alvechurch on Non League Day. CREDIT: PETER ELSE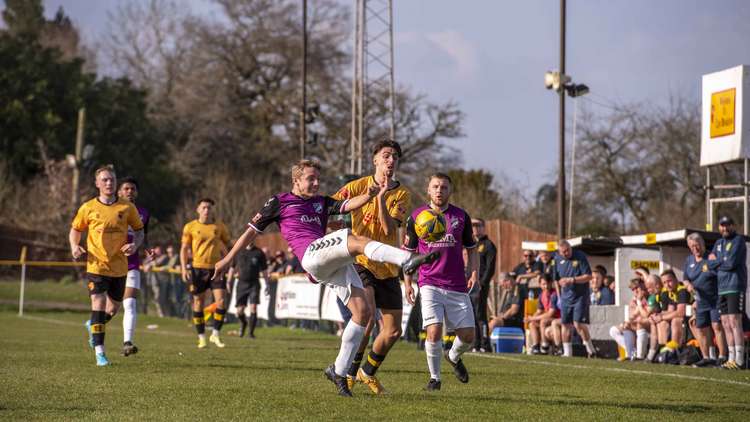 Hitchin Town battle to earn point after goalless draw at Alvechurch on Non League Day. CREDIT: PETER ELSE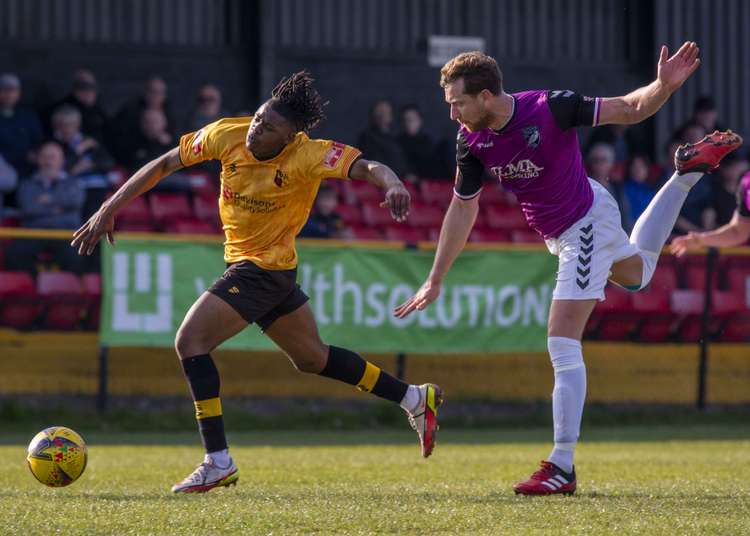 Hitchin Town battle to earn point after goalless draw at Alvechurch on Non League Day. CREDIT: PETER ELSE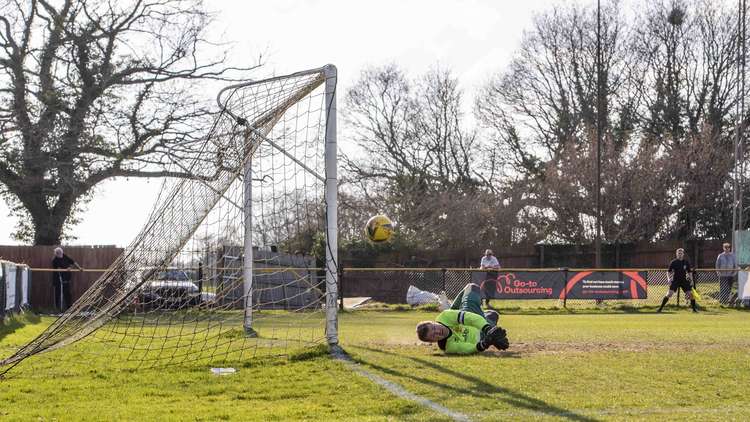 Hitchin Town battle to earn point after goalless draw at Alvechurch on Non League Day. CREDIT: PETER ELSE
ALVECHURCH 0-0 HITCHIN TOWN
Hitchin battled to earn a point, playing as they did with ten men following the dismissal, with a straight red card of James Peters, making his first start, and it was an undisputed decision.
Peters, to use the euphemism, took one for the team in the twenty-eighth minute, when he denied Tyrell Skeen-Hamilton a goal scoring opportunity.
Our new signing did not bother with a token 'Who, me ref?' and left the field immediately. It changed the tenor of the game in a trice.
Until that incident, Hitchin had looked the more enterprising team against a side who were still realistically looking for a play-off opportunity, but, even with an extra man, did not look like scoring. Hitchin were lacking skipper Dan Webb and the injured Lewis Barker, and Peters started along with Stephen Cawley.
We dare to expect good things from the Canaries who now have lost only one in eight and are playing with renewed confidence and vigour.
Each time we come to Alvechurch the sun is shining and before the kick-off there was a kind of pre-season atmosphere and, to be honest, the atmosphere did continue with a degree of somnolence, despite what was at stake for both teams.
As at Stratford, Hitchin did not allow their opponents any time on the ball and were soon getting the ball forward.
Cawley managed the first shot, which to be fair was only a token effort along the ground and no problem for Leon Phillips.
This was Non League Day but it had no effect on boosting a somewhat meagre attendance which was somewhat short of vocal exhortation.
Hitchin won a corner from Brown's early cross with Phillips tipping the ball over the bar, and he snatched the ball from the head of his own defender in the following corner.
The Church tried to build from the back but often got their wires crossed and Hitchin pushed forward again. Malaki Black managed a snap shot that went wide but it was all good stuff so far from Hitchin.
Alvechurch won an corner, sent in by Turton, and Zac Brown headed it way over the bar. Jack Green was willingly performing his wing back stuff and caused a few problems in doing so.
In ten minutes the hosts were still struggling to find any rhythm. Cassidy won a corner for The Church, hit along the ground to no effect and there was an infringement in any case.
Hitchin looked composed, and a headed pass for Hutchinson from Green saw Phillips again claim the ball. Then the Church had Horlock on his knees to cut out a low cross.
The hosts had a free-kick, wide on the left and this was sent in but there was an off-side. I had expected more urgency from the hosts, but this was delayed until the second half and even then it was not impressive. They wasted free-kicks and saw intended forward moves consistently broken down.
A cross from Solanke was too deep and back came Hitchin, probing to better effect. Yet direct shots were at a premium. Stan Georgiou was again playing with a maturity beyond his tears and Ciaren Jones was again outstanding.
Zac Brown had a blocked shot that went for a corner that was defended routinely.
A cross from Sephton was similarly defended and Black's intended pass for Cawley was no realised.
There was indeed little to be excited about at this stage and then came the dismissal of James Peters, already mentioned.
It was a great disappointment and, as I have said, it changed the tenor of the game.
It put an end to Hitchin's probing play – which was more evident on a defensive second half where clearances came into the category of anywhere will do. Hitchin had enjoyed a slight initiative but now it was vital that the team reached the interval without conceding.
There was a drinks break when Horlock received treatment and not for the last time.
In what might pass as frantic closing play, the Hitchin goal keeper was battered from post to post and also received a booking for time-wasting, as did Alex Brown.
With not even half an hour gone, the psychological aspect leans towards grim defence with the hope of a breakaway or an unlikely error.
The dismissal looked as if it might be exploited but it was not and the rest of the game may be summed up as 'well, it was not a classic.'
It is often claimed that the ten men aspect can see a resurgence rather than a decline, but what we saw was disciplined defending against mediocre attacking play.
Church officials were unanimous after the game that their side had not deserved to win, but that Hitchin had deserved their point.
Some departing home supporters had said in a stage whisper that the Canaries had travelled just to get a point but I do not agree.
Had they not suffered the dismissal they might have done as they did at Stratford and poach a winner.
Having reached the interval without conceding, it was inevitable that some kind of change would be made and this was indeed the case when Steve Cawley was replaced by Josh Popoola.
This was fair enough as Cawley's neat flicks and assists would not be a part of the defensive game plan.
We took some heart in the fact that elsewhere other results were so far favourable to our position. It was clear that a point today would be welcome under the circumstances.
But what a poor second half it was, with Hitchin spoiling moves and sending clearances into space, ready for the next assault.
The Church had a lot more of the ball but did comparatively little with it, even when they had free-kicks in an inviting area.
We were positioned behind the goal at the entrance end and for some reason a number of home supporters wanted to wander by, as of discontented with their former position causing a squeeze since there is so little room.
All decisions seemed to go the way of the home team, as they always do when you are up against it.
Yet it was a battling rearguard from Hitchin, who kept their discipline and here and there were able to create a chance that might even have won it.
Popoola struck the side-netting, and Hutchinson, whose work rate was phenomenal had a golden chance but his lob did not deceive the home keeper.
I was amused that a defensive lob from Ciaren jones needed Phillips to make a save as the ball was heading for the net at the far post.
Such opportunities were rare, of course as the team concentrated on defending to earn that point that would ultimately keep the team in seventeenth place.
Alvechurch moved the ball well, switching play, pumping the ball forward but there was no real shot on goal to match Turton's firm on target effort from the first half.
I was expecting more and so were home supporters. A central free-kick in the hour mark high the defensive wall.
Turton took a corner that was defended and Cassidy, playing wide was not able to cross the ball to any effect. Hitchin were unyielding and were determined to see the game out, sacrificing finesse.
The onus was on the home side to press its advantage. They sent on substitutes, placing more urgency on their attacks but they were always so inconclusive.
The referee stopped the game to have a stern word with both managerial benches, and more time was added on, when an embattled Horlock needed some treatment.
He was booked later for time-wasting along with Alex Brown and the referee clearly indicated that he would compensate. Yet when it came to it there was only just over five minutes of stoppage time.
Hitchin supporters were generally pleased with the point and applauded the players with as much gusto as it awe had won, but it was a good result since they had to play for so long a man down.
Even though results elsewhere may be said to have been favourable to our plight, the match next Saturday remains as vital as Hitchin take on bottom placed Lowestoft and no quarter will be asked for or given.
On the coach on the way home we were regaled with some of the players doing a karaoke using a microphone and I may say that as singers they make fine footballers.
Ciaren Jones gave the best performance in the karaoke as well as as the pitch.
All good for team bonding if not for our musical sensibilities.
I recall an official at one club mistakenly saying that such activities were good for team bondage, unaware of his malapropism.
Seventeenth position can be improved on and we need to ensure safety and we cannot relax.
It is not over until the lady of mature years and full figure performs her song, which we hope is better that the team bus karaoke.
ALVECHURCH
Leon Phillips, Ben Cassidy, Ethan Sephton, Tom Turton, Jamie Willets, Ash Carter, Tomiwa Solanke, Zac Brown, (Dave Bellis), Tyrell Skeen-Hamilton, Nicholas Clayton-Phillips, Kyle Hurst, (Daniel Waldron). Unused substitutes- Bradley Burton, Ethan Patterson, Jack Hallahan. HITCHIN TOWN
Charlie Horlock, cautioned, Jack Green, Alex Brown, cautioned, Stan Georgiou, James Peters, dismissed, straight red card, 28, Ciaren Jones, this reporter's man of the match, Josh Coldicott-Stevens, Rio Dasilva, Jacob Hutchinson,( Johhny Allotey), Stephen Cawley ( Josh Popoola), Malaki Black.
Unused substitutes- Ben Stevens, Michael Conlon, Stephen Gleeson.
Referee- Mr J Alsoppat assisted by Mr A Davenport and Mr H James.
Attendance 178
REPORT BY PIPEMAN