Hitchin Town win 2-1 at Mickleover as Mark Burke's Canaries post excellent win on the road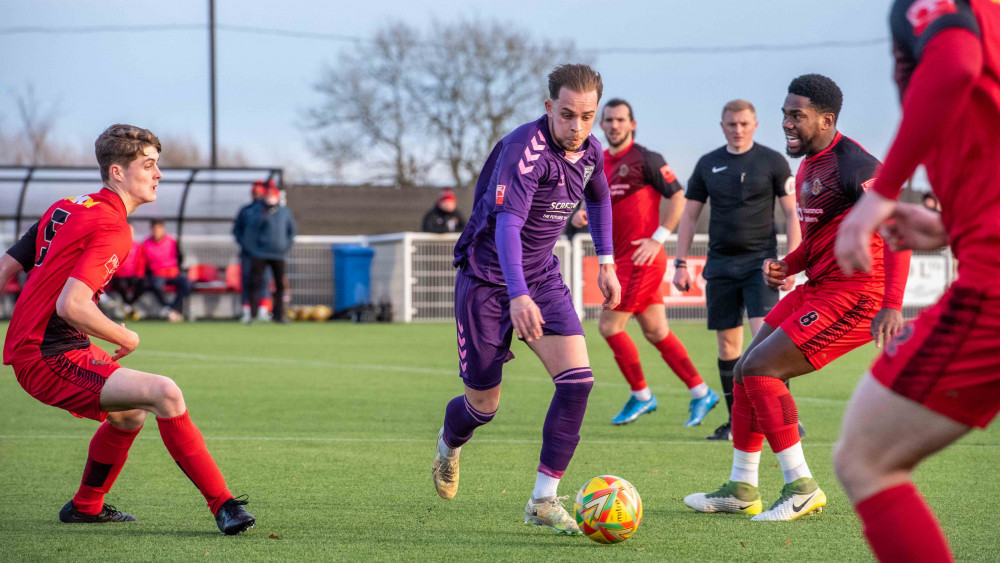 Mickleover 1-2 Hitchin Town: Match Report by Pipeman at Station Road, photographs by Peter Else
Mickleover 1-2 Hitchin Town: Report by Pipeman, photographs by Peter Else
Hitchin's maiden visit to Mickleover was of considerable interest since the two previous meetings had ended in their favour, writes Pipeman from Station Road.
A victory in the F A Trophy was followed by a convincing 4-1 win, both at Top Field. It was the second league double of the season, following that of Rushden and Diamonds, but it was a rather close call in the last frantic minutes.
As I boarded the coach I was shown the Derbyshire club's website where the word 'revenge' was the nature of the short article. Indeed , after that 4-1 home win I do recall saying that it might be a different matter when we travelled north for the return fixture. This proved to be true, but a win is a win however close fought.
As the rain pelted down en route, we were assured that the game would take place , since the hosts were possessed of an artificial pitch. We did receive understandable news of postponements elsewhere.
My viewing position was rather unusual, being a platform on top of the hospitality suite. It was a grand view but brass monkeys. I was alone until I was joined by a young lady who was clutching a notebook. I asked her if she was a reporter and she said, no, she was an analyst. Being only a reporter I was intrigued and it transpired that the young lady has a university placement at Mickleover as part of her sports studies course. We shared our airy perch and shivered, since the cold needed no analysis.
Hitchin fielded an unchanged team from the Bromsgrove fixture, and the selection was deemed to be generally successful.
Astonishingly and with a sense of déjà vu , we saw an opening goal within the first two minutes when in an unchallenged move, Oliver Greaves put the hosts in front. Hitchin were in possession, lost it and paid in full for the lapse of concentration.
The shocked visitors tried to respond but the next significant piece of action was an on target shot from Rhys Dolan, saved by Charlie Horlock .
But by the twelfth minute Hitchin were level owing to initial good work from Diogo Freitas-Gouveia and a superb cross from Ciaren Jones that gave wing back Bradley Bell a free header to bag the equaliser. It was a well- constructed goal indeed.
Having seized the initiative, the visitors played the more incisive football but the closest they came to adding a second was from a speculative lob from Ciaren Jones at some distance. For the hosts the appealed in vain for a penalty in one if their rare forward moves.
Perhaps Hitchin ought to have taken the lead when Jones got pace but not accuracy with his header five minutes before the interval. Matters had been more or less even with Hitchin having just the more significant possession, and the better chances.
The second half began with a half chance for Freitas- Gouveia and a free kick from Mickleover failed to trouble the Hitchin defence.
The visitors took the lead after sixty-five minutes when, following a corner Ashley Hay volleyed emphatically to put his side ahead. It was a chance successfully seized which made amends for the numerous efforts that were broken down either through stout defending or errant passing. Indeed the swirling wind may also be blamed for some of the inaccuracies for both sides.
There was as yet little indication of the pressure that was ultimately applied by the hosts who were also reasonably creative in trying to persuade the referee to award a penalty kick. I will say that one of these appeals had a hint of veracity about it, but it was never what has come to be called stonewall.
It was Hitchin's turn to attack with just isolated chances, but defending in this game proved noteworthy, and but for that unfortunate blunder at the two minute stage they may well have kept another clean sheet.
Mickleover had mixed fortunes with both free- kicks and corners, with some being painfully wasted. Indeed their most penetrating period came inside the last quarter of an hour where they not only nullified Hitchin's attacking prospects but forced Horlock into one or two punched clearances.
The very best chance came right at the end when, Greaves, the scorer of the starting opening goal almost scored with a fine strike.
Thus brought a stupendous save from Charlie Horlock who turned a goal bound shot away for a corner.
This brought some dramatic goalmouth action where almost anything can happen but what did happen was some composed defending under pressure, even if it resulted in an anywhere will do clearance.
In many ways this was a notable win, since the team needed to come from behind after overcoming the shock of needlessly conceding and so early. They grew into the game and gained an impeccable equaliser and were comfortably disposed after that, being the more creative going forward.
Apart from the last quarter of an hour or so, Hitchin had looked reasonably comfortable and both goals were well taken. There was a good balance on the team with hard work apparent on and off the ball.
It was cleanly contested but the hosts received two cautions ( Wilson and Rose) for over zealous challenges. The strong 'suggestion' from home players in seeking a penalty was just a little tiresome and ultimately it was like the boy who cried wolf.
Surprisingly. Hitchin manager Mark Burke told me he enjoyed the closing stages where Mickleover made every attempt to salvage a point. ' it was exciting stuff and good to watch.' I wonder if he would have enjoyed it as much had the hosts scored or even hoodwinked the referee into a penalty award.
The three hard earned points today places Hitchin sixth in the table, but they have played more games than all clubs except Bedford. Next Saturday sees Hitchin once more on the road – this time to Coalville which has not been the happiest of hunting grounds for the team.
MICKLEOVER
Jonathan Hedge, Joseph Bateman, Rhys Dolan, Ryan Wilson, cautioned, (Pablo Mills), Ethan Mann, Philip Watt, captain, William Trueman, ( Elliott Reeves), Mitchell Rose, cautioned, (Mason Warren), Marcus Marshall, Stuart Beavon, Oliver Greaves, GOAL 2 minutes.
Substitutes not used – Oliver Bosworth, GK, Andrew Dales.
HITCHIN TOWN
Charlie Horlock, Bradley Bell, GOAL, 12 Minutes, Layne Eadie, Toby Syme, Ciaren Jones, this reporter's man of the match, Lewis Barker, Diogo Freitas- Gouveia,( Finley Wilkinson ), Stephen Gleeson, Ashley Hay, GOAL, 65 minutes, Daniel Ideakhoa, ( Stan Georgiou), Jack Snelus.
Substitutes not used – Josh Coldicott- Stevens, Rio Dasilva, Kye Tearle.
Referee- Mr Ashley Clarke, assisted by Mr Harry Hudson and Mr Gary Lord.
Attendance 302
REPORT BY PIPEMAN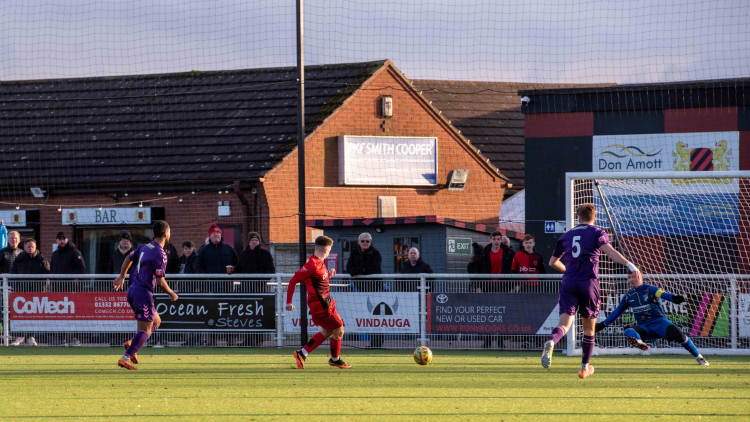 Mickleover 1-2 Hitchin Town: Match Report by Pipeman at Station Road, photographs by Peter Else