Bromsgrove Sporting 2-1 Hitchin Town: Canaries see red after controversial sending off
---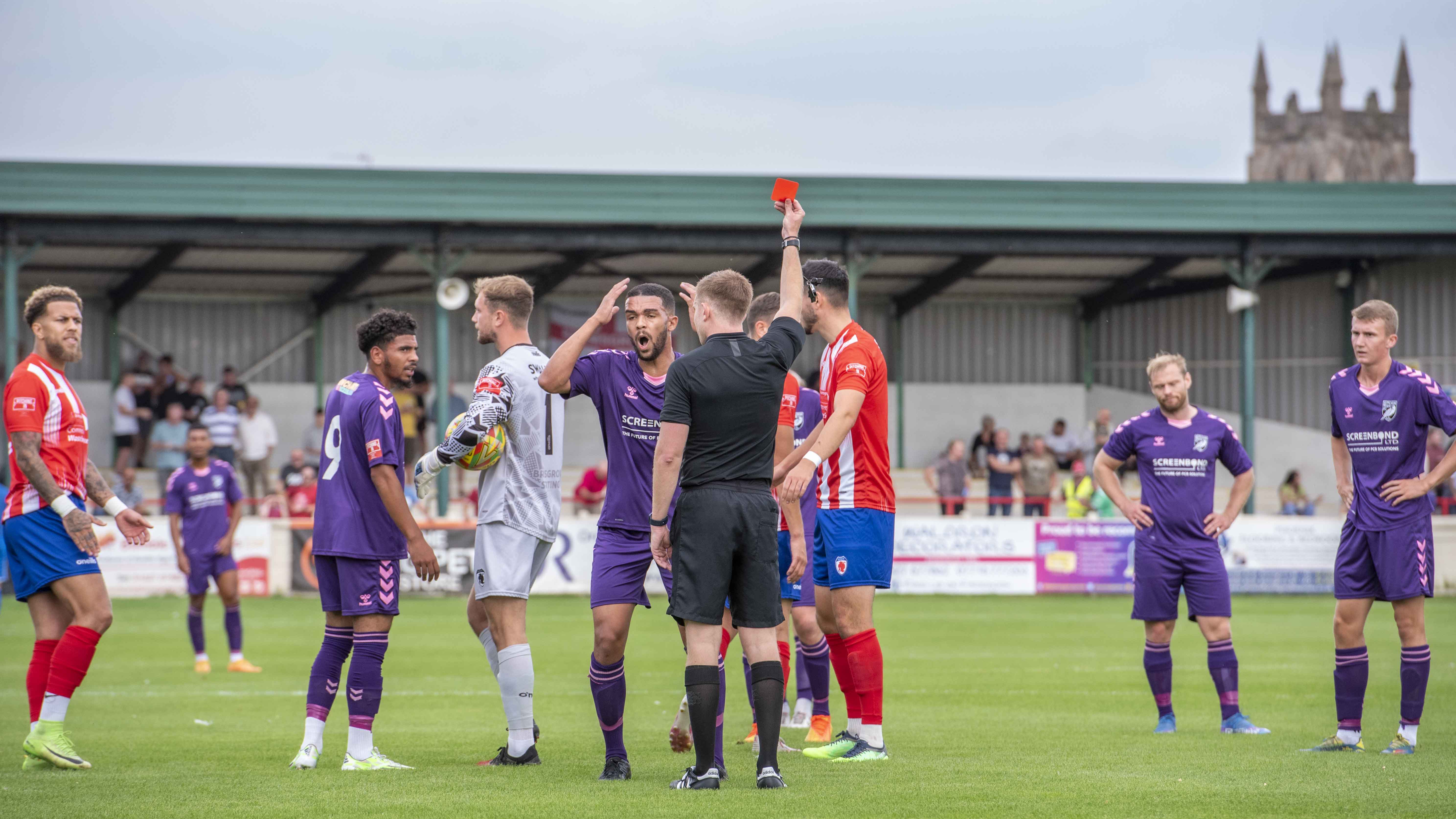 Bromsgrove Sporting 2-1 Hitchin Town. PICTURE: A pivotal moment as Lewis Barker is sent off early on. CREDIT: Peter Else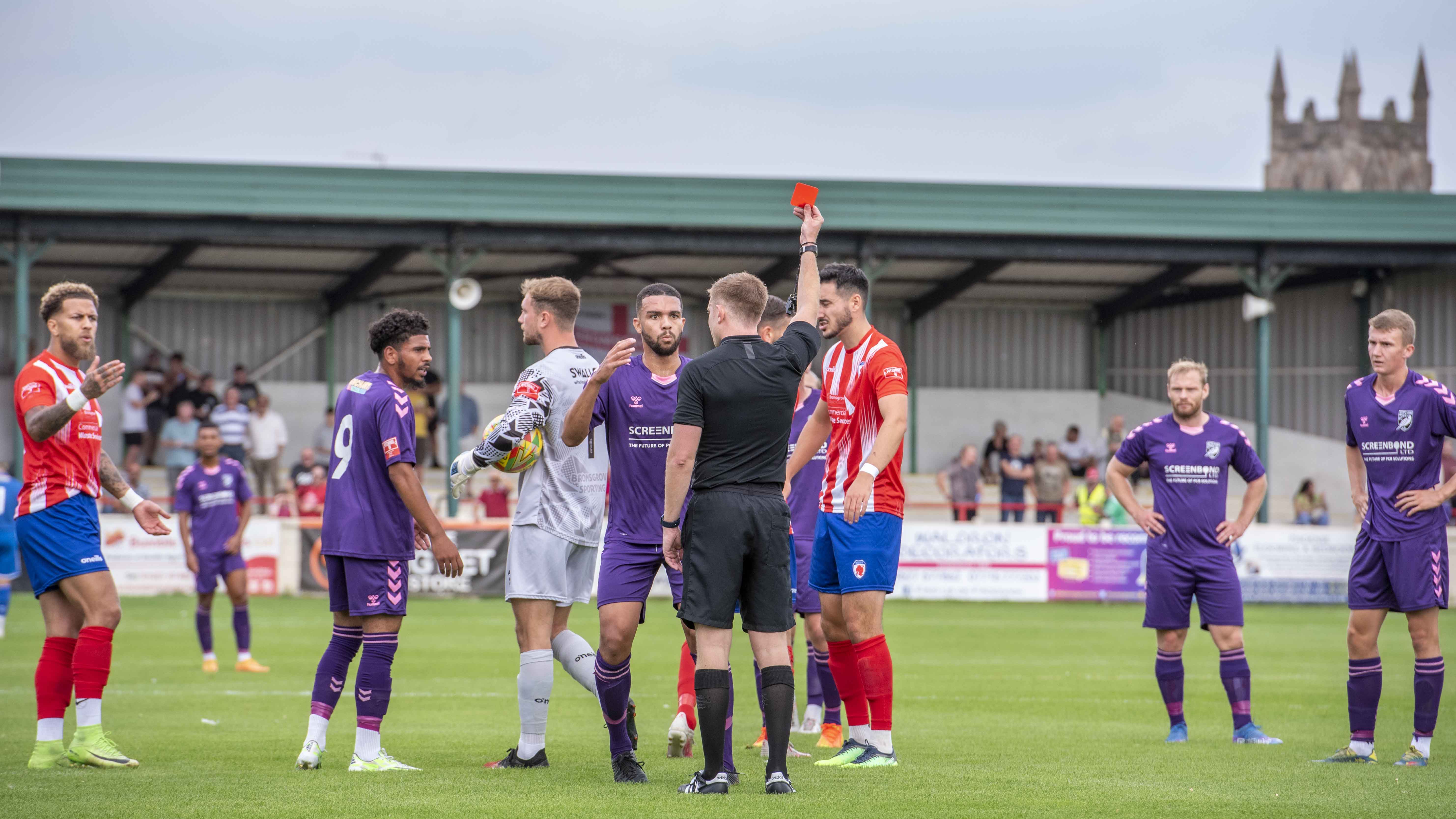 Bromsgrove Sporting 2-1 Hitchin Town. PICTURE: A pivotal moment as Lewis Barker is sent off early on. CREDIT: Peter Else
Bromsgrove Sporting 2-1 Hitchin Town - report by Pipeman, photographs by Peter Else
Hitchin Town suffered their first defeat of the season and it was indeed a suffering as their game plan had an enforced change following the controversial dismissal of Lewis Barker after just twelve minutes.
His challenge was deemed to be serious enough for a straight red card, but many saw it as an example of 'player power' as, to a man, home players surrounded the referee demanding that Barker received the full punishment.
If you suspect bias here I can report that all home officials I spoke to considered that the offence warranted a yellow card and regarded the dismissal as harsh.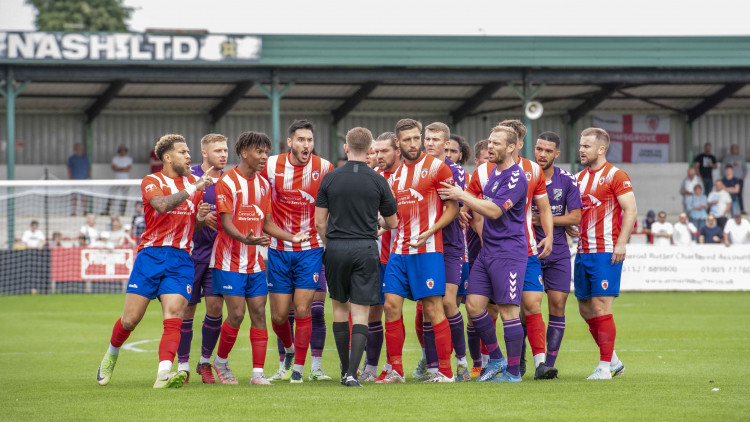 In real terms this decision altered the game considerably and a later apparent inconsistency from the referee saw James Fry cautioned for a similar offence against Rio Dasilva, who, if he had stayed down hugging his leg, Fry might have received a red card himself instead of a yellow and a roasting from the referee. Fry had been fortunate to escape a booking for an earlier trip – but however unjust the decision appears, there is just one referee and his decision is final.
As is well known, the team with ten men can often surprise, and indeed Mickleover in our division did just that by winning with nine men in the dying moments of the game against St Ives. Hitchin failed to emulate that but they did take the lead and kept it until just after the interval.
Curiously, the Rouslers, with two wins and two defeats so far were decidedly unimpressive in the first half, lacking creativity in forward moves, often involving the long ball. An exception was the agile Vladimiro Pais, whose pace was indeed electric and his corner kicks spelled danger. Hitchin appeared to cope well, and produced a number of chances, mostly after the dismissal and despite the enforced change in formation.
The willing Wilkinson sent in one shot that was rather tame and at the other end Sweeney headed over the bar and Edmunds, firing from range saw Horlock make a comfortable save. Then, with the home side strangely muted and not exploiting their numerical advantage, Hitchin struck with a well taken goal from the persistent Wilkinson following good work involving Stan Georgiou. As someone remarked – all we had to do now was prevent the hosts scoring twice, which at the time seemed plausible.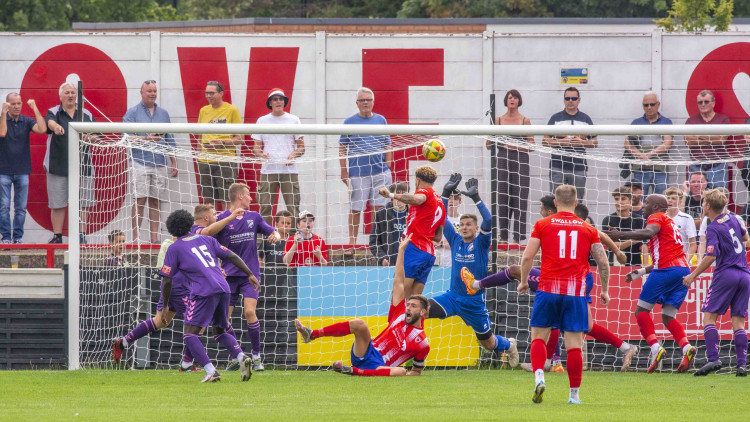 That goal served to remind us of the old adage that attack is the best form of defence, a sound piece of advice that was eventually adopted by the Rouslers who indeed had a rousing second half of unrelenting pressure but only one goal, but that was enough. Byrne had shot wide though a crowded penalty area and then Wilkinson had another go, his shot being cleared from the goal line by a well placed defender. A long through ball saw Sweeney appear to get ahead of the defence but he was adjudged off-side rendering superfluous Horlock's spirited run from is line to claim the ball.
There was a lighthearted moment when Jack green was urged to get a move on to retrieve the ball for a throw in. He explained that he was a little overweight and a Brummy voice yelled out 'and you've got a crap haircut as well.' That was nearly as harsh as Barker's dismissal.
Not so amusing was the Fry/Dasilva incident. The latter was on a piercing forward run but was brought down with what is often described as a cynical foul. There was a cluster of players pushing and shoving to add to their opinions and it concluded with both Fry and Dasilva being cautioned.This all helped to give the referee a more difficult time and of course there were accusations of inconsistency. Dasilva's reaction was understandable but uncalled for and Fry was fortunate to remain on the field of play.
The Hitchin free-kick delayed by the brouhaha was a bit of an anticlimax as Wilkinson's eventual shot was a scuffed effort, well off-target. Bromsgrove had underwhelmed with their first half showing but more than compensated in the second period where they played more like a home team. This was boosted with the employment of two substitutes, Taylor and King-Harmes, who seemed to run the show at times. The boosting of strike power had with it a fire at will policy and this was maintained relentlessly – so much so that it was remarkable that Hitchin only conceded two goals.
But, as I have said, two was enough for the points. The first goal came after the half was just two minutes in and a loose ball fell nicely for Sweeney to blast in the equaliser on the volley. It seemed inevitable. King -Harmes tried his luck, with Horlock saving well. Dasilva showed some artistry in an individual move but after all the dazzling play he put the ball behind for a goal kick. King-Harmes was again off-target, but the chance was essentially wasted.
The revitalised Rouslers caused some untidy defending from Hitchin but they had a decent chance in attack with a double effort from Cawley and Wilkinson being foiled following a Gleeson corner. A dangerous cross from
Bromsgrove's Edmunds flashed across the face of goal with no-one there to convert. The pressure was maintained and it seemed unlikely that Hitchin to hold on for a point and it also seemed unlikely that they would score again, since they found it difficult to get through the midfield composure of their hosts.
Bromsgrove moved the ball about well, making the ten men chase. A run from Pais was defended but he won a corner, taking it himself. This resulted in the second goal, at the second attempt for Michael Taylor after sixty-eight minutes. After such pressure it came as no surprise, and even with their three substitutions, Hitchin could not recover their first half form.
Stan Georgiou, whom I playfully dubbed as Hitchin's Good Boy in my last report made a mockery of that by receiving a caution, the offence to many seen as another example of the referee's zealous imposition of authority, but he was a lot closer to the offence than I was.
Bromsgrove continued to attack with a purpose and it was curious that they did not seem all that urgent to add to their score. Despite their obvious dominance in the second half they looked quite relieved when the final whistle went.
There was the odd chance for Hitchin in the closing stages with a good cross from Malaki Black needing to be punched away by Oliver Taylor and Tearle shot well off-target after some good work in possession. Another amusing moment came when Horlock took a free-kick by just running up field in possession until the referee correctly sent his back to take the kick properly.
After the match many of the travelling supporters were of the view that had Hitchin retained eleven players the result might well have been a lot more positive and as such it was not a bad performance under the imposed conditions. I know there are referees who are unmoved by what I have called player power, especially when the appeal is to have a player dismissed, but I would not rule out the same tactic being employed by Hitchin or any other team. Gamesmanship is rife, whether it is time-wasting, messing around by the corner flag or feigning injury to eat up seconds or halt the momentum.
I will add that these things even out over a season but to end an unbeaten run in such a manner is unfortunate. Credit goes to Bromsgrove for their up and at 'em stance in the second half as any result other than a win against ten men would have incurred criticism from home supporters.
So, we move on and the next objective is to get a positive result against Needham Market, which would be a first and we want a Bank Holiday rather than a blank holiday.
BROMSGROVE SPORTING
Oliver Taylor, Kieron Dawes, (Michael Taylor, 46 GOAL 68 minutes,) Ammar Dyer, (Callum King-Harmes, 46,) James Fry, cautioned, Jack Byrne, Michael McGrath, Vladimiro Pais, home star man, (Joe Curtis 78), George Forsyth, Daniel Sweeney GOAl, 47 minutes, Harvey Gregson, Ryan Edmunds. Substitutes not used- Lewis Wright and Charlie Shaw.
HITCHIN TOWN
Charlie Horlock, Jack Green, (Johnny Allotey, 83 ), Malaki Black, Toby Syme, away star man, Stanley Georgiou, cautioned, Joshua Coldicott-Stevens, (Kye Tearle, 65), Lewis Barker, dismissed, straight red card, 12 minutes, Stephen Gleeson, Rio Dasilva, cautioned, (Delsin Ackom), Stephen Cawley, Finley Wilkinson, GOAL, 24 MINUTES. Substitutes not used- Bradley Bell and Alfie Warman.
Referee- Mr Jamie Conde, Cannock, assisted by Mr Ashley Davi's, Wolverhampton and Mr Richard Booth, Wolverhampton.
Attendance 656
REPORT BY PIPEMAN