Hitchin Town 0-0 Basford United: Canaries draw a blank - read Pipeman's report
---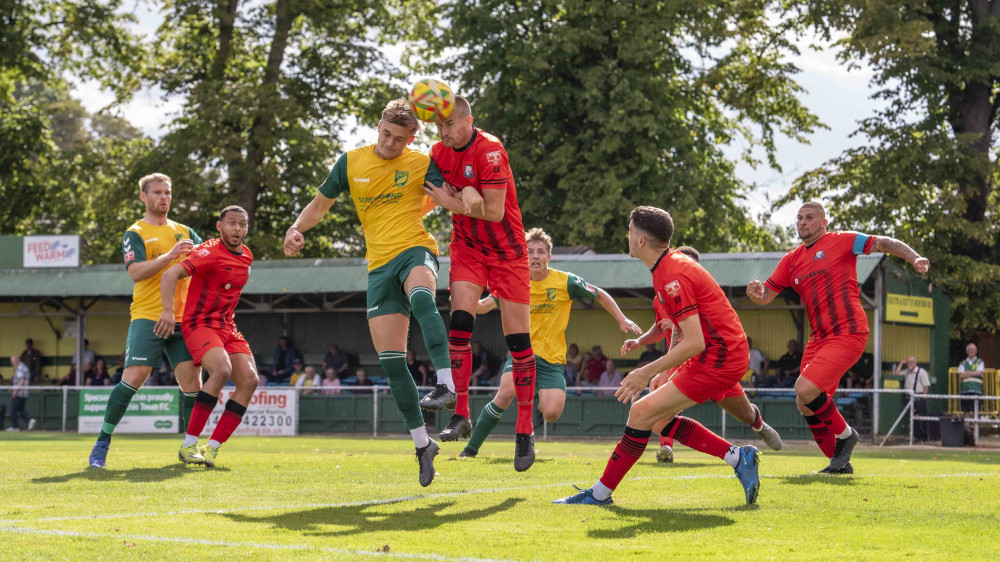 Hitchin Town 0-0 Basford United. CREDIT: PETER ELSE
Hitchin Town 0-0 Basford United: Canaries draw a blank - match report by Pipeman. Photograph: Peter Else
Our Nottinghamshire opponents made their maiden visit to Top Field and were very much the unknown quantity. The Lions may have made a roaring start with three good chances in the opening five minutes, but as the game progressed such a sequence was not repeated, and the general consensus was that a draw was an equitable result.
This was Hitchin's second home game of the new season and both have ended goal-less, but there were no serious complaints as the unbeaten run is now extended to four games which represents a very positive start. Basford, and, yes, it is pronounced 'Base-fud', had lost two of their opening three games and their solitary win was against our mid-week opponents Rushden and Diamonds.
In their first assault, the Lions' Joshua Barnes sent in a low cross that needed Horlock to smother the ball and soon after Anthony Dwyer, free on goal blasted his effort over the bar. It was like a warning, and before long the bulky Gregory Smith, who has, I am told proclaimed himself as Basford's Bad Boy, was a danger with his clever flicks and menacing presence. As the game progressed he talked a good game, with several appeals to the referee who did well to keep his patience. Later in the match he redeemed himself somewhat by showing genuine concern when Josh Coldicott-Stevens appeared to have a head injury.
Hitchin needed to get going and they did so, with a cross from Jack Morrell reaching Stan Georgiou, whose shot went just wide. Our Stanley, who might be called Hitchin's Good Boy, is overdue a goal and I hope it comes soon and is celebrated by a couple of backflips at the very least. A corner came from this and Gleeson sent it in smartly enough causing a punched clearance from Kieran Preston. A Gleeson free kick gave a chance to Morrell whose shot went just wide.
Morrell is no stranger to long range efforts and in this latest one, Preston needed to make a save and conceded the corner. Gleeson opted for the 'patent' corner, with Cawley the recipient. It nearly worked, and it is worth a try. Toby Syme, who was again awarded Man of The Match, made a crucial defensive tackle before Smith's header tested Horlock, who will no doubt be pleased with keeping a clean sheet today. If Morrell can surprise from range, well – Smith had a go himself with a cunning lob that was not too far away from its objective. Close to the half hour mark, one of the assistants raised his flag to gain the referee's attention and it transpired that Preston had strayed out of his penalty area for a clearance and Hitchin were awarded a free kick in a very inviting central area. The assistant involved told me afterwards that he had already issued a warning, which was presumably ignored. A realistic chance thus presented itself to Hitchin.
Morrell took the free kick and Coldicott-Stevens fired the shot that hit the post, and that was the closest we got to a goal. Back came Basford with a fine effort that saw Horlock tip the ball over the bar for a corner. Mitchell Tait's shot from a following attack saw a corner conceded, which was well defended. At the other end Cawley tried a shot on the turn which showed good technique even if the effort went wide.
A Gleeson free kick saw Georgiou in a forward position and he managed not one but two headers but these were ably defended. A late corner from Hitchin was also defended and the chance of a sneak lead was thus denied.
It had been a good half, full of probing and fluid football and home supporters were perhaps wondering just when there would be a home goal at Top Field.
The second period was clearly inferior to the first, since it was marked by several stoppages for injuries, some disputatious moments and fewer chances on goal. Although it was not as hot as the Rushall game, I suspect this had some say in the sapping of energy. Basford's first corner of the half was cleared by JCS who, still striving for full match fitness was replaced by Kye Tearle on the hour mark.
Cawley won a corner for the hosts and up popped Georgiou again with a shot that was just off-target. There were two free-kicks for Hitchin, both routinely defended and then Starkie startled with a wild, wide shot for the Lions. Another Gleeson corner was cleared and following a smart Hitchin move Wilkinson's shot was too soft to be effective.
There was a long delay when Morrell was treated for an apparently accidental elbow in the face and he was soon replaced and, I am told has a bit of a shiner. New signing Alfie Warman made his debut as a consequence. Johnny Allotey was also employed, replacing Rio Dasilva, but these substitutions did not alter the now fairly grim pattern of defensive play, with both teams probably deciding that a point apiece was not a disaster.
If we gently concede that Hitchin were just a little lightweight up front, we cannot fault the dutiful defence, with Syme once more putting in an impressive display.
As the game progressed to its apparently inevitable conclusion, we gained knowledge of Tamworth's remarkable 8-1 win at Bedford and we learned that our opponents next week, Bromsgrove Rovers had suffered defeat.
That game will be a testing time for the Canaries, who will no doubt be delighted should they achieve the stuff that dreams are made of by winning a third consecutive game away from home.
As for today, another good home attendance was just ten short of the Rushall game, and you absentees better have a good excuse. My own result for the prediction league was correct, but I rather wish that it were not and that three points had been gained instead of just one, but Basford deserved their point nonetheless.
HITCHIN TOWN
Charlie Horlock, captain, Jack Green, cautioned, Malaki Black, Toby Syme, sponsors' Man of The Match, Stanley Georgiou, Jack Morrell, (Alfie Warman),
Joshua Coldicott-Stevens, (Kye Tearle), Stephen Gleeson, Rio Dasilva, (Johnny Allotey), Stephen Cawley, Finley Wilkinson.
Substitutes not used- Sam Meakes, Bradley Bell.
BASFORD UNITED
Kieran Preston, Owen Betts, Mitchell Tait, cautioned, Declan Dunn, Brad McGowan, Stern Irvine, Ben Starkie, Adam Chapman, (Harvey Grice), Gregory Smith, captain, Anthony Dwyer, cautioned, (Tyreace Palmer), Joshua Barnes, (Courey Grantham).
Substitutes not used- Riece Bertram and Gianni Musson.
Referee- Mr F Roque, assisted by Mr T King and Mr A Simmonds.
Attendance 409
REPORT BY PIPEMAN