Rushden and Diamonds 1-2 Hitchin Town: Read Pipeman's report as Canaries post welcome win on the road
---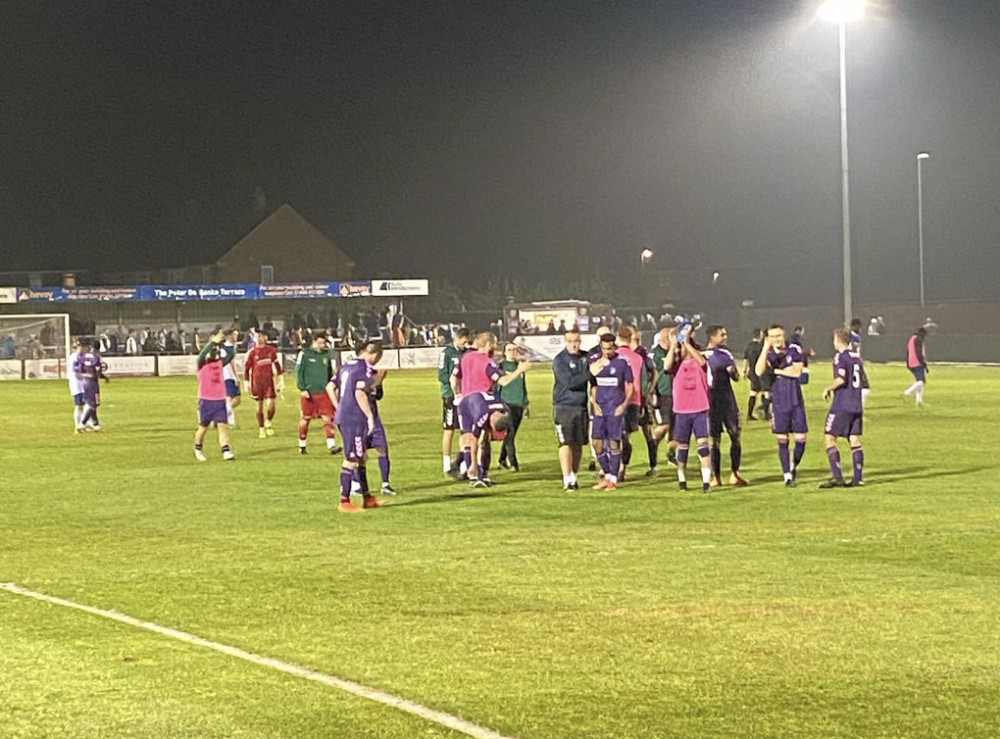 Rushden and Diamonds 1-2 Hitchin Town. CREDIT: HTFC Instagram
Rushden and Diamonds 1-2 Hitchin Town
Read Pipeman's report as the Canaries post a welcome win on the road.
Hitchin Town's first ever win over Rushden and Diamonds was celebrated in a fairly subdued manner by the travelling faithful who had sheltered from the incessant rain, writes Pipeman
Yes indeed, the much needed rain accompanied the much needed win, which came as a result of a second half penalty. Hitchin had conceded against the run of play, equalised a minute later and that penalty proved to be the clincher.
Although it sent us all to shelter, we all seemed to approve of the unceasing downpour and indeed it altered the tenor of the game, as the ball zipped about on the surface on the Hayden Street pitch. There was on change from the team that held Rushall Olympic to a draw on Saturday, with the injured Jack Green replaced by Kye Tearle and there was a start for Finley Wilkinson.
Playing in all purple, or is it magenta? Hitchin won an immediate free-kick, which brought a corner. This was the 'patent' one and patently did not work as Stephen Cawley lofted the ball way over the bar. Another free-kick from Gleeson had Dean Snedker rise to the occasion for a punched clearance, and this enabled Connor Furlong to utilise his impressive pace along the right flank. Diamonds were utilising both flanks which needed careful monitoring.
But the hosts very nearly bagged the opening goal through a central move where Jack Connor ran onto a looping through ball and his deft flick saw the ball go just wide of the post. It was the best chance so far. Wilkinson won a free kick in a potential scoring position, but Dasilva's effort struck the defensive wall for a corner. This, and a cross from Cawley were defended and the latter move saw a splendid run from Furlong who ran almost the whole length of the pitch in possession needing the outstanding Toby Syme to shepherd the ball to safety.
Diamonds again moved along the left flank and once again Syme interposed with a marvellous defensive tackle. Malaki Black, in outwitting Furlong, was fouled and the latter saw a yellow card. Gleeson's free-kick was too low to be effective, but the major talking point was Dasilva's unforgivable miss when he had the whole empty goal to choose his spot. His unwanted choice was to fire wide after great work from Barker and Cawley provided this second chance. So, both teams could fairly have claimed a goal, and we had played twenty-five minutes in a fine 'end to end' game so far.
Syme's defensive prowess was again in evidence as was Barker whose intervention conceded a corner. Gleeson's assistance provided Morrell with a chance but the shot brought a low save from Snedker.
Then a swift attack from Rushden was a smart finish from Jack Connor, which was rather satisfying for the hosts as Hitchin had begun to impose themselves. That goal came after thirty-seven minutes, but within a minute the visitors were level, courtesy of Cawley who seized on Snedker's inability to hold on to the ball, and he tapped home with a poacher's instinct. It must be said that the wet conditions was the cause of Snedker's fumbling, but so often we see a team punished by an involuntary relaxing once a lead has been established.
A cross from Furlong brought a shot that Horlock held and Gleeson raised a few eyebrows with an uncharacteristic 'striker's' run that needed close defending and Wilkinson's follow-up favoured the home keeper. Morrell made an important defensive tackle, but we then saw Hicks try his luck, but the effort was off-target.
It was level at the interval, and it seemed clear to me that this current Diamonds team was somewhat weaker than the squad of last season, and also that Hitchin were continuing to be tight in defence. The rain continued and was still being referred to as a strange phenomenon given the recent heat wave that has turned our pastures pale yellow and demonise he who dares to wield a hose.
Both sides had reasonable chances as we resumed, with Diamonds kicking towards the end that had their supporters finding good voice and groaning at repeated efforts thwarted by the sound Hitchin defence. Given our recent record against Diamonds which has been fairly dismal, I did overhear one or two of the travelling supporters utter the opinion that a point from this game would be a reasonable achievement. I tentatively agreed but hoped that we could break our duck against this team that has had a chequered history involving a meteoric rise into the Football League and then suffered the slings and arrows of outrageous misfortune.
We had been playing an hour, with Hitchin looking composed and, following a cross from the left, we heard the shrill whistle from the referee who, as commentators never tire of saying, 'had no hesitation in pointing to the spot'. That is the penalty spot of course, and, his adamant decision brought no appeals from the home players. I will say that it was completely mystified as I saw no offence. Later, Josh Bickerstaffe, now of the coaching team told me that the decision was for a hefty shirt pull. I did not see it. Apparently it was a handball and the referee told me later that it was for a handball and the new strict rules were rigidly applied as the offending player had 'lifted his arms above his shoulder.' Rules are rules, I suppose.
Curiously there was no clustering around the referee from home players appealing passionately against the decision. Perhaps this was a bit of 'justice' following the penalty we conceded against Barwell, since these things magically even out in the course of a season. Whatever it was, recent history had no effect on Jack Morrell who fired a perfect penalty to put the Canaries into the lead with just over an hour played.
This left half an hour of play and gave the familiar feeling that another away goal would be desirable to ensure the points. Substitutions were made by both sides, and I was not surprised to Kye Tearle replaced as he had seemed off colour in this match and lacked his normal competitive verve. His replacement, Delsin Ackom, relished his opportunity sand was soon in the thick of things, his cross bringing a bit of a tame header from Cawley, who, in the latter stages was replaced by an energetic Meakes whose energetic, driving approach saw him chase every hopeful ball forward, keen to seize on the slightest error.
Diamonds did their best to regain parity but Hicks put in a low shot that left Horlock untroubled. Our skipper and goalie reprised his mysterious injury syndrome, and while he received the magic sponge he had to endure the justifiable jeers of the home supporters who would no doubt turn a blind eye to such gamesmanship had the situation been reversed.
We had a bit of scrappy play, with a touch more of what we euphemistically call gamesmanship but we cannot deny that Hitchin defended well and Meakes up front continually looked for the chance to get ahead of the defence. Substitute Allotey had a late shot, which was straight at Snedker, but not long after the whistle signalled that longed for first victory over Rushden and Diamonds. By my reckoning we still have to complete this job by, in the fullness of time, getting a favourable score over Needham Market, a club we have still to beat in a league match, but we did defeat them in the FA Cup. I am getting ahead of myself here as the next match is one of an unknown quantity as we face Basford United, and I am itching to know if they are pronounced Basford or Base-ford, which is a bit like Leeston or Layston, or Froome or Froam. Please bear with me on this matter.
What is really important and a source of some pride is that the Hitchin youngsters that some thought would be cannon fodder are playing their hearts out and cocking a snook at some of the scores in our prediction league. Good for them. Much credit goes to Mark Burke who had backed his own judgement and the results speak volumes already. Three games played and two wins, both away from home and a creditable home draw against a team reckoned to be among the stronger sides in the division.
I know it is early days but to see the league table is very satisfying at present, and a home win against northern new boys Basford (or Base-ford), will be the stuff that dreams are made of. I won't even mind if it rains again.
AFC RUSHDEN AND DIAMONDS
Dean Snedker, Patrick Casey, Ryan Hughes, (Anthony Agemoh- Davies), Matthew Fossen, Connor Furlong, cautioned, (Fraser Corden), Connor Furlong, home star man, Connor Tee, Nathan Hicks,captain, Jesse Akuibuine, Evangelos Empochontsif, Jack Connor, GOAL, 37 MINUTES, Miguel Ngwa, (Morgan Worsfold-Gregg). Substitutes not used- Alexander Watson, GK, and Tyrese Sutherland.
HITCHIN TOWN
Charlie Horlock, captain, Kye Tearle, (Delsin Ackom), Malaki Black,Toby Syme, this reporter's Man of The Match, Stan Georgiou, Jack Morrell, cautioned, PENALTY GOAL, 62 MINUTES, Lewis Barker, Stephen Gleeson, Rio Dasilva, (Johnny Allotey), Stephen Cawley, GOAL, 38 MINUTES, (Sam Meakes), Finley Wilkinson. Substitutes not used – Teirnan Parker, GK, Bradley Bell.
Referee- Mr Sam Wesson assisted by Mr Andrew Cuthbert and Mr Thomas Burt.
Attendance 361
REPORT BY PIPEMAN