Stevenage boss Alex Revell on pressure as crucial Mansfield clash looms
---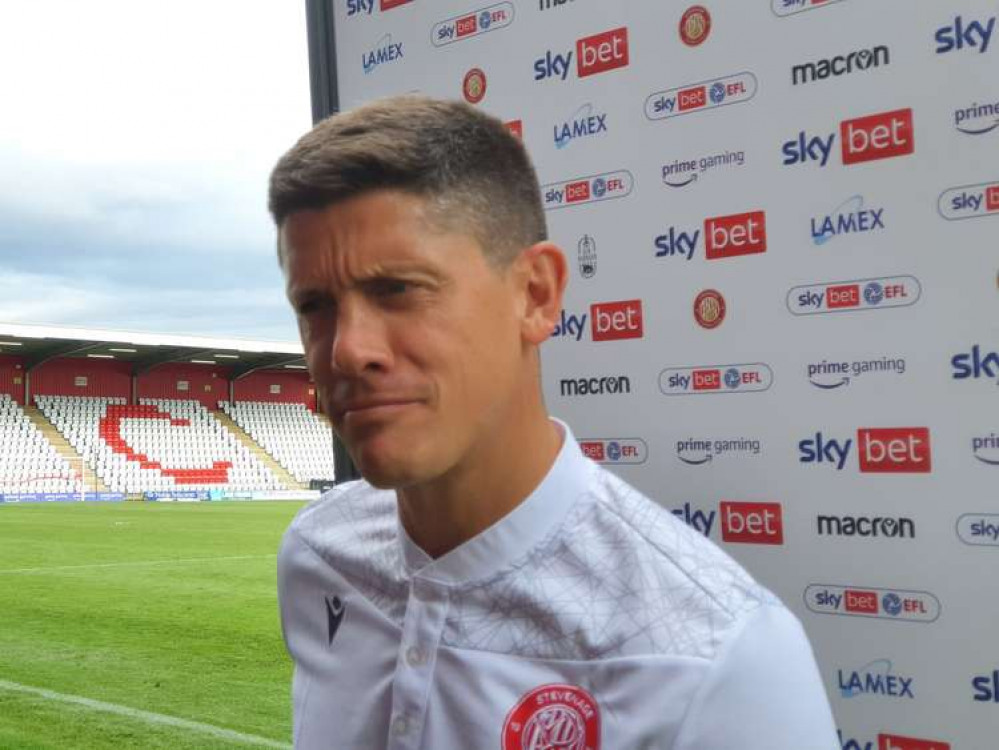 Stevenage boss Alex Revell on pressure as crucial Mansfield clash looms CREDIT: @laythy29
Stevenage boss Alex Revel has been speaking to Nub News about pressure as a critical spell looms.
Boro have had a poor run of results in League Two, with the club sitting in 21st place, only two points off the dreaded drop zone.
In a crucial match this afternoon, [Saturday, November 13] they host fellow strugglers Mansfield Town at the Lamex.
With the Stags only one spot above Boro in the table, the game is one they simply cannot afford to lose.
However, despite assistant Mark Sampson's exit last week, Stevenage boss Revell, is bullish on the back of two encouraging results over the last seven days.
"The players have answered everything in terms of the draw at Milton Keynes and against Cambridge," said Revell.
"I can't feel anymore pressure than what I put on myself.
"No-one needs to tell me about pressure. The best way to go into the game against Mansfield was on the back of a win and a draw against MK.
"It is a big game. We know results haven't been good enough and that we need to start winning again."
When asked if he has had a conversation about his future with Stevenage chairman Phil Wallace, Revell answered: "Yes, all the time. I have had plenty of conversations. I work extremely hard every day to make sure we get results here. The chairman knows that.
"I know we are judged on performances and winning games and we are starting to see signs of our old selves, when we dominated teams last season."
The last few weeks have been a challenge for Revell on and off the pitch following the departure of assistant boss Sampson last week.
Revell reflected on the change, saying to Nub News: "I wasn't shocked that Mark left because he wants to move away from the coaching side. He wants to look at a career as a manager or a sporting director.
"He's seen what it's like to be on the grass at this level - it's pressure, it's hard work. When he was England [women's] manager, they would meet up for a camp and it was intense, but then it would be relaxed again.
"Since Mark has been here he has influenced a lot of individuals. He's worked so hard with people like Luther [James Wildin] and Terrrence [Vancooten].
"When I told the players that he was leaving, it was a shock and they weren't expecting it, but they wished him well as he's moving on for something else.
"We would have loved him to stay, but if you're set on leaving to do something else, but that's football. People make decisions."
Yet, with Boro set to face League One side Milton Keynes on Tuesday in an FA Cup first round replay, following their 2-2 draw last weekend - with a televised trip to Yeovil led by former boss Darren Sarll - awaiting the winner - two wins from the next two matches could kick-start their season.
Revell has also acted quickly to bring in club legend Ronnie Henry as temporary coach for the fixtures against Mansfield and Milton Keynes.
Henry is a popular option, given that he knows the club inside out and is the record appearance holder.
"We need to focus on the players, which is why we've brought Ronnie [Henry] into the fold," said Revell, who added: "The door is always open for coaches to come and experience what it's like here.
"We'll see how it goes over the next week and then we'll make a decision and look to bring someone in alongside us.
.........
RELATED ARTICLES:
Three Ways Stevenage Can Get Back On Track
LIKE/FOLLOW HITCHIN NUB NEWS FOR OUR STEVENAGE FC COVERAGE HERE
Read Nub News for our coverage from the Lamex this afternoon when Boro take on Mansfield in a crucial clash.