Stevenage caretaker boss Robbie O'Keefe hails Boro heroes after late FA Cup victory over Milton Keynes
---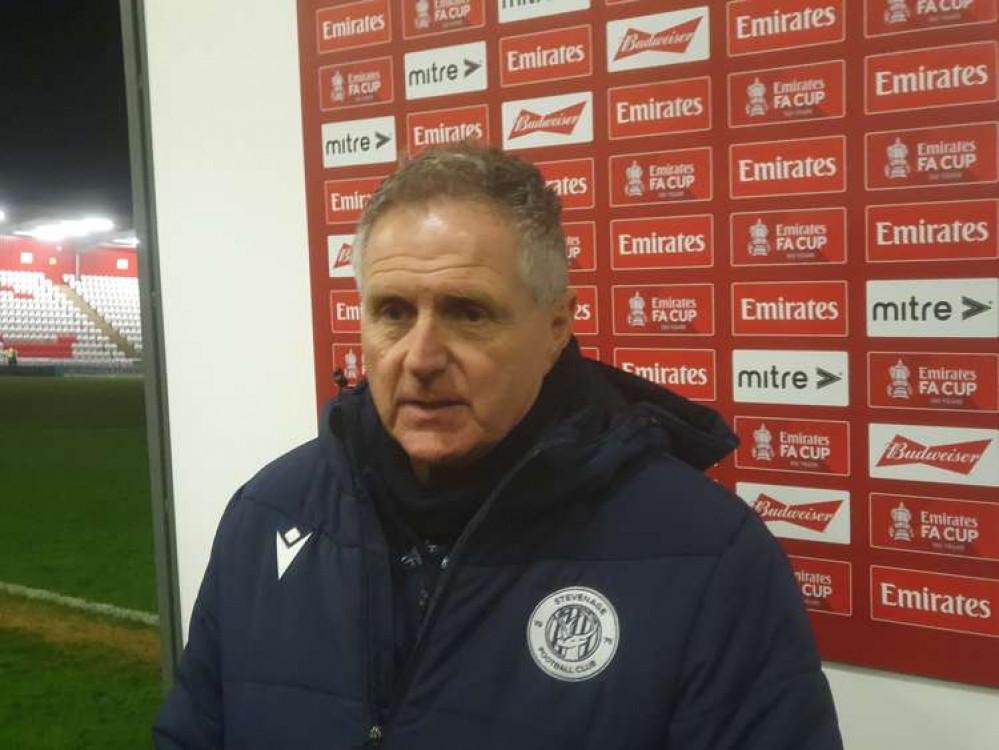 Robbie O'Keefe speaks after guided Stevenage to victory against Milton Keynes. CREDIT: @laythy29
Stevenage caretaker boss Robbie O'Keefe has shared his delight at his side reaching the FA Cup second round - to set up a date with former Boro boss Darren Sarll.
On a dramatic evening at the Lamex, O'Keefe made four changes from Alex Revell's last game in charge, as his team knocked out League One side Milton Keynes 2-1 - via a last-gasp penalty in extra time from Luke Norris.
Relieved academy boss O'Keefe spoke after the game, taking time to praise the team after a poor run of form that culminated in Revell's sacking at the weekend.
He said: "We had a plan to play on the counter. We wanted to play through our diamond in the centre - something we really believe in at the academy.
"I thought the boys were great from start to finish. I thought it was a really good performance.
"I thought Scotty Cuthbert and Luke Prosser at the back did tremendously well. I thought Ben Coker, out wide left was another who did really well.
"They're a lovely group to work with. The session I took on Monday was excellent. We really enjoyed it. They are really good characters, really receptive - and they were really welcoming to be me. Which is important when things change."
Stevenage had been reeling after the sacking of previous boss Revell on Sunday, following a spell of poor form in League Two, which saw the club moored in 21st place.
Among the changes, O'Keefe drafted in Bruno Andrade who has not featured much this season.
"I thought he came in and caused carnage," O'Keefe said, adding: "He's the sort of player that will excite you, then disappoint you, but that's what you get with Bruno, and I said to him before the game, 'don't worry about making mistakes. When you're good, be really good.' And I thought he was excellent."
Despite the high tempo, at 1-0 down to MK there were fears of a cup exit, but O'Keefe made changes to ensure Boro continued to press against the ten men once Josh Josh Martin received a red card moments before the interval.
He added:"In terms of approaching the second half we identified wide areas for us would be very important, so it was all about getting the ball wide. It was all about 2v1's and if you couldn't get that then if it's 1vs1 don't mess around, get a cross in the box with quality - don't just whack it in there.
"Coke[r]'s cross for[Jamie Reid equaliser's on the hour mark] was excellent. I thought that was the pivotal moment for us. Once we identified that we could get wide and get crosses in."
Once MK centre-back Darling - who scored in the first game - was sent off following a last-gasp tangle with Elliot List in the box on 120 minutes, Norris stepped up to take the penalty.
"I don't think I've ever watched a penalty in my time," joked O'Keefe, adding: "I'm quite calm as a manager but I didn't watch that one either.
"I knew what the time was, and how little was left but if you're going to get a last minute penalty, then I'd want Luke on it.
"I'm told he buried it and the rest is history and he buried it and we're through."
With the club still sounding out candidates including Steve Evans at Gillingham, loyal O'Keefe is happy to go back to the academy once a new man is drafted in.
"I'll just wait for the club [to make an announcement].
"The club will do the right thing as they always try to do. For me, I'm back here with the kids tomorrow night in the FA Youth Cup.
"And if nothing changes, I'll be back on Thursday getting the first team ready for Saturday."
Academy boss O'Keefe steered Stevenage to a memorable result, 10 years to the day since the club beat MK on penalties to reach the second round.
Boro then beat Premier League side Newcastle 3-1 at the Lamex in the FA Cup third round in a memorable clash a decade previously, with O'Keefe's side raising hopes of another cup run among supporters.
He also took time to praise the fans, saying: "I thought they were excellent. The noise they generated was incredible.
"We all know we're a small club but they support has been excellent. My association with the club goes back a long time. It's a lovely moment for to manage to the first team.
"I enjoyed it, but the club need to go and appoint the right man for the job. I love what I do with the youngsters in the academy. I'll step in [to help the first team] as long as I'm required, but I get so much enjoyment about seeing the youngsters develop and progress."
Looking towards a second round date with Sarll's Yeovil, O'Keefe added: "It's a great opportunity for the club, it's on TV. The prize is a third round game. There is a little bit more spice with Darren being there but it's a really great game to look forward to."
Modest O'Keefe took time to hail Stevenage's performance, concluding: "They played with an intensity from start to finish that I was really pleased with."