Hitchin: A Churchwarden Writes - An historic week, a poignant Commemoration and an iconic view transformed as thoughts turn to Harvest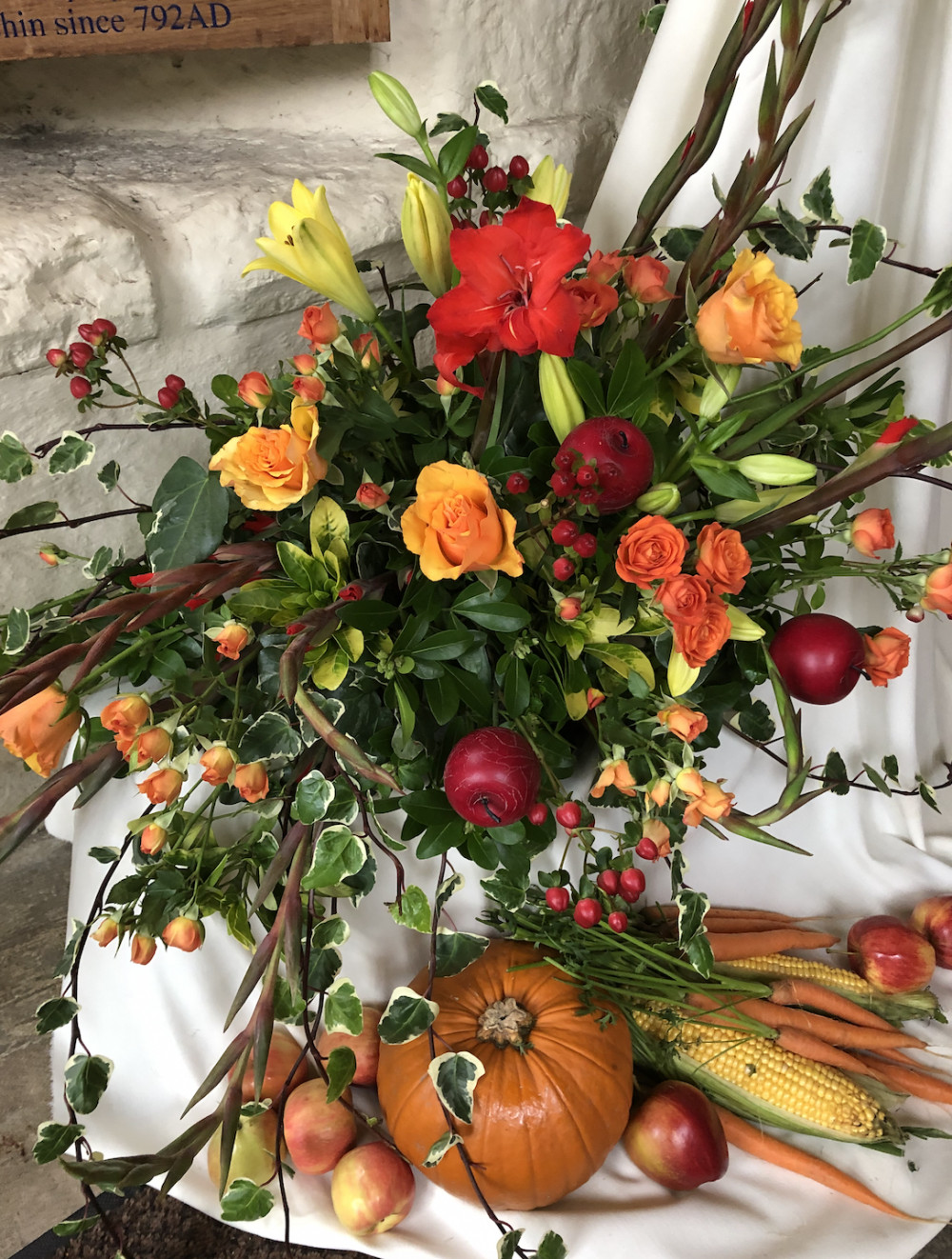 We turn our thoughts to Harvest, A Churchwarden Writes. CREDIT: St Mary's Church
Read the latest news from St Mary's Church in their regular weekend Nub News column
A Churchwarden Writes an historic week, a poignant Commemoration and an iconic view transformed
——-
It hardly seems possible that just three months ago we celebrated the Queen's Platinum Jubilee, and the bells rang out joyfully from the ancient Tower of St Mary's. But while bunting still fluttered around our town in the early autumn sunshine, we found ourselves preparing for a more solemn occasion.
The Church has been open daily as a place of peace, reflection and prayer, where messages of condolence could be left in memorial.
Many hundreds of people of all ages took the opportunity to come in over the past couple of weeks, either to light a candle or simply to sit in contemplation, trying to grasp the enormous changes to our national life which have occurred so swiftly.
Although Queen Elizabeth, the Queen Mother, was a regular visitor to Hitchin and attended services at St Mary's, when her daughter visited in the last Jubilee Year of 2012 the tour only included the market Square and Sun Street for a walkabout. The Clergy and Choir welcomed Her Majesty in the square along with the town. Many of us have tremendous memories of that visit and the warm welcome we gave.
A large congregation took part in our Civic Service to Commemorate Her Majesty Queen Elizabeth II on last Sunday morning, including our local MP, councillors and Professor Sir Tim Wilson Deputy Lieutenant, the Queen's representative. It can be viewed now on our Youtube channel https://www.youtube.com/c/stmaryshitchin
As you can hear on the recording, St Mary's Bells have been rung with 'muffles' added to soften the sound for the first time since the last Monarch, King George VI, died in 1951.
Muffled Bells
As Nub News has reported on the death of our monarch, the bells are rung fully 'muffled' with the tenor bell 'open at backstroke' to toll for each year of life passed. This is the only time that this is ever done, and never before by our current ringers. You can hear a short clip of this, when the bell tolled 96 times on Friday 9th September via the St Mary's Facebook page, and also see more photos of the bells.
Fully muffled means that both sides of the bell's 'clapper' are covered to deaden the sound. In our case this is done with leather 'muffles' that are strapped around it. The only exception is for the tenor bell, the one with the deepest note, that only has one side covered to allow it to toll. The bellringers ring like this from the time of the monarch's death until the end of their funeral day, apart from the day on which the new monarch is proclaimed when all the muffles are taken off and the bells are rung 'open' as normal. Both occurred on 9th September. On Monday they also rang a quarter peel after the State funeral was concluded.
Weeping Sympathy
Again, as Nub News covered, another instance of the landscape changing and causing us all to be disorientated came last week when the large Weeping Willow tree by the riverside unexpectedly collapsed to the ground. The view of St Mary's East end was suddenly dramatically changed, as the hot summer was perhaps too much for this venerable giant, and it has not been possible to save the remaining stump, although the trunk may be left as a bench. Lots of cuttings and pieces of wood have been distributed around the community, so watch out for new willows sprouting and carved wooden objects appearing locally.
In nature nothing is wasted and renewal is implicit. So it is fitting that now in the Church year we turn towards Harvest, a time to celebrate and take stock of the bounty from our farms and gardens.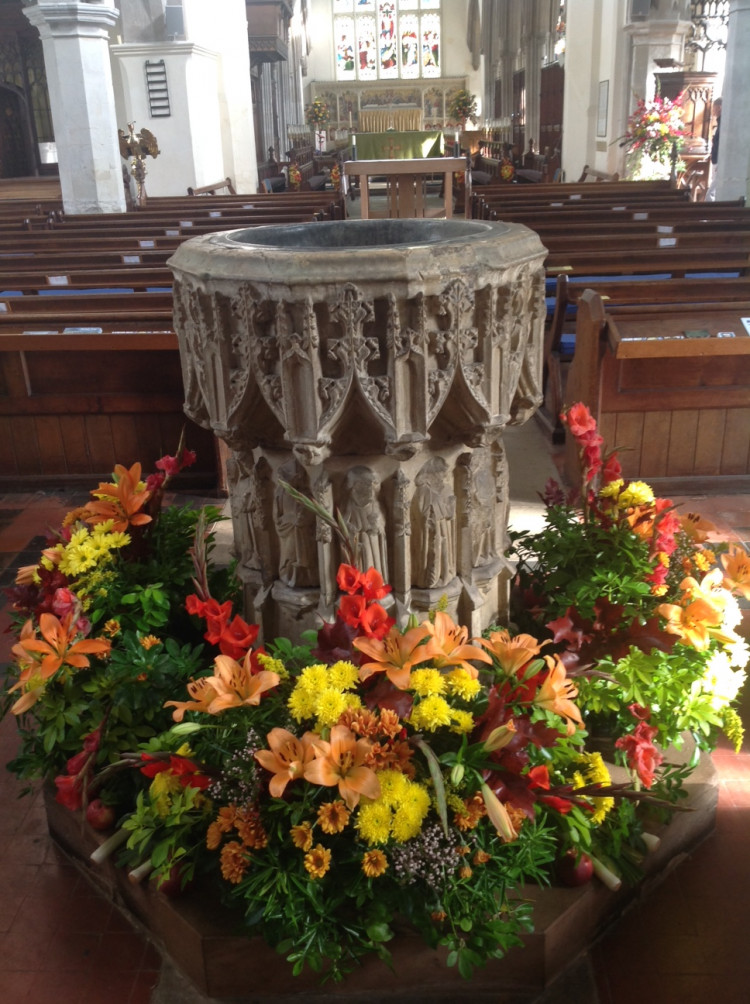 Unusually this Sunday, there will only be an 8am Communion Service and there will not be a 10am Service here, instead worship is being led by Rev Chris Bunce at St Mark's Church in the Parish, but there will be an Early Evening Service starting at 5pm at St Mary's.
However, on Sunday, October 2 we return for Harvest Festival with our lively, accessible 'One Bread One Body' service to consider 'Growing seeds'. The Church flower arrangers will be working overtime to make a wonderful show for that weekend, so do come along if you get a chance. Choral evensong will also be held at 630pm with our wonderful choir, and only this service will be livestreamed.
Further updated details of our services, opening times and events are found on our public Facebook page@StMarysChurchHitchin .
Further information is found on our website:
You can follow us on the following platforms:
Instagram stmaryschurch_hitchin