Hitchin: A Flaming Success - Queen's Platinum Jubilee celebrations huge hit as beacon lit at the square - Picture Gallery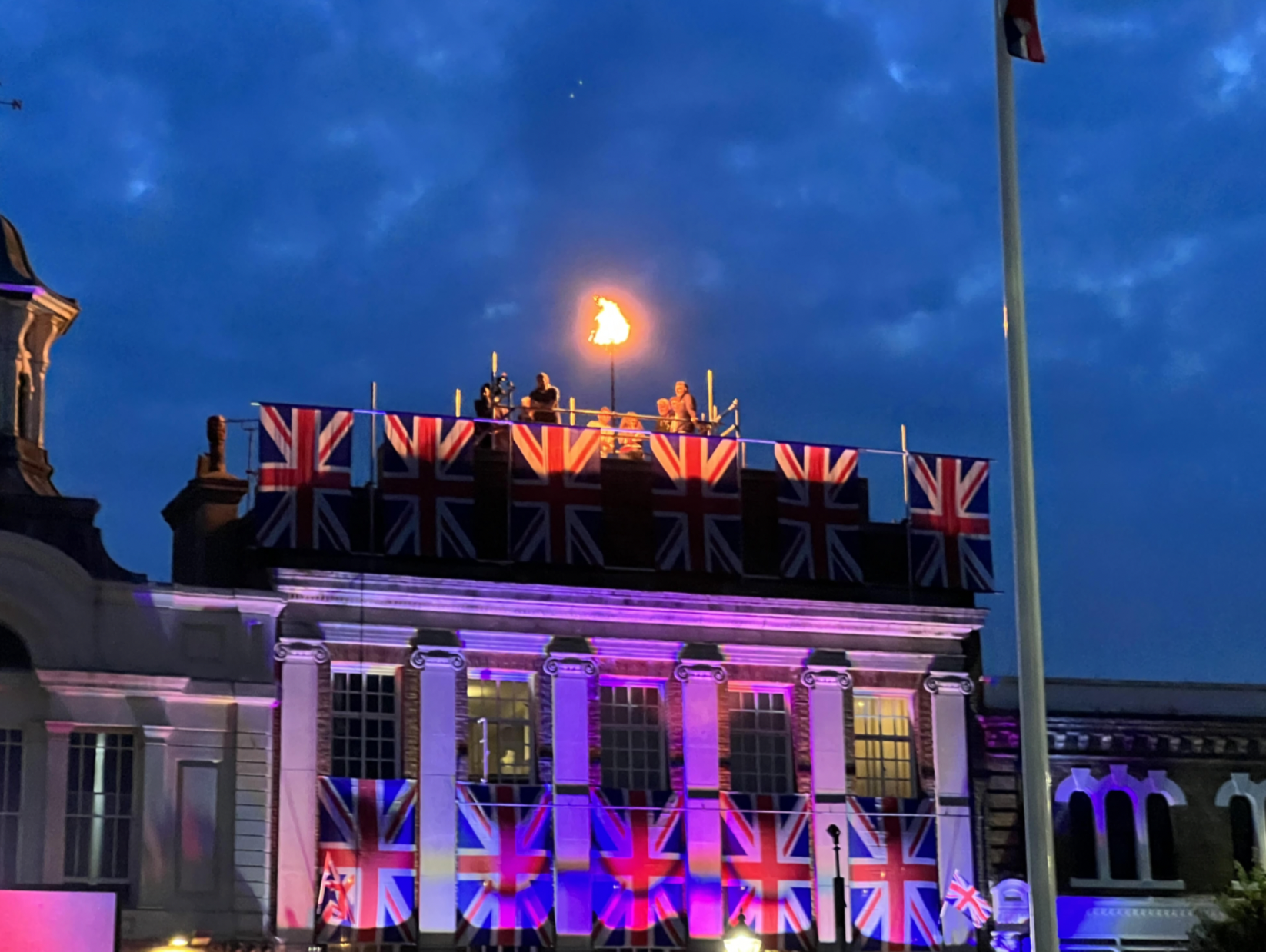 A beacon was lit at Hitchin Market Place to mark the Queen's Platinum Jubilee. CREDIT: @HitchinNubNews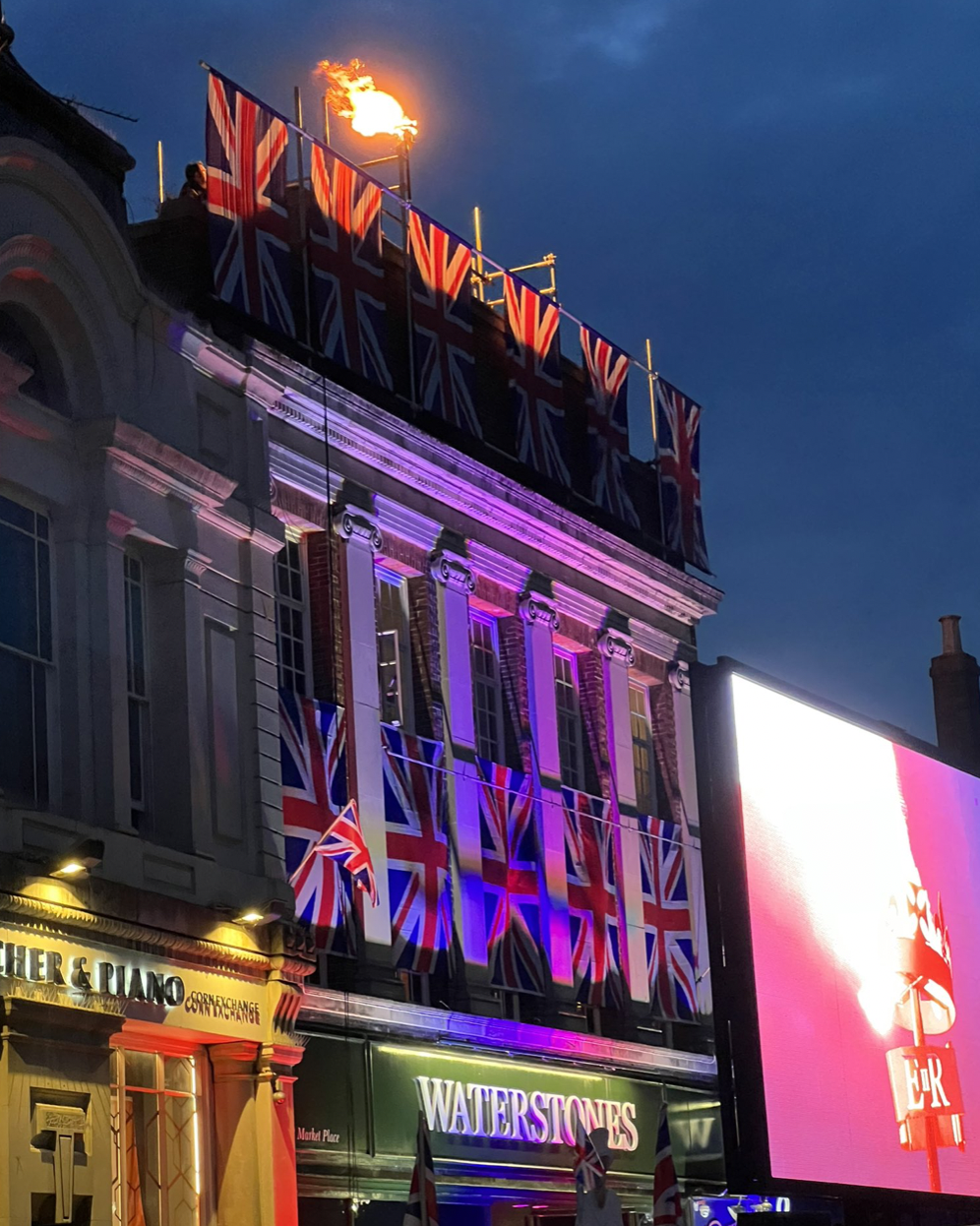 A beacon was lit at Hitchin Market Place to mark the Queen's Platinum Jubilee. CREDIT: @HitchinNubNews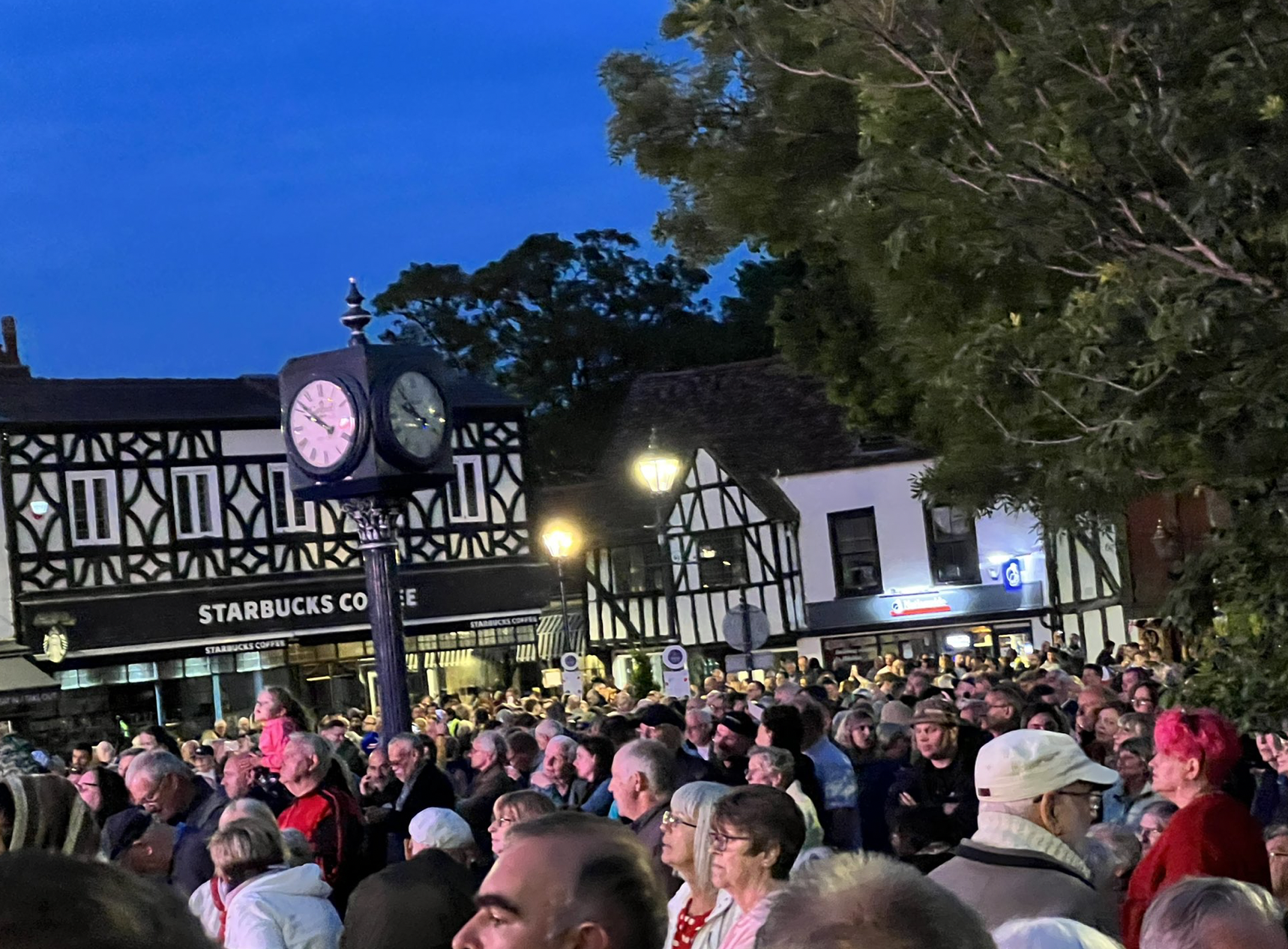 A large crowd gathered in Hitchin Town centre to mark the Queen's Platinum Jubilee on Thursday evening. CREDIT: @HitchinNubNews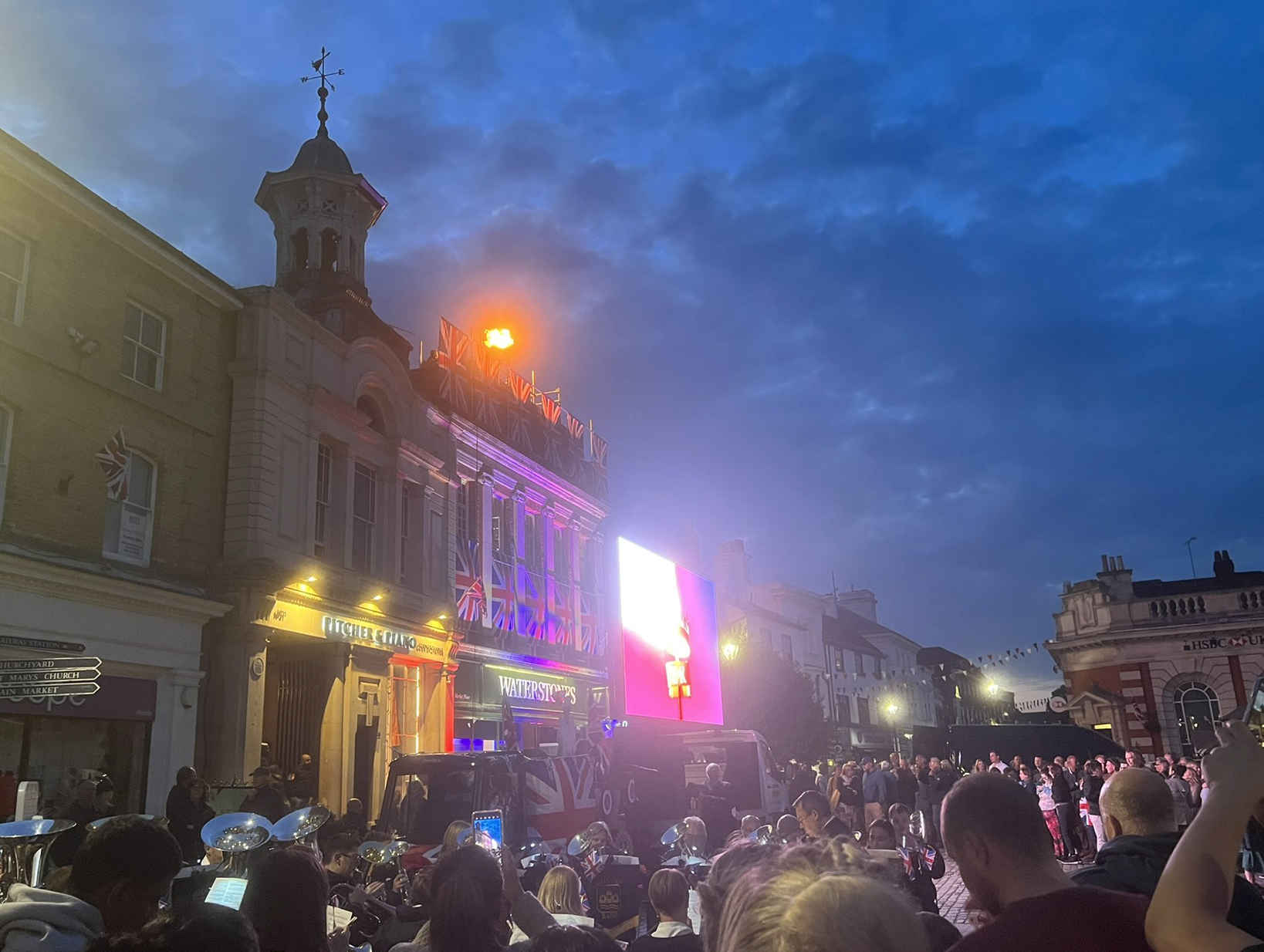 A large crowd gathered in Hitchin Town centre to mark the Queen's Platinum Jubilee on Thursday evening. CREDIT: @HitchinNubNews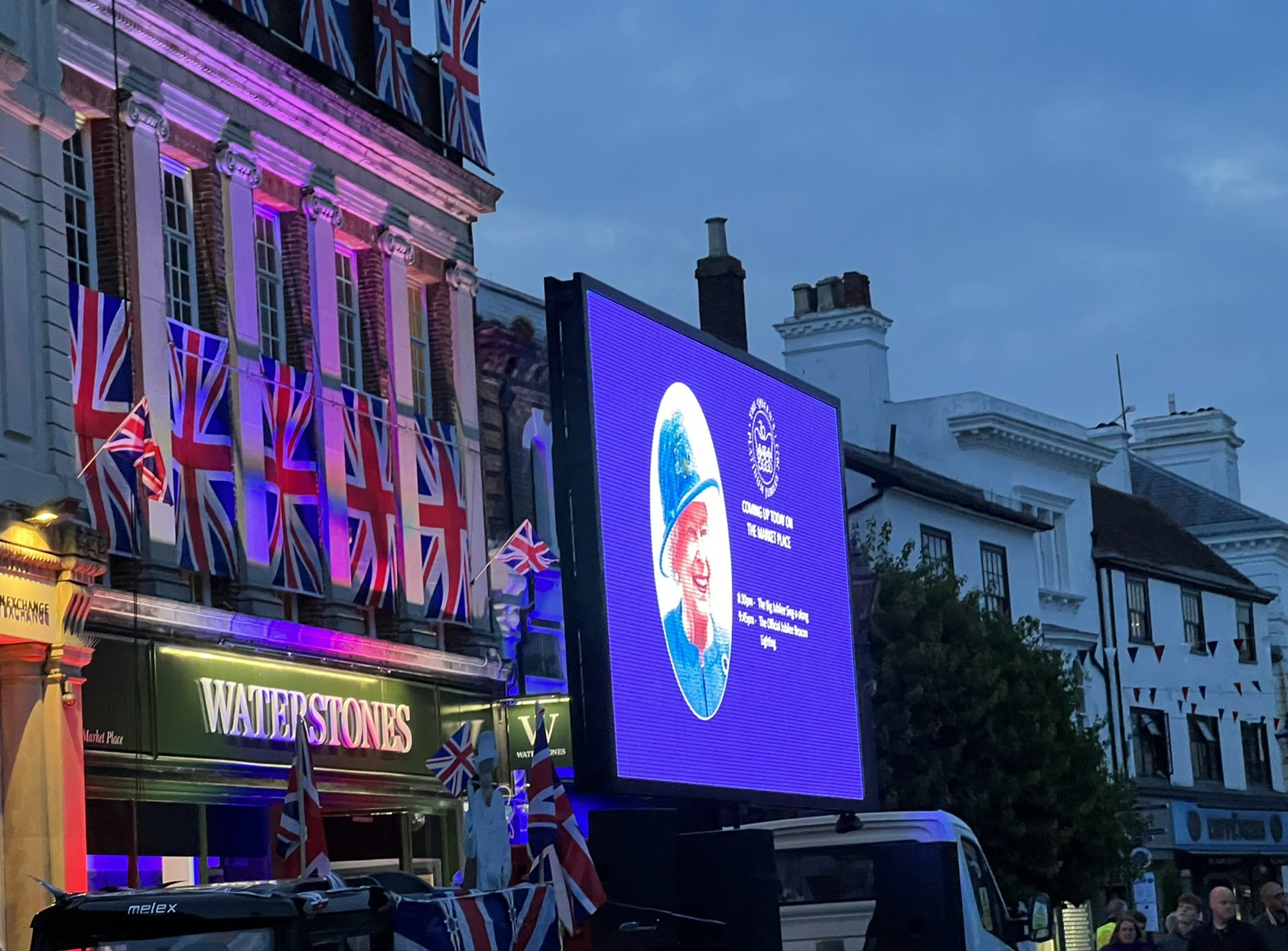 A large crowd gathered in Hitchin Town centre to mark the Queen's Platinum Jubilee on Thursday evening. CREDIT: @HitchinNubNews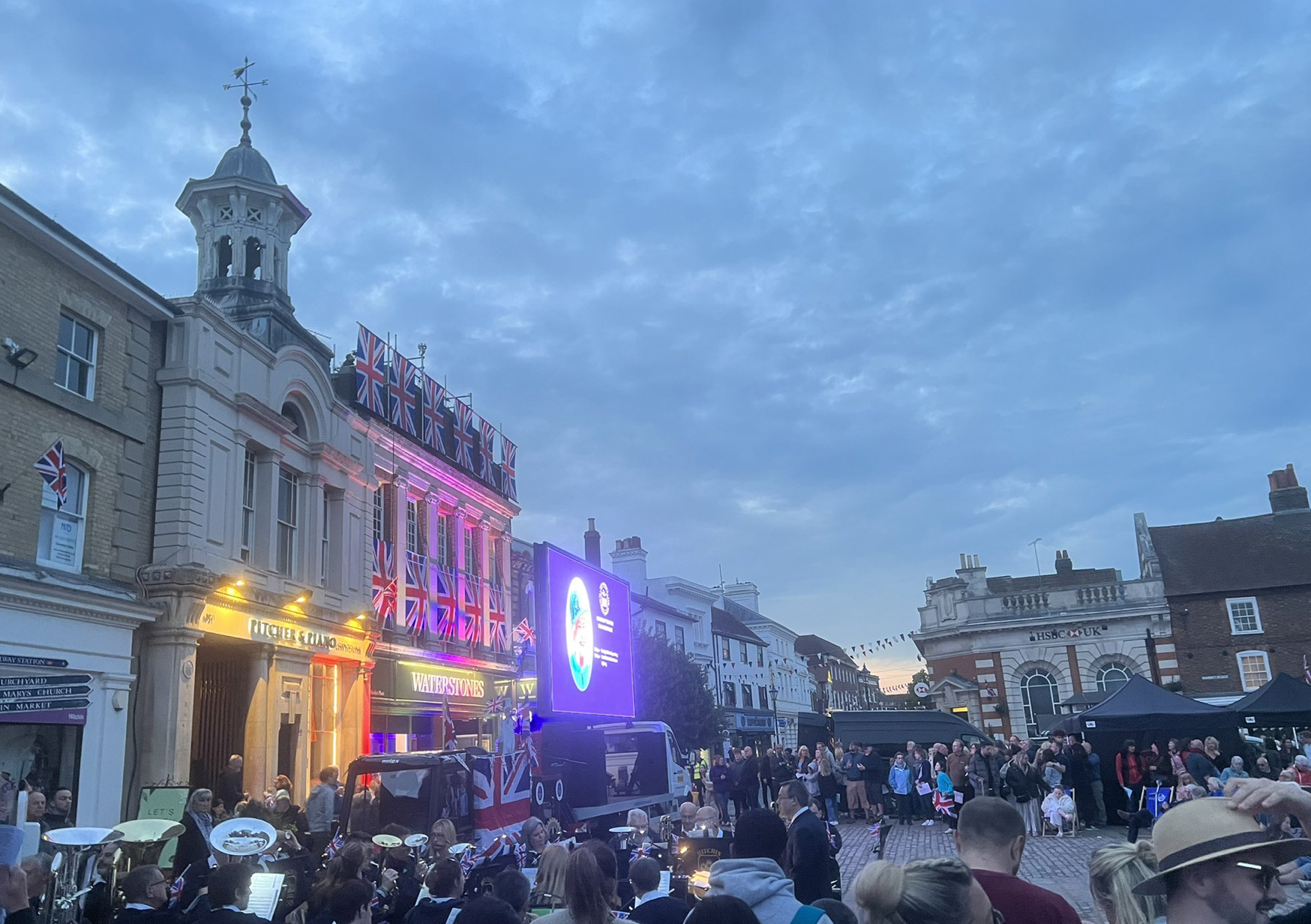 A large crowd gathered in Hitchin Town centre to mark the Queen's Platinum Jubilee on Thursday evening. CREDIT: @HitchinNubNews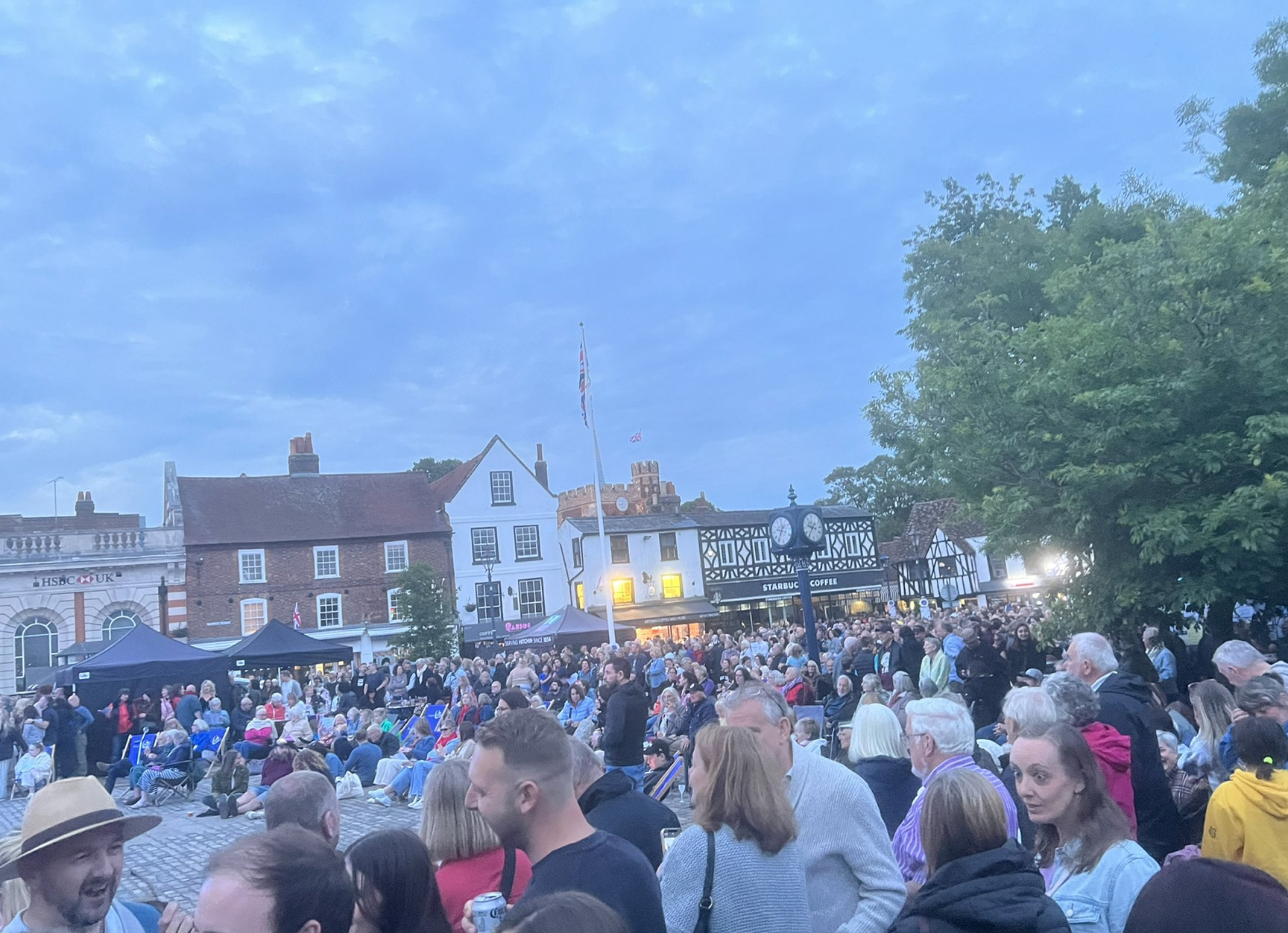 A large crowd gathered in Hitchin Town centre to mark the Queen's Platinum Jubilee on Thursday evening. CREDIT: @HitchinNubNews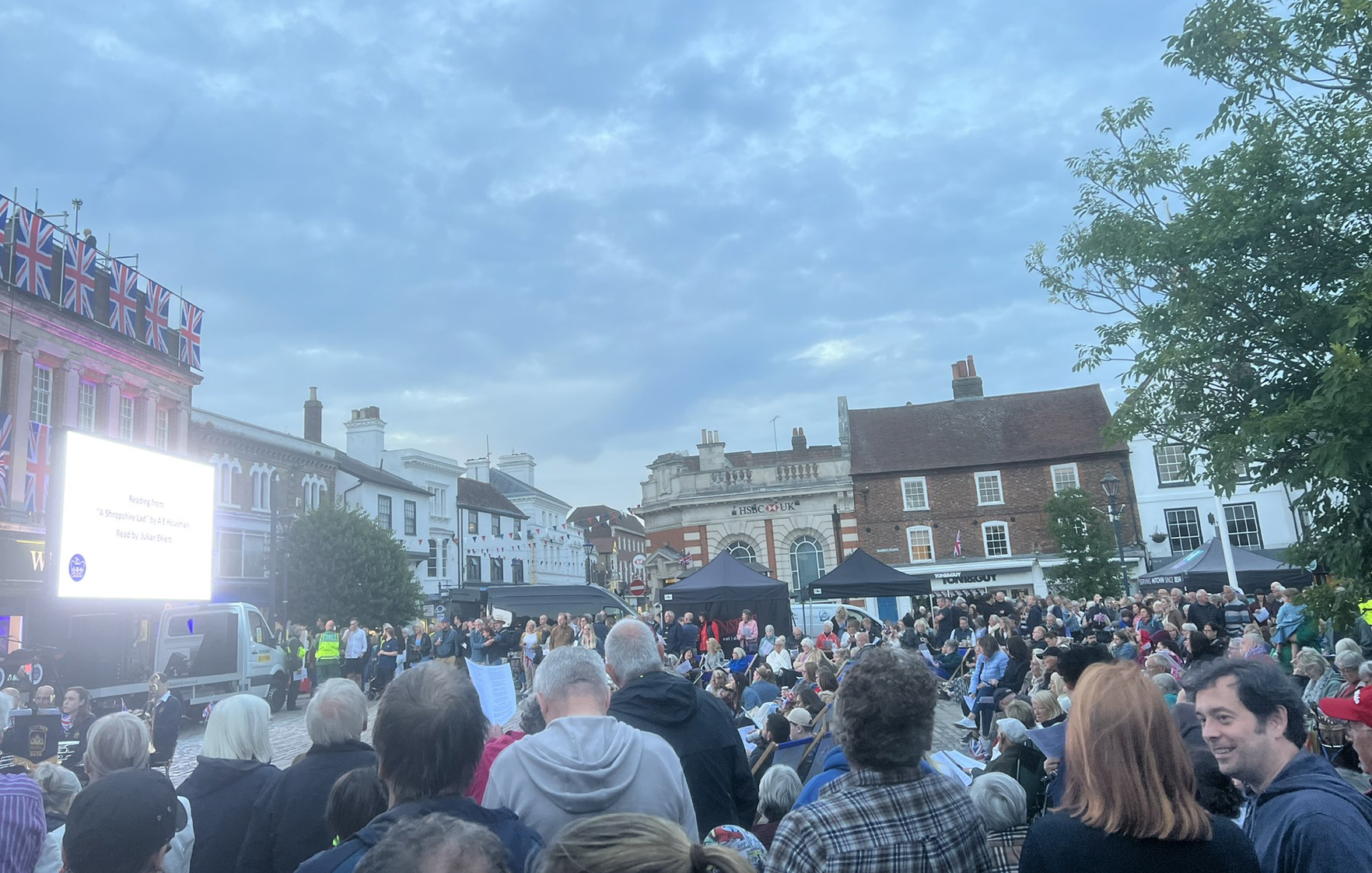 A large crowd gathered in Hitchin Town centre to mark the Queen's Platinum Jubilee on Thursday evening. CREDIT: @HitchinNubNews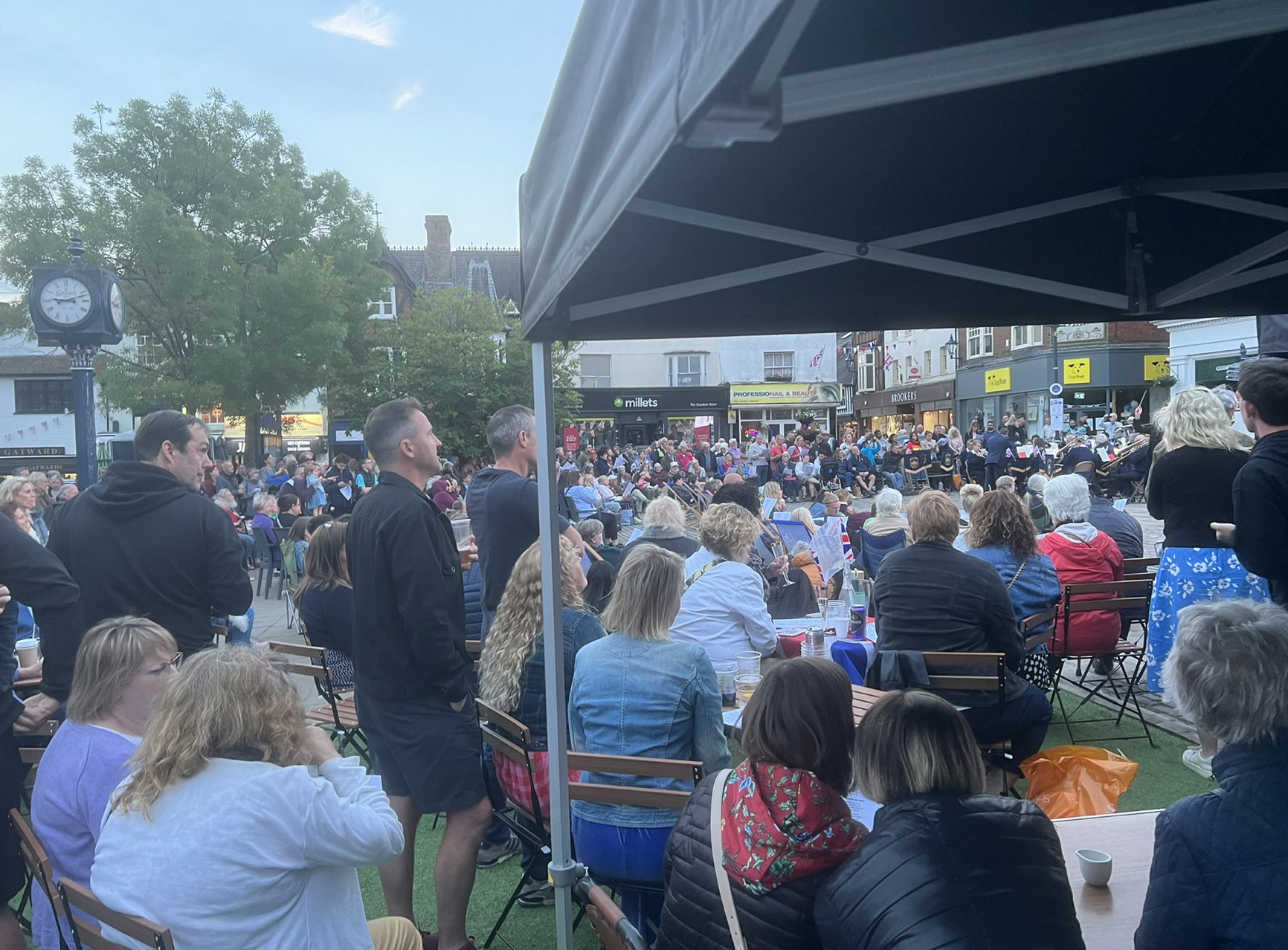 A large crowd gathered in Hitchin Town centre to mark the Queen's Platinum Jubilee on Thursday evening. CREDIT: @HitchinNubNews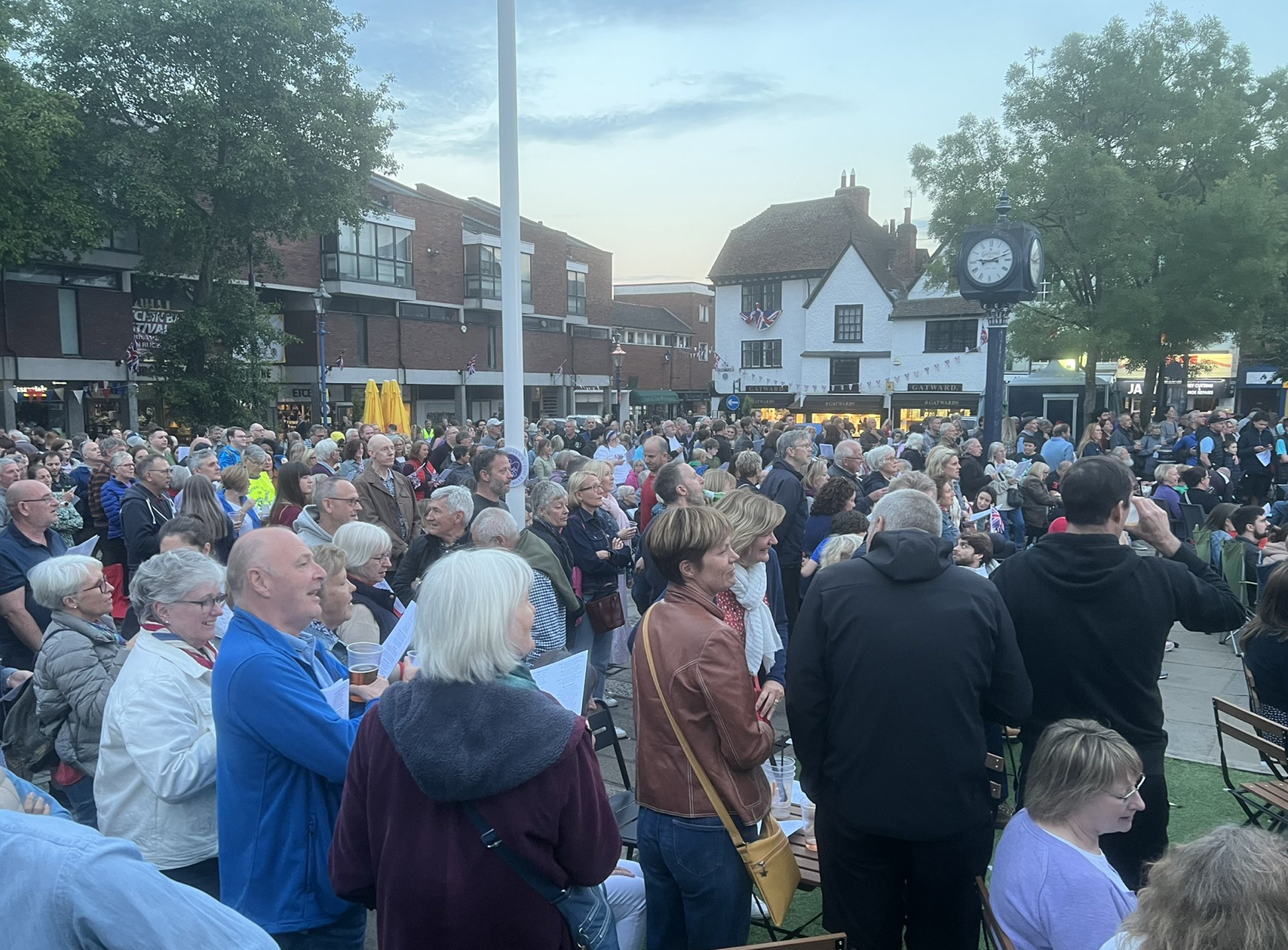 A large crowd gathered in Hitchin Town centre to mark the Queen's Platinum Jubilee on Thursday evening. CREDIT: @HitchinNubNews
Hitchin: A Flaming Success - Queen's Platinum Jubilee celebrations are a huge hit as beacon lit at the square
A large crowd gathered in Hitchin Town centre to mark the Queen's Platinum Jubilee on Thursday evening.
In celebration of Elizabeth II's 70 years on the throne, a 'Pop-Up Proms' event was held in Market Place, with many hundreds of people enjoying the Hitchin Band's selection of British classics and rousing songs and hymns.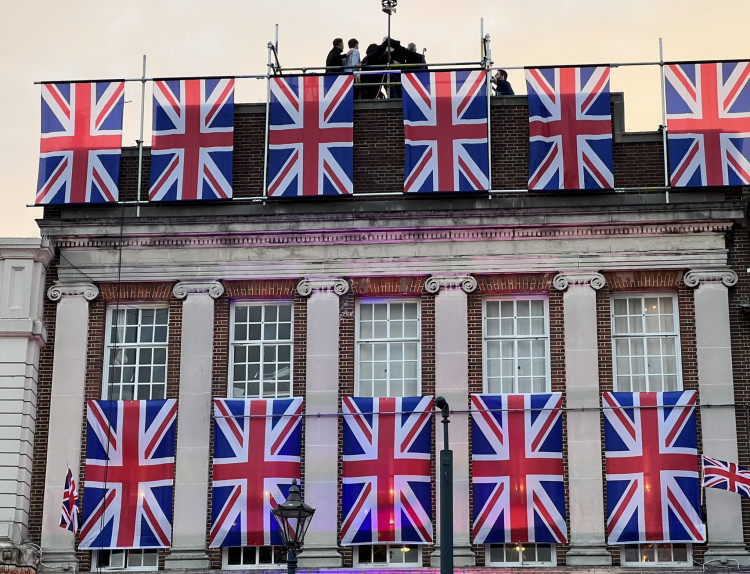 In a nod to all four corners of the United Kingdom, the band played a host of favourites from the Emerald Isle, Scotland and Wales - as well as Land of Hope and Glory and the Lambeth Walk.
As our town's acclaimed band played, many in the square sang along to such favourites as Danny Boy, Skye Boat Song, and Men of Harlech.
There was also a reading from A Shropshire Lad by A E Housman, as well as a rendition of The Lord's My Shepherd, I Vow to Thee My Country, Jerusalem and Rule Britannia. (See Hitchin Nub News Facebook page for our live videos from the event here)
Matt Bean, acclaimed owner of Hitchin success story Cantina Carnitas - who was also very busy at their special Platinum Jubilee Street Food Monthly event at nearby Riverside, told Hitchin Nub News: "It's been tremendous. On the Queen's Platinum Jubilee the whole of Hitchin is vibing."
The evening climaxed with the lighting of the beacon and a rousing rendition of God Save the Queen (Which you can watch on our Hitchin Nub News Facebook page here)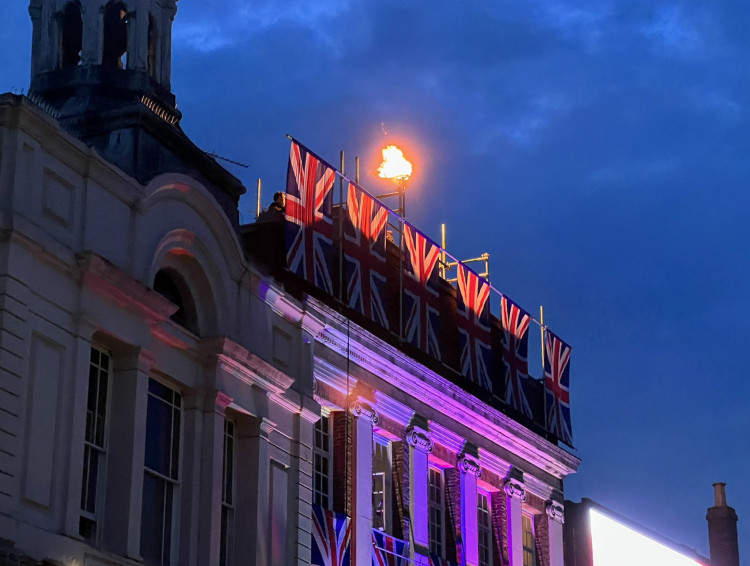 More than 3,000 beacons were lit on Thursday evening across the country - including Hitchin.
Prior to lighting our town's beacon at the top of the building that houses Waterstone's book store, Deputy Lord High Lieutenant Sir Tim Wilson said: "The community of Hitchin in North Hertfordshire is a town that can date its history back through the centuries - and tonight we are here to celebrate another momentous occasion - Her Majesty the Queen's Platinum Jubilee [in] recognising her long and selfless service to our country.
"It [has been] my absolute honour and privilege to light this beacon in the town of Hitchin."
All proceeds from the evening will be donated to the Rotary Fund for Ukrainian refugees.
You can view our gallery by clicking on the picture at the top of this article and scrolling through our Nub News pictures from the event