Basford United 0-2 Hitchin Town: Canaries fly high to land three points on the road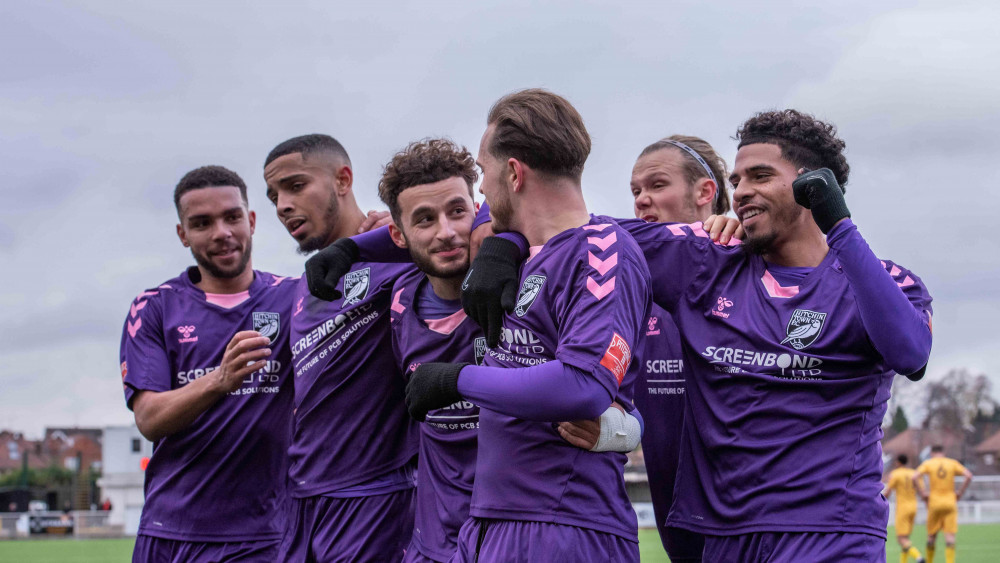 Basford United 0-2 Hitchin Town: Match report by Pipeman at Greenwich Avenue with photographs by Peter Else
Basford United 0-2 Hitchin Town: Report by Pipeman, photographs by Peter Else
Hitchin's first visit to Basford was one that saw the three points deservedly gathered in what was a consistent and solid team performance.
Greenwich Avenue is an interesting ground and seems to be placed in the middle of a housing estate and is flanked by additional pitches in a large complex. Further colour is added with the gliding trams just beyond the trees providing a remarkably regular service. Another feature was the built-in hoses to water the artificial pitch, and I was unaware that such pitches needed additional watering. I was told that 'it makes them play better'.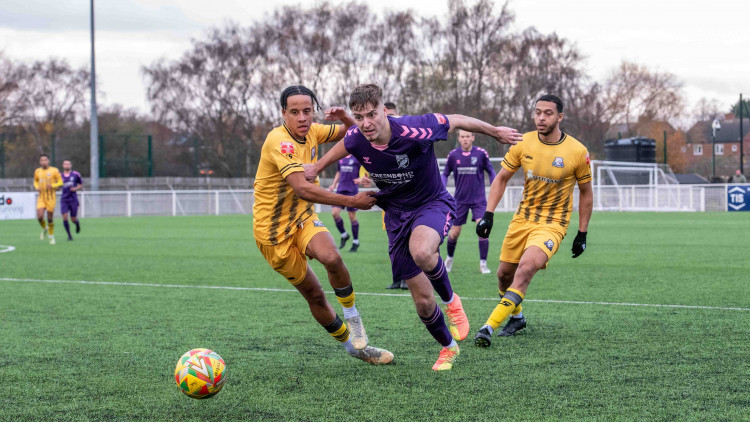 Basford United 0-2 Hitchin Town: Report by Pipeman, photographs by Peter Else
Basford have, like Hitchin, had a run of favourable results, and, significantly, their only home defeat this season was against Nuneaton Borough. The moderate attendance was strung out among the four tier stand and the covered end. It was cold and there was the occasional shower.
Hitchin were unchanged and faced a team that had battled out a goal-less draw at Top Field. Then there was no ascendancy gained by either team but today Hitchin were the better team and it was soon in evidence. Gleeson was soon becoming influential in midfield, but he had to be replaced very early owing to a calf injury.
The hosts put together some positive moves that brought a lacklustre shot from Joshua Barnes. This followed a promising move from Hitchin involving Cawley, Gleeson and Bell. A better chance came from Freitas-Gouveia who delayed his shot a fraction too long. Basford attempted an attack on the right, led by Munakandafa, but it was thwarted by the focused Hitchin defence that deserved its clean sheet today.
Gleeson was replaced by Coldicott-Stevens after fourteen minutes and Hay needed some attention for a knock received. Greg Smith, the bulky Basford centre forward was off colour and nothing near the threatening presence he was at Top Field, and he really ought to have been substituted before he was. His languid free-kick went straight into Horlock's gloves.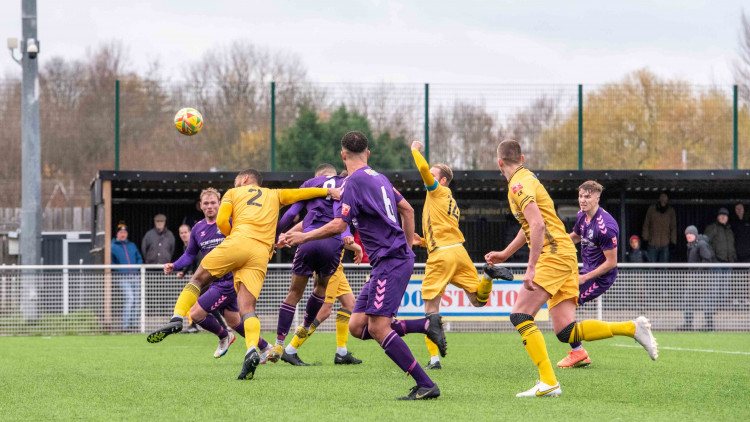 Basford United 0-2 Hitchin Town: Report by Pipeman, photographs by Peter Else
There was a cross from Bell that Cawley managed to head with a neat twist but the effort was wide. Hay and Freitas-Gouveia were beginning to encroach more meaningfully but accuracy was a little lacking. A thumping shot from Bell was blocked and a speculative lob from Basford's Palmer bounced clear of the intended target. The much improved Jack Snelus was getting in some decent touches and some bursts of pace from Rio Dasilva provided possibilities.
Starkie had a shot for the hosts and Hay for the visitors and both provided routine saves for the goalkeepers. Across from Freitas- Gouveia looked good but it was marginally too close to the keeper, Kieran Preston. A Basford free-kick wide on the left cleared the cross bar and there was some degree of excitement in the Hitchin goalmouth but not enough to cause any problems.
A Hitchin free-kick from Bell reached Cawley who connected but was only able to spoon the ball over the bar. A Basford free-kick saw Georgiou's defend and he had another fine match. But as we approached half-time it did occur to me that, to be ruthlessly honest this had not been the most entertaining game so far. Snelus shaped for a shot that was blocked, and it might be a fair estimation that tram arrivals and departures were more numerous than on target goal attempts.
Then, with a couple of minutes to go Basford produced their best effort of the half and a late free-kick from them saw Beatson head over the crossbar.
I thought that was that as we had only two additional minutes. This was enough for some fine work from Snelus, working on the right, provided Freitas-Gouveia with a chance. With considerable skill and confidence he turned and fired and found the top right corner. Our Diego, as has been said, does not do tap-ins and each successful strike so far has been memorable.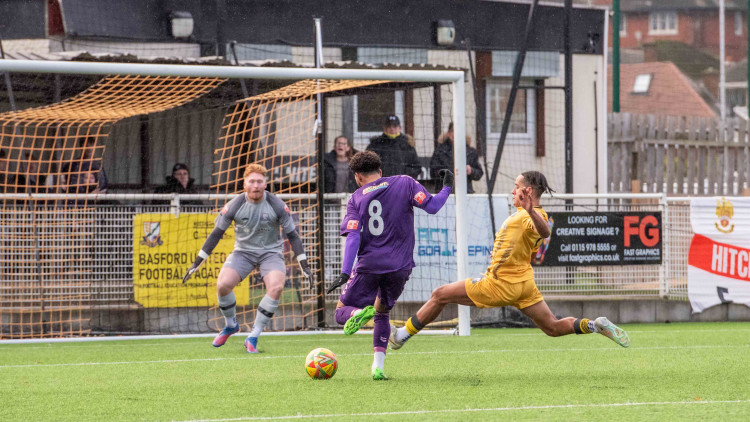 Scoring right at the end of a half is said to be highly desirable, and that many be the case. However, I expected Basford to emerge with full intent and some much needed improvement in their play. So far they had been subdued and did not improve their pace until they employed their two substitutes. That much needed rejuvenation did not occur and on resumption it was Hitchin who looked likelier to score. There was a clinical move from Snelus whose pass enabled Cawley to have another go but the effort was held by Preston.
A Hitchin corner was defended, and their preparatory play was still as detailed as it was in the first spell. In another move a fine cross found Ashley Hay who was unfortunate not to score, and his header struck the underside of the cross bar. Then Hitchin tried a short corner, which did not work, and some fancy footwork by Dasilva was brought into perspective by Preston's simple standing save.
Starkie tried again for Basford in a rare attacking move and Ciaren Jones' glancing header went wide from a corner. This was followed by another effort from Freitas-Gouveia but that was somewhat inaccurate. Hitchin were relatively comfortable but a second goal would be additional security.
Hay, who had run off the pain of his knock sent in a cross that was too heavy and Beatson's run might have been inspirational had it not petered out, almost apologetically.
Hay had an incursive run, tried to shoot but just won a corner. Then Lewis Barker, so good today, won a free-kick, and from this Ashley Hay finally got his goal from a header or was it mostly his shoulder? This was timed at seventy-nine minutes and it was with the run of play. Indeed this a put a lot of pressure on the hosts to make a supreme effort in what time remained, if not to score, then tom ensure they did not concede further.
They did try but even though the substitutes provided extra pace the ineffectiveness in front of goal was not improved upon. Of interest to hitchin supporters was the substitution of Steve Cawley by our new signing Emmanuel Adeyemo, who likes to be called Tobi. Fair enough. He is a tall striker and soon had a shot on target and then he blotted his copy book by becoming the only player cautioned in the match – and it was for unnecessary time wasting.
I say unnecessary since Hitchin were generally comfortable throughout this game. Even the next substitute, Malaki black was able to get a shot on target with assistance from new man Tobi. The game had been won and looking at the table we can see Hitchin now at fifth position, as this remarkable run continues. Perhaps it is needless to remind everyone that others have games in hand. We may be pleasantly surprised to have reached such heights, but it is entirely on merit and consistent improvement. The red line under us in the league table indicates a play-off position. Last season we spent too long hovering about the wrong red line that indicates the dreaded "R" word.
It is Barwell next at home and a chance to extend this delightful run of wins since that bit of a mauling at Royston. So, once again, a solid performance with positive play and a pleasing directness in attack. We are so pleased with the team's progress that we did not baulk at the karaoke performances of a few players in the coach on the way home.
BASFORD UNITED
Kieran Preston, Lewis Carr, Josh Barnes, Adam Chapman, (Matthew Thornhill, 78), Brad McGowan, Bradley Beatson, Luther Munakandafa, Ben Starkie, Greg Smith, Captain, (Declan Dunn, 69), Tyreace Palmer, Courey Grantham. Substitutes not used- Dominic Roma, Daniel Morledge, Stern Irvine.
HITCHIN TOWN
Charlie Horlock, Captain, Bradley Bell, Stanley Georgiou, Steve Gleeson, (Josh Coldicott-Stevens, 14), Ciaren Jones, Lewis Barker, Diogo Freitas- Gouveia, GOAL, 45+2), Rio Dasilva, (Malaki Black, 90), Ashley Hay, Man of the Match, GOAL, 79, Stephen Cawley, (Tobi Adeyemo, 79, cautioned), Jack Snelus. Substitutes not used- Delsin Ackom, Dempsey Thomas.
Referee- Mr Waqar Ahmad, assisted by Mr Tyler Machin and Mr Paul Kiely.
Attendance 213
REPORT BY PIPEMAN