Player Ratings: Stevenage 1-3 Salford City as Boro slump to disappointing defeat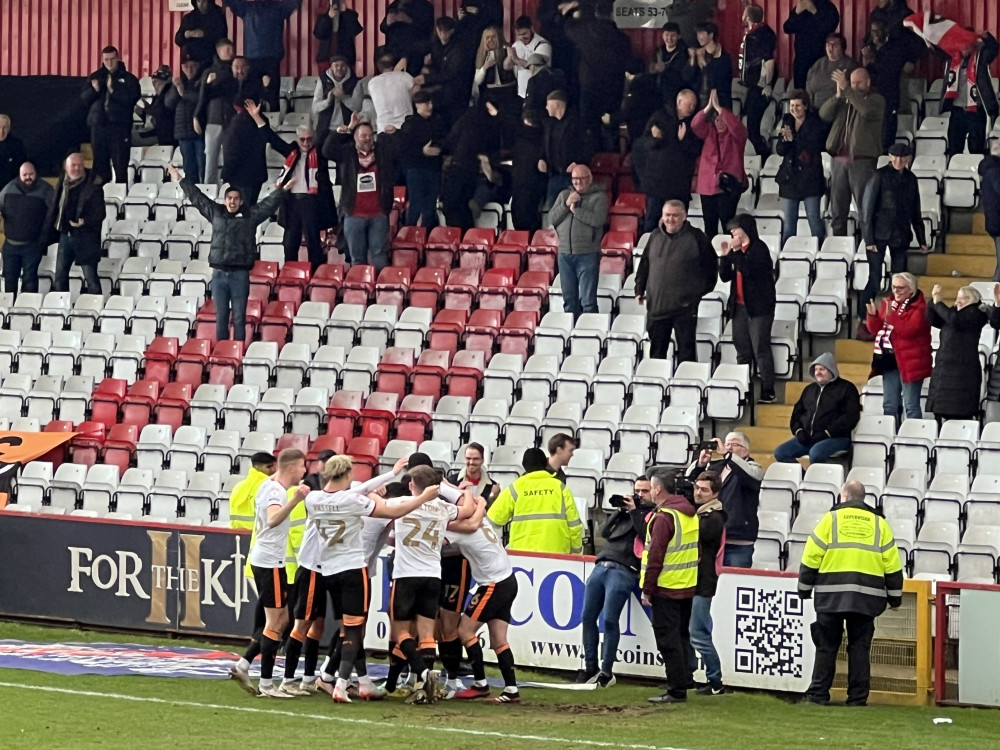 Read Owen Rodbard's Player Ratings after Stevenage lost 3-1 at Broadhall Way to Salford City. PICTURE: Salford celebrate their third goal after substitute Matt Smith's late strike sealed a crucial victory for the visitors. CREDIT: @laythy29
Player Ratings: Stevenage 1-3 Salford City
In a game ran by gamesmanship and horrific refereeing decisions, Salford came out on top as they left Hertfordshire 3-1 victors to cement their place in the League Two play off spots.
Stevenage fans were left frustrated as big misses in the first half came back to haunt them as a clinical second half from Salford
Results elsewhere sees Stevenage retain third place, but with a game in hand and a crucial game away at Northampton next weekend.
Read on to see how Nub News rated players, Steve Evans and the referees performance.
Stevenage
McCracken: 6- Some good claims and catches from crosses, showed bravery
Smith: 6- Had some bright moments going forward and was solid defensively
Sweeney: 4.5- Poor defensively all game, at fault for two goals, has been poor of late
Piergianni: 4.5- Shocking defending for the third goal, schoolboy stuff as he turned his back, the defensive solidity earlier in the season seems to of disappeared
Clark: 5- Often left flat footed and caught out when one on one with McAleny, some good balls into the box
Reeves: 5- Controlled the centre of the park well but didn't get on the ball enough to influence factors in either of the boxes
Taylor: 5- Failed to influence the game massively, replaces by Forster-Caskey after a very average performance
Gilbey: 4.5- Silky on the ball but didn't have that aggression and fight needed against the wily Salford midfield
Roberts: 5- Lost composure in the final third when the chances arose, looked off the pace at times
Reid: 5.5- Good direct running on the ball, wasn't given the service he thrives of
Norris: 6- Held play up well, should've had a goal in the opening stages, was a constant threat with his tireless pressing
Substitutions:
Forster-Caskey: 4.5
Horgan: 4
Rose: 5
Steve Evans: 6- Thought he should've made changes earlier in the second half when it clearly was not flowing like the first half, made the right changes at the end but not how fault his team completely switched of twice.
...............
Referee: Darren Drysdale: 2- It's always a bad sign when you remember a referee's name, and this case it was very bad.
Between the time wasting, diving and gamesmanship of Salford, Drysdale managed to make himself the centre of attention by somehow getting every big decision wrong.
An obvious head butt on McCracken which wasn't even a foul - though why it wasn't given is a mystery, carding Norris when he was fouled through on goal and playing on despite McCracken bleeding with a head injury on the floor.
I realised at full time by I remembered his name, he was the ref in the reverse fixture, where he also had a shocking game.
It's not to say he was all one sided. He made some poor calls for Salford as well. Overall a very poor game.