Player Ratings: Stevenage 3-2 Arsenal U21s: Arthur Read's winner sees Boro make Papa John's Trophy progress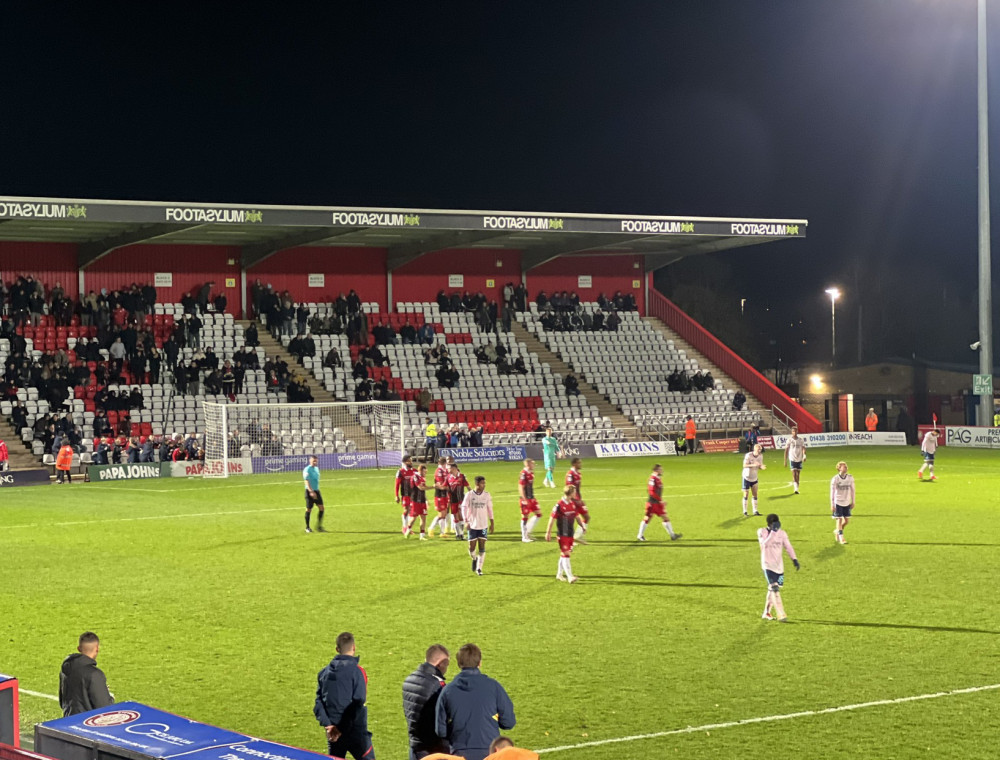 Player Ratings: Stevenage 3-2 Arsenal U21s. CREDIT: @laythy29
Stevenage beat Arsenal U21s 3-2 in a thrilling match to progress in the Papa John's Trophy on Tuesday evening.
An early goal from Nathan Butler-Oyedeji put the young guns 1-0 ahead prior to David Amoo's close range effort levelling proceedings after the interval. Dan Sweeney's header made it 2-1 before the lively Amario Cozier-Duberry equalised for 2-2.
Arthur Read clinched victory for the home side with a late winner to make it 3-2 to seal an entertaining match in front of a crowd of 2,236 which included 722 from Arsenal.
Read on for our Player Ratings:
Stevenage: 4-2-3-1
Aaron Chapman: 7/10 - The Boro reserve keeper was beaten early on and didn't fully convince throughout
Kane Smith 7/10 - The former Hitchin Town and Boreham Wood right back was always available to supplement colleagues further forward
Dan Sweeney: 7.5/10 - Unsure whether to stick or twist against the lively young Arsenal defenders but rallied strongly to nod home Boro's second goal - even if questions have to be asked of the visitors ability to clear the aerial ball that led to the header
Terence Vancooten: 7.5/10 - Impressive against a lively attack
Max Clark: 7/10 - Solid at the back and an important addition on dead balls, with his first half free-kick flying narrowly over Graczyk's bar
Dean Campbell: 7/10 - Bolstered Boro with a trusty left foot that aimed to test the callow Gunners backline
Jake Reeves: 7/10 - A tireless performance
Arthur Read: 7.5/10 - Always involved in prompting attacks from his place in the heart of battle
Alex Gilbey: 7/10 - The Charlton loanee is a silky presence, with excellent vision and technique. Tested Graczyk at his near post before the interval, prior to the Addicks midfielder firing over the bar when well-placed shortly afterwards. Should have made his chance count
Jordan Roberts - 7/10 - Always a handful for the Young Guns backline, a class act who is powering Steve Evans side's League Two promotion drive
David Amoo - 7/10 - Ploughed a lone furrow up front but wasn't through lack of effort and throughly deserved his equaliser after the break
Substitutes:
Saxon Earley: 7/10
Luke Norris: 7/10
Luther James-Wildin: 7/10
..............
Arsenal U21s 4-2-3-1
Hubert Graczyk: 6/10 - The young Polish keeper kept out Charlton loanee Alex Gilbey at the near post prior to the break. Was relived to have seen the Addicks midfielder fire over when he should have scored before half time. Needs to work on his distribution at times
Reuell Walters: 6/10 - Always has pace to burn and turned on the afterburners a few times to recover his position - and the ball - from Boro's attackers who looked to break through
Taylor Foran: 5/10 - Will have benefited from playing against the seasoned professional from League Two - perhaps should have been more dominant when attempting to clear the ball prior to Dan Sweeney's second half header
Zach Awe - 6.5/10 A class act who impressed during Kevin Betsy's side's run to the quarter-finals last term - and will be better for the experience fo trying to tame the former Ipswich Town striker Jordan Roberts, who presented a constant aerial threat during Boro forays forward
Lino Sousa: 6/10
Matt Smith: 6.5/10 Worked his socks off while always attempting to keep play moving with his quick feet
Mauro Bandeira: 6.5/10 Always willing to press when out of possession
Jack Henry-Francis: 6.5/10 Wiling and combative
Charles Sagoe JR: 7/10 - Lively start to the game after being involved in the opening goal. A constant menace down the left flank. Faded before being replaced by Joel Ideho on 65 minutes
Amario Cozier-Duberry: 7.5/10- The 17-year-old signed his first pro deal this summer - and it's not difficult to see why on his showing this term. Represents England 18s and will go much further if he continues to progress
Nathan Butler-Oyedeji - 7.5/10 Seen plenty of this lad and he's always a handful for the opposition backline. Showed predatory instincts to slot home from close range for the opener after only five minutes
Substitutes:
Joel Ideho: 6/10 Replaced Sagoe Jnr with 25 minutes remaining
Ethan Nwaneri: 6.5/10 - On for Bandeira late on
Miles Lewis Skelly: 6/10 - Swapped for Henry-Francis
Catalin Cirjan: 6/10 - Came on for Walters
MATCH REPORT:
Stevenage 3-2 Arsenal U21s: Boro edge Papa John's thriller despite Gunners Premier League starlet Ethan Nwaneri's presence