Stotfold FC family: Proud dad Paul Donnelly shares trophy joy with his two sons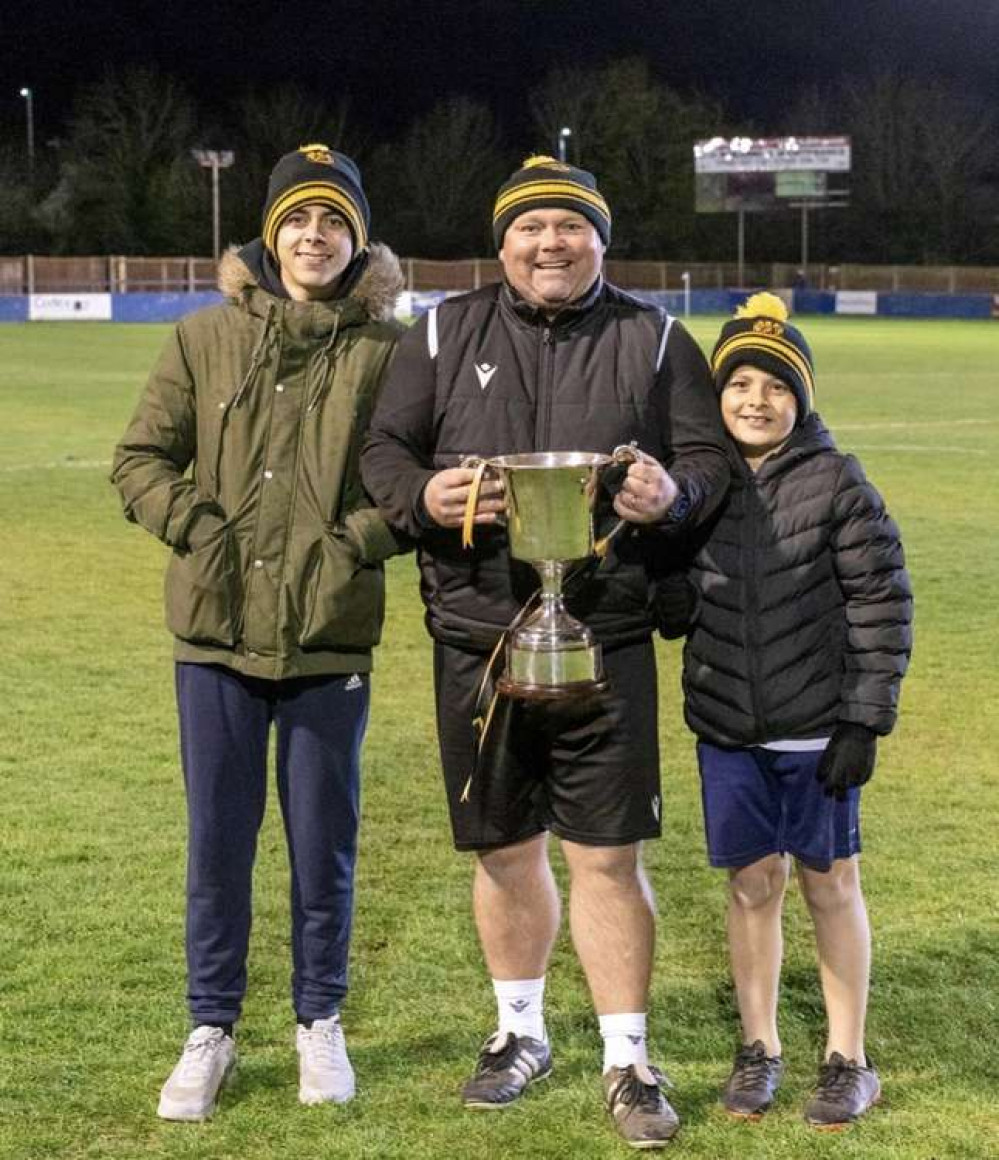 Stotfold FC family: Proud dad Paul Donnelly shares trophy joy with his two sons. CREDIT: Stotfold FC
Stotfold FC have been the non-league success story of the season in our area - and beyond.
Fresh from lifting their first silverware of their imperious campaign last week, after boss Brett Donnelly's side eased past near neighbours Shefford in the Beds FA Senior Trophy final, the team now have promotion firmly in their sights.
With Stotfold set to face Shefford on Tuesday for the second time in a matter of days, this time in a bid to seal promotion, Nub News is highlighting a wonderful photo taken in the aftermath of last week's cup victory.
While boss Brett has been rightly earning plaudits all season for the way his side has swept away all challengers his assistants have also been busy helping to boost Stotfold.
Brett's trusted lieutenants include Eddie McLoughlin, Michael Parkin and Roy Ryall, while Brett's cousin Paul Donnelly is also an assistant coach at the club.
Paul generously took time out to share last week's trophy success with his two boys, Harrison and Jackson, in a heartwarming post-match photo.
Modest Paul told Nub News: "The boys were very pleased that we had won the cup.
"With both my boys being part of Stotfold's juniors' sides they have a big interest in how the first team do, especially with Brett being the manger too - it's a bit of a family affair for them.
"Harrison spends a lot of time in and around the first team and often joins in the darts after training."
With impressive Stotfold winning again on Saturday, this time 5-2 at Sileby Rangers, the team have the chance to clinch a well-earned promotion after their stella season so far.
However, down-to-earth Paul is taking one game at a time and refuses to get carried away.
The well-respected football man praised the whole Stotfold team, adding modestly: "The effort the lads have put in this season they deserve all the plaudits coming their way at the minute.
"Brett, Ed and myself couldn't have asked for much more - but hopefully this is the start of things to come."
................
[H1]Follow Hitchin Nub News on Facebook for our Stotfold coverage here[H1]