Hitchin Town lose 3-1 at Rushall Olympic: Report from Dales Lane by Pipeman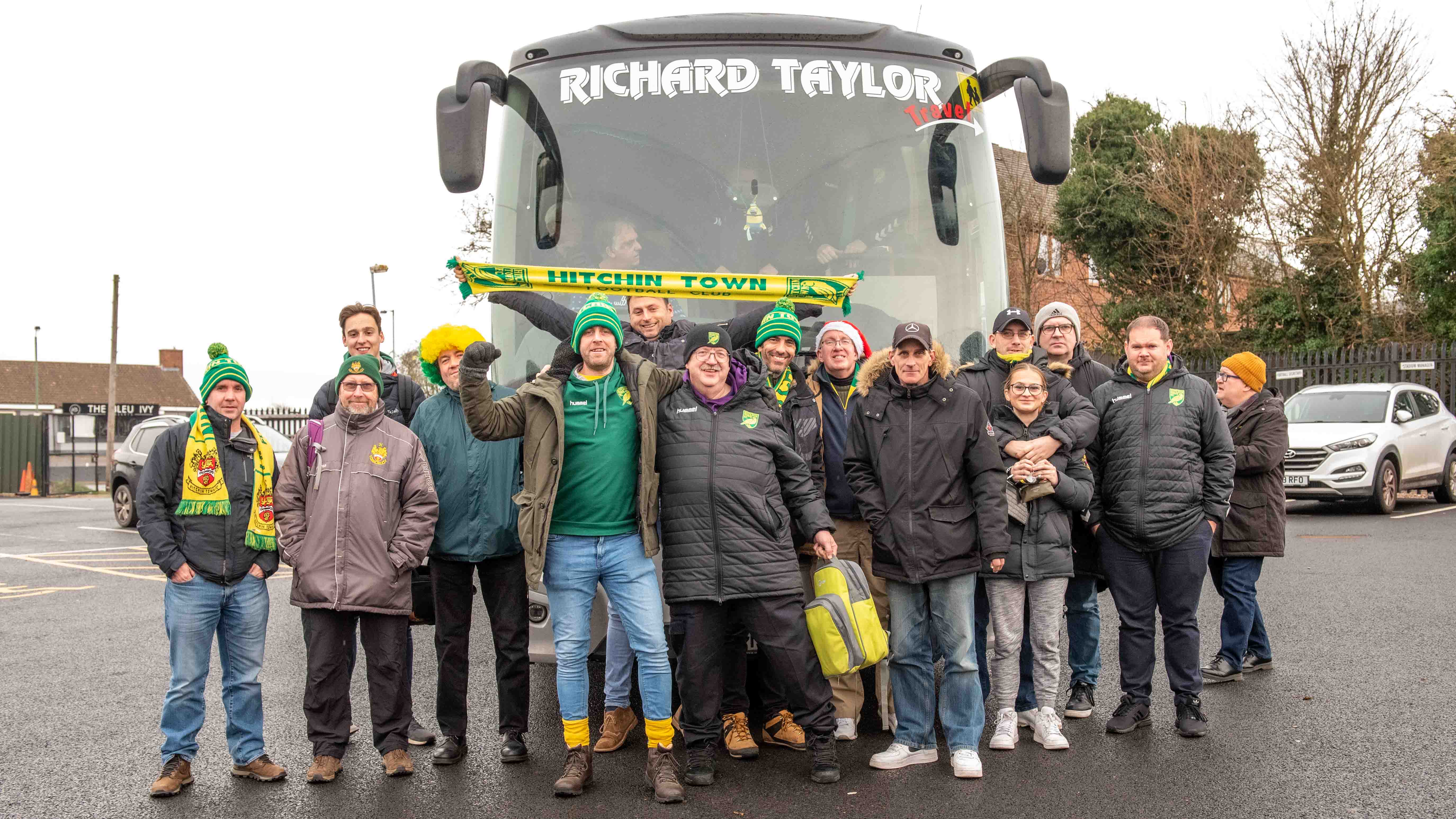 Hitchin Town lose 3-1 at Rushall Olympic: Report from Dales Lane by Pipeman, photographs by Peter Else. PICTURE: The loyal band of hardy Hitchin fans make the trip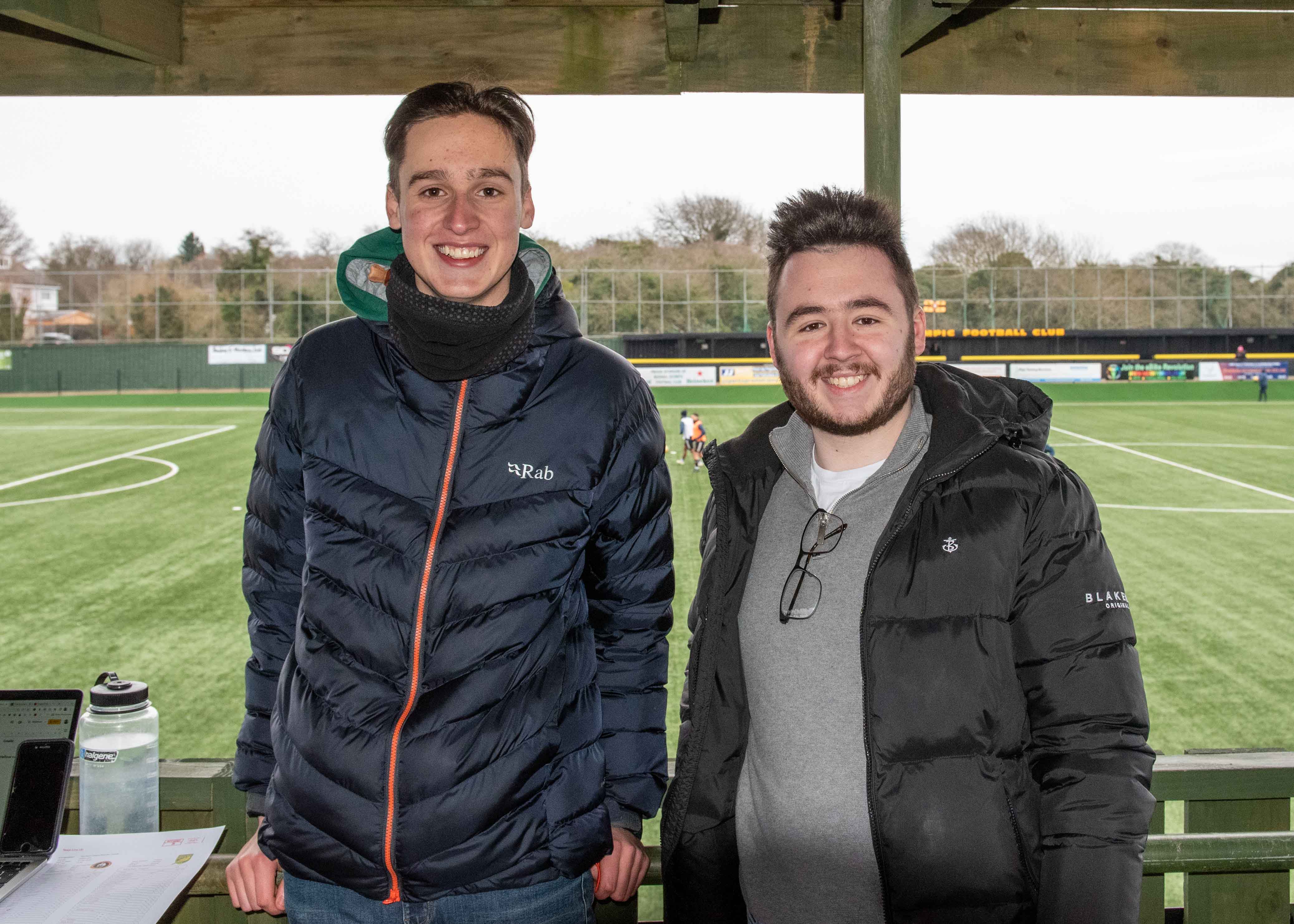 Freddie Cardy with Joseph McCormack. CREDIT: Peter Else
Rushall Olympic 3-1 Hitchin Town: Report from Dales Lane by Pipeman, photographs by Peter Else
Forgive the retrospective start but for those of us who were here in the corresponding fixture last season, it marked something of a change. Hitchin were languishing in the relegation zone and were up against opponents who had a disconcerting habit of scoring an uncomfortably early goal before going on to win the game.
Last season was different as the spirit of the team came through when former skipper Dan Webb equalised in World Cup stoppage time to snatch a creditable draw and as we celebrated we were grateful to note the words of the Olympic manager who declared that he hoped we would stay up. Well, we did, playing more inspired football. Since then the spirited play inspired by our now retired captain has happily been with us.
With the home match against Barwell postponed owing to a frozen pitch, it was noticeable that games played that day were those where clubs had the benefit of an artificial pitch. Only deep snow would cause a postponement on such pitches and we in Hertfordshire have been the recipient of the white stuff and wondered how matters fared in the midlands.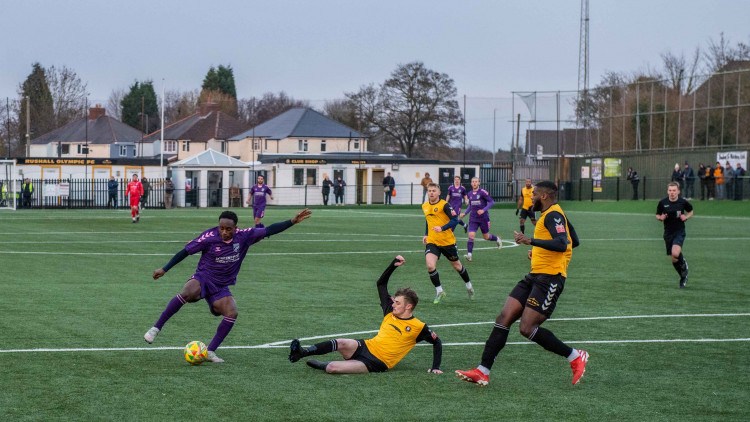 Hitchin Town lose 3-1 at Rushall Olympic: Report from Dales Lane by Pipeman, photographs by Peter Else
Since there were no spare seats on the coach it may be surmised that Hitchin's return to good form had tempted more to see how well they have been performing 'on the road' and that is quite encouraging. Team news was mixed, since it emerged that our goal keeper and captain, Charlie Horlock, was ruled out owing to Chicken pox and that meant that Tiernan Parker had to be drafted in. The club has also re-signed Layne Eadie, following the unfortunate resignation of Harlow Town from the Southern League. Also in the starting eleven was Luton loan player Daniel Idiakhoa. Captain today was Ciaren Jones.
The Pics have been in good form and were placed fourth in the table. My hope was that the Canaries did not concede an early goal as they have tended to do at Dales Lane. The first significant attempt came with Cawley setting up Idiakhoa whose run won a corner that was defended and there followed a half chance for Hay.
After ten minutes I judged it to be a positive start for the visitors, with the hosts yet to threaten. Snelus won a free-kick, taken by Freitas-Gouveia but it was harmless. Snelus' excellent pass to Idiakhoa provided a fine chance but he delayed his shot for too long and the chance went. It was all Hitchin in these opening twenty minutes. There was a free kick wide on the right from Freitas-Gouveia that was beaten away. Hay won a corner in the next attack which brought another which Hay headed over the crossbar. Rushall won a corner that was over hit and Parker had yet to face up to a shot from the hosts. Hay had a shot blocked and a Rushall move saw Mantom's effort clear the crossbar.
On the half hour mark the Pics began to see more of the ball but had not done too much with it. Dasilva's cross was almost a shot and needed monitoring by the keeper. Carvalho- Landell was remonstrated with for clattering Jones but he escaped a card. For all Hitchin's penetration they were yet to get a really good shot away and we had been playing for forty minutes. Freitas-Gouveia won a free-kick in a fairly central position which hit the defensive wall.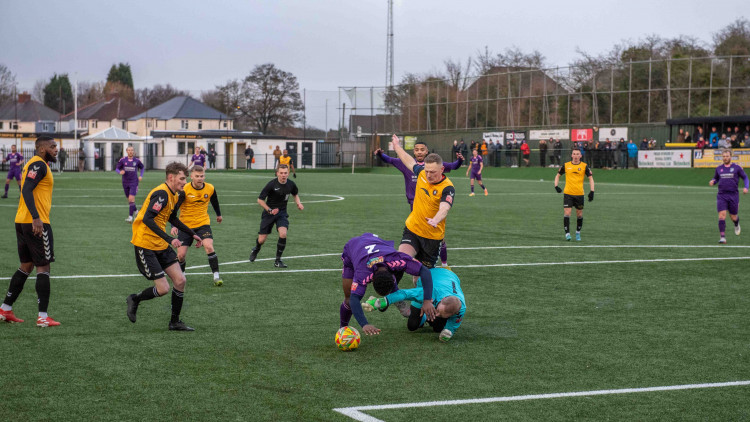 Hitchin Town lose 3-1 at Rushall Olympic: Report from Dales Lane by Pipeman, photographs by Peter Else
There were two minutes of added on time and his proved alarming for Hitchin, as in the second of these a snap and solitary attack from the Pics caught the Canaries napping and Nkalambi-Masidi finished well. There was a sense of injustice from Hitchin supporters but the team had just not created enough to give the home keeper any real problems. On the balance of play Hitchin did not deserve to be a goal done but it was a salutary lesson of making the most of an isolated opportunity.
There was hope and expectations that this would improve in the second half but it was Rushall who had the first opportunity and an attack on the left culminated in Nkalambi-Masidi scoring a well-taken second after fifty-one minutes. It was the sort of incisive move Hitchin had hinted at yet not fulfilled as yet. Jones' cross looked promising but was punched away by Weaver. A Hitchin free-kick saw Jones just flick wide. Snelus ran into traffic and the Pics made a substitution as Idiakhoa won a corner that came to nothing.
Dasilva had a fair shot but it was ruled off side, with Cawley sharing the same fate moments later. Layne Eadie replaced Dasilva after sixty-eight minutes. Hitchin attacks continued to be thwarted by the hosts. There was a free kick in a promising area, perhaps too far out for a direct shot. It did bring a goal however and it was scored by Stanley Georgiou which gave Hitchin some degree of hope. The goal was timed at seventy-five minutes. It was Stan's second goal for the club and the second time it was credited by the announcer to another player. There was another free kick wide on the right taken by Freitas-Gouveia which was defended well and from a smart and immediate counter the Pics restored their two goal lead with the scorer being Will Shorrock after eighty- four minutes.
This, of course, was a severe blow signifying an end to the happy unbeaten run. Hay's shot on the volley needed a lightning reaction from Weaver who thought it was going wide. Hay then had another header which was off target. Snelus' shot looked good but was destined for the side netting. There was just not time enough although the referee did add six minutes. These were used well but without any further compensation but it is to the players' credit that they tried until the last.
It is curious but I felt Hitchin should have got something from this game, but perhaps I am basing that on their first half domination. Conceding that simple goal in stoppage time was bad enough but it was the Pics second goal that was the real killer as they simply carved Hitchin apart. In some ways the third was similar, exploiting space with pace and the finish was exquisite.
Boxing Day brings Kings Langley to Top Field, weather permitting, and they are a team we have often struggled against and who are desperate for points. It is hoped that the finishing from Hitchin will exceed that of today.
RUSHALL OLYMPIC
Jacob Weaver, Kristian Green, Reece Mitchell, Alex Fletcher, Jordaan Brown, Sam Whittall, William Shorrock, GOAL, 84 minutes, Sam Mantom, captain, Andre Carvalho-Landell, Callum Coyle, substituted by Jermaine Hilton who was himself replaced by Alex Cameron, Jourdain Nklambi-Masidi, TWO GOALS, 45+2 AND 51 MINUTES, Substitutes not used – Liam Daly and Tyrese Hughes.
HITCHIN TOWN
Tiernan Parker, Daniel Idiakhoa, Stanley Georgiou, Josh Coldicott-Stevens, Ciaren Jones, captain, cautioned, Lewis Barker, Diogo Freitas-Gouveia, Rio Dasilva, (Layne Eadie), Ashley Hay, cautioned, Stephen Cawley, (Kye Tearle), Jack Snelus. Substitutes not used- Stephen Gleeson, Malaki Black, Toby Syme.
Referee- Mr Matthew Jackson assisted by Mr Harry James and Mr Ian Croston.
Attendance 258
REPORT BY PIPEMAN