League One: Stevenage 1-1 Charlton Athletic - Corey Blackett-Taylor's late penalty denies Boro victory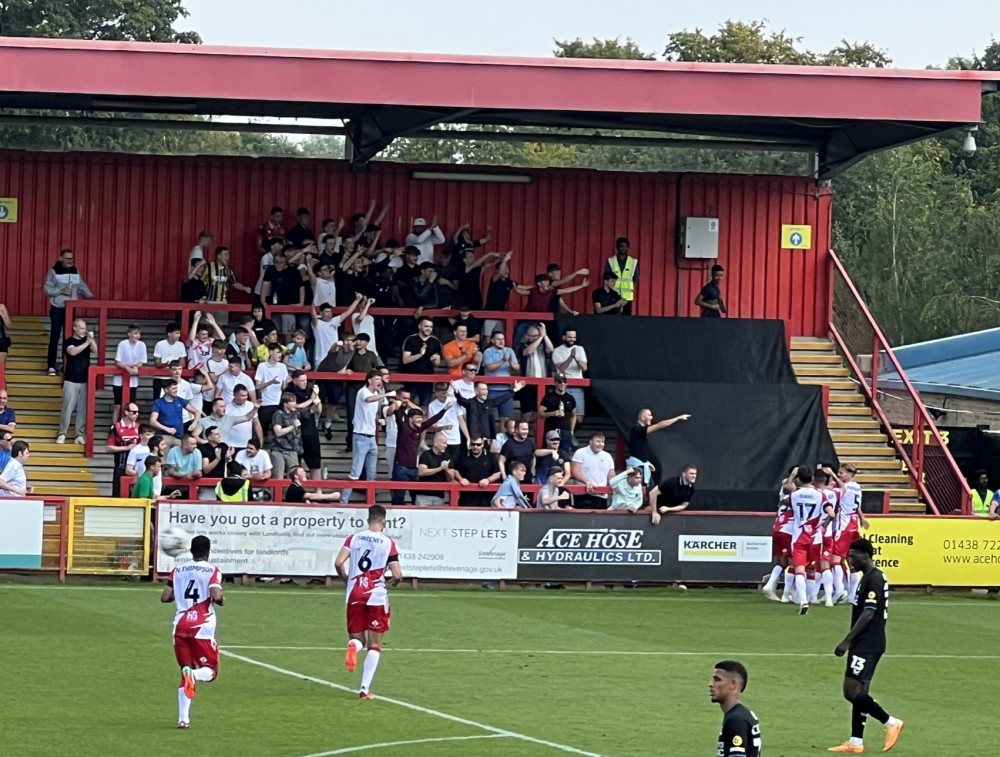 The East Terrace celebrate Jamie Reid's opener against Charlton Athletic on Saturday at the Lamex. CREDIT: @laythy29
League One: Stevenage 1-1 Charlton Athletic
A late penalty by Corey Blackett-Taylor's denied Boro victory in front of 5,119 fans at the Lamex on Saturday afternoon.
Earlier Jamie Reid's 34th minute strike had put Steve Evans side ahead, as hopes were high that memories of the frustrating 2-2 draw against Carlisle last weekend would be banished.
However, in what was Michael Appleton's first game in charge of the Addicks, the visitors - who came into the game in a lowly 17th position - grabbed a point in the second minute of the 11 added minutes at the end of a match high on endeavour but low on inspiration.
The late spot-kick came when Charlton substitute Slobodan Tedic drew a foul in the box from the hitherto redoubtable Dan Butler, in front of the stand that housed the vociferous 1,380 travelling Addicks fans - even if Boro boss Evans disputed the award of the penalty, when speaking after the match.
The disappointing draw saw Boro slip to fourth spot, albeit still ahead of such heavyweights as fallen Premier League giants Bolton Wanderers, Portsmouth and Derby County after two galling draws on the bounce, primarily notable for Stevenage conceding late levellers.
Boro boss Evans left 'frustrated' after late Charlton leveller
During his entire tenure at Boro, boss Evans had never looked so frustrated as he did at the end of last week's 2-2 draw with Carlisle, when Joe Garner's 93rd minute equaliser for the Cumbrians saw Stevenage drop two points - although his reaction following the 1-1 draw against Charlton ran it close.
In a sign of just how far Boro have come since the charismatic Evans assumed the role in the spring of 2022 - when the club were favourites to be relegated from League Two - the tough Scot cut a dejected figure, along with attacker Reid last week - and did so again this weekend.
While Evans is never one to lambast his players in public, it was evident that the gaffer and Reid were hugely disappointed that the former Exeter attacker failed to convert the numerous chances he had against Carlisle - and with Stevenage leading Charlton for long spells on a hot afternoon, it appeared Reid and Evans would be smiling after the match.
Never mind that Reid had netted twice against the Cumbrians, the standards are exceptionally high at the Lamex these days, and a brace was not deemed sufficient to aid the Boro cause. Nor was Reid's strike to prove to be the winner against the Addicks.
For 92 minutes it seemed that Reid was to be Boro's hero. While the 29-year-old former Exeter striker fully deserved his warm ovation after being substituted late on, Blackett-Taylor's late spot-kick took the gloss of what should have been an excellent victory.
No wonder Evans said he was 'frustrated' at the end of the match, insisting the penalty awarded by referee Peter Wright should not have been given.