Up Close: Stevenage FC boss Steve Evans on loving life at Boro, Sir Alex Ferguson, Pep Guardiola and so much more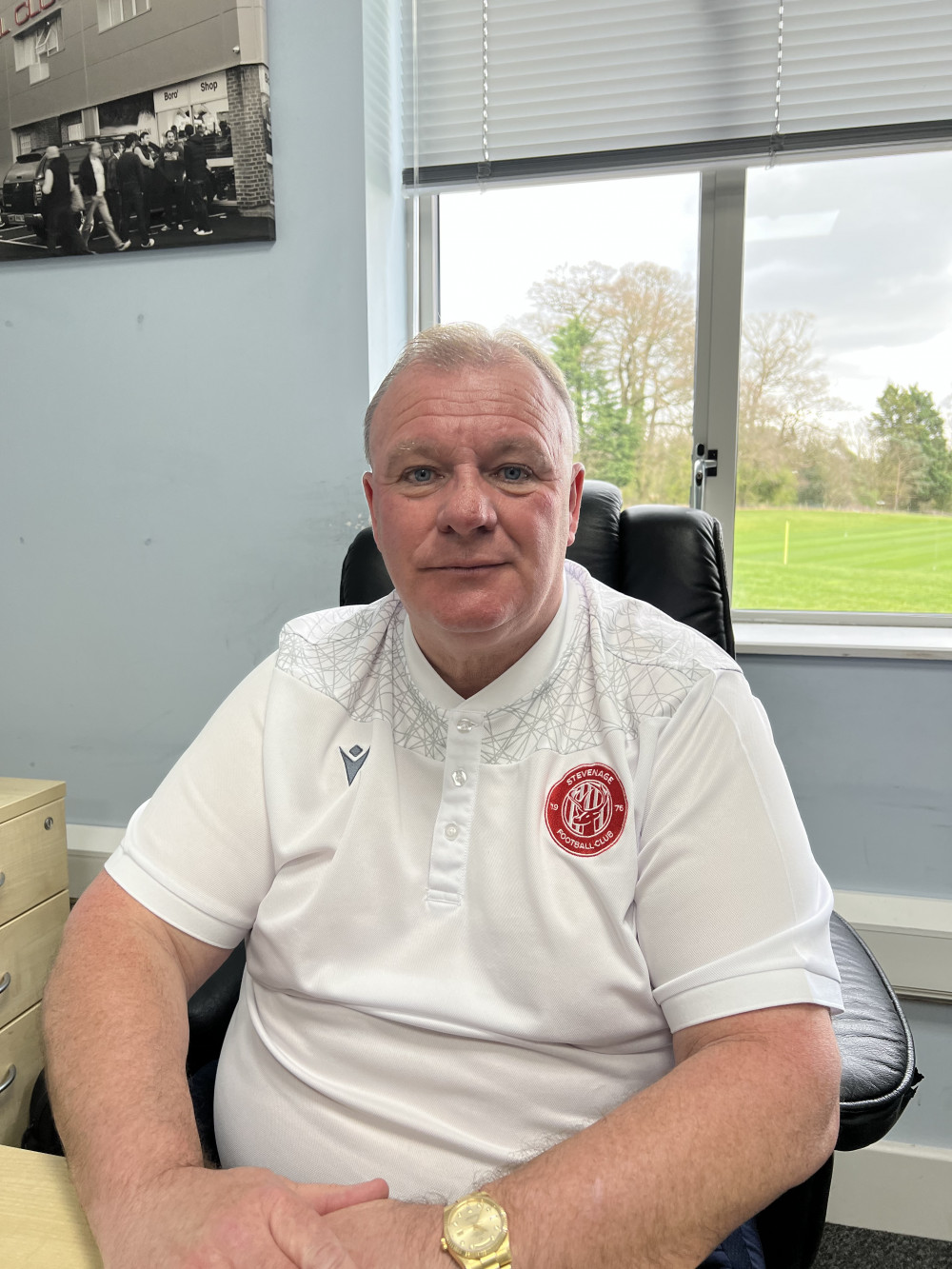 Charismatic Stevenage boss Steve Evans spoke exclusively with Nub News at the club's training ground Bragbury End for an Up Close feature. CREDIT: @laythy29
UP CLOSE: Nub News aims to support our community, promoting shops, businesses, charities, clubs and sports groups.
We showcase some of these businesses, organisations and interesting individuals regularly in a feature called 'Up Close'.
For this week's special feature we focus on Stevenage FC boss, the charismatic Steve Evans, who has steered the club to League Two safety after being appointed in late March.
The biggest sports club in North Herts officially extended their stay in league football after fourth tier drop zone rivals Oldham were relegation to non-league football for the first time in their history - leaving Evans side safe, after the enigmatic Scot sparked a vast improvement in results since taking over.
So, read on for our latest Up Close Nub News feature as Evans hails our area's only football league club and says: 'This is a fantastic club and our fans have been brilliant.'
....................
Nub News: Every journalist I've spoken to, whether it be Fleet Street or local has a Steve Evans story. So too do most fans, and people in and around the game. So, what's your favourite Steve Evans story?
Steve Evans: [Laughs] Oh there's a few. Too many. A brief story is when I was at Crawley and we were sponsored by Britain's biggest tabloid. We got drawn against Manchester United in the FA Cup. A journalist and man known to me, who sadly lost his life, Paul Jiggins, was my main contact and he was around all the time. I used to pick him up at the station more than not – and to cut a long story short, he said to me Sir Alex likes a nice bottle of wine.
So we travelled up to Manchester the day before the game. I said to my brother, go and pick a nice bottle of wine – here's my debit card to pay for it. So, he got a bottle and put it in my hotel room ahead of the game at Old Trafford. I was thinking 'well, it's got to be £30 or £40 quid' and forgot about. Then my wife says to me the next morning: 'What did you spend in a wine shop? How much did you pay for a bottle of wine?' So she tells me: '£275'. I couldn't believe it.
So, anyway, I took the wine in. We lost 1-0 to United but performed really well. We're in the dressing room ten minutes after and Albert – the famous United kit man comes in and says: 'The big fella is expecting you.' So, I grabbed the wine and took it with me to see Sir Alex. I walked In and he says: 'I've been expecting you and this bottle of wine as it's been all over the newspapers' after Jiggo [Paul Jiggins] ran the story. So, he undoes the box and takes it out of this fine tissue paper. He takes one look at it and nods sadly in front of everyone and says: 'It's not the best.' Not the best – it cost £275 I said!
He put it down and then Sir Alex entertained us and all the staff. He treated us like he would have treated Barcelona and Real Madrid and all the top clubs in England. After about two hours we're still there and he's trying to get us all out as he wants to go home. All that time he's only had a very small glass. So he's walked to his car afterwards. As we were heading away he says: "Good luck Stevie' and shakes my hand. And his car door is open. And on the passenger seat is my unopened bottle of wine. He's taking it home. So, I said to him: 'Sir Alex, that's the bottle I gave you,' and he looks at me with a hint of smile – after taking the mickey for two hours about how bad he said my wine was - and says: 'Ah yes. It's a lovely bottle….'
I'll always remember that. I know his son Darren very well. I don't know Sir Alex well but he's a wonderful man.
Nub News: You're a proud Scot with tough Glasgow roots but your playing career was cut short. How do you reflect on that now?
I started at Bolton as a youth. Ian Greaves signed me. Stan Anderson was part of the management team. I went there as a kid. I wasn't good enough. I went back to Scotland and signed for Craig Brown as Cylde then Albion Rovers. I finished at St Johnstone. But I finished early through a bad knee injury. A ruptured ACL. Back then it was a case of 'take a year off and you'll be fine' but we know it wasn't like that. You wouldn't come back from an ACL then.
Nub News: Did that setback fire your passion to become a manager?
Maybe not now, but for the first five or ten years. I had it my head that every decision had to go in my favour. When we got beat it was never my fault. It was never my players fault. It was always the referee's fault.
But I think over the last five or six years I've been more reasonable. I thought the referee against Oldham was very good. Apart from the fact that he didn't add time on for them wasting time. I had him a lot in the Championship and I said to him: 'Andy, I thought you had a good game'. And he looked at me and said: 'You have changed.'
Nub News: How do you reflect on your time at Boston?
Steve Evans: I don't. I am still friendly with the Malkinson family. I still speak to Andrew the son. Great people.
Nub News: You managed one of the biggest clubs in England – in Britain – in Leeds United. What are your memories of your time there. It was a bit of a poisoned chalice at the time wasn't it?
Steve Evans: It's a brilliant club. How can you not love Leeds United? My first knowledge of Leeds United was watching them in front of 145,000 people playing my team – Glasgow Celtic at Hampden Park. I walked about seven or eight miles with my dad. We walked it because all the buses and trains were full. So many people were going to the game.
To get the call from Massimo Cellini to say that they wanted to take me on was a real privilege. I've been really lucky. I've worked with some great people, some great chairmen. I don't work for bad chairmen. I've been in this game for 30 years and I've been blessed.
Nub News: What's been the highlight of your managerial career so far?
Steve Evans: I think there's a number of them. When you go into Rotherham United and you meet people like Tony Stewart who's building his own stadium and he tells you that he wants Championship football over the next four or five years – and you say to him: 'I'll get you there quicker than that.' And when he asks: 'Where will we be in two years time?' – and I say to him: 'You'll have just been promoted to the Championship. And in three years you'll have stayed in the Championship.' That was thanks to his funding mechanism and his son Richard. We signed some good players that are still playing at good levels now. How can you not recognise Emi Martinez who was in goal for us. James Tavener who was captain. Kári Árnason played for Iceland when they beat England at Euro 2016. They were some wonderful players.
Nub News: As an aside, just out of interest, as a Celtic fan do you ever go back to Glasgow to watch them as a punter?
Oh yes, big time. I'm blessed I can go and see them at the training ground and things like that but yes, if I have the time, I'll be there. You can take the boy out of Glasgow but you cannot take Glasgow Celtic out of the boy. It's a bit different if say, you're from Stevenage, or from my home of 30 years, Peterborough, and your daddy's a Tottenham fan or an Arsenal fan, you're most likely to follow him and have the same team and maybe watch Stevenage or Peterborough as well. But in Scotland you're either born a Glasgow Celtic fan or a Glasgow Rangers fan. You may have an affiliation with, say, a Dundee or an Ayr United for example – but you'll always be either Celtic or Rangers. And that goes back over historical times and religion. I did watch the derby win on TV at the start of April. I had tickets and I would have gone to Ibrox had we beaten Oldham on the Saturday, but we didn't win and I didn't go as I was feeling sorry for myself. Rangers were driven on by James Tavener who played for me – but it was a great win for Glasgow Celtic.
Nub News: Moving onto Stevenage - what was the conversation like with chairman Phill Wallace prior to getting the job?
Steve Evans: Well it was different. I was probably expecting to speak to the chairman back in November when they made an approach to the club. But the chairman of Gillingham made it absolutely clear that I wasn't going anywhere. And I've always said if the chairman speaks at your football club he's your boss. Whether you work for an electrical wholesaler or a football club. He decides. So I didn't have any contact with anyone at Stevenage until they made the call when they did recently. I think he recognised that two or three points in nine or ten games – they just needed to do something. I was available. He asked if I would meet him. He told me he was going to change manager and Paul was aware of that. We had a chat that lasted two or three hours and I said can I go home and think about it – and very quickly I decided that it would come together. We didn't have a big conversation about money or anything like that. When you get to a certain level the money looks after itself.
Nub News: What have been your initial thoughts on Stevenage?
Steve Evans: As a football club, there is a fantastic infrastructure. It's Championship standard. There are no excuses here. You get left by the chairman to do your job. As the chairman told me: 'You're the managing director of our training facility to get our players prepared to play football matches. Everyone knows our squad has weaknesses. But it has also got a lot of positives.
We've demonstrated that. Not so much at Exeter. We worked hard but we showed our quality against Oldham. We know what the result should have been. But when luck goes against you, there is only one answer, you have to force it. You have to force it to charge. We've been working hard. There's been a positive energy and positive vibes this week. Winning is a habit. Losing is a habit. I had it at Gillingham through no fault of the chairman Paul Scully. The fans were brilliant too.
Just like the our fans have been brilliant here supporting Stevenage. So we have to force it to change. I would like to see this group after a win or two. They had that briefly in January under Tiss [Paul Tisdale] who is a friend of mine. You win and the players confidence goes up, they try a pass, they try a run. I've been at the Lamex when it's been jumping and buzzing because there's been an air of confidence.
To get people away from going up to London watching Tottenham or Arsenal and the odd one who goes to Chelsea – although they probably wouldn't admit it in Stevenage – but everyone knows people get drawn to teams that are winning with a passionate brand of football. And that's our big challenge to get that here. I know that will happen.
But our initial challenge [was] to stay in the EFL. That [was] our only target.
Nub News: What struck me during your first home game in choice against [relegated] Oldham was that I hadn't seen a Stevenage team create so many chance for a long time – that's come from you…
Steve Evans: Well, I think it's come from the lads. We changed a lot. We changed the programme. We're training on the front foot. We're training aggressively and passionately. And we're playing like that. And what comes from that is we found it to be successful at Crawley and Rotherham and at Leeds. People forget that at Leeds - even if Leeds fan don't, they were very kind to me – that we were successful, because prior to that Leeds United had only won at home once in eight months.
How can Leeds United have only won at home once in eight months? They were third bottom of the league. Same at Rotherham, same at Peterborough. You have to go in and breathe confidence, you breathe commitment. Tell you what gave me confidence early on after the Oldham game. Elliot List doesn't normally miss chances. Luke Norris normally scores the chances that are created for him. Michael Bostwick came in and I should have scored from there. But it's confidence. If we'd have scored early on we'd have won the game. But football's all about taking your chances. We have to learn from that. If we had a main striker who'd got 30 goals and he got injured or goes on a dry spell I'd be worried. But we have a number of players who can score goals. You can learn a lot from the reactions of their teammates. They were going: "He [List] would have normally scored that.' That gives me confidence.
Nub News: Describe your managerial ethos? What are your principles? What drives you?
Steve Evans: Work ethic. I was really fortunate that when I did my coaching badges I watched Pep [Guardiola] at close quarters in Barcelona. I can remember watching his team train and not only were they that good, they worked so hard. Depending on the level of control you can have through your budgets, the minimum you can extract is discipline.
A discipline Monday to Friday that gets you control on a Saturday. We brought in controls and measures that are happening in most other places that were not happening here. Such as weighing players twice a week, fat testing every ten days. It's very rigid. I think the last time they got weighed was after Christmas when Santa was about. It needs to be a mandatory process. I learned all those processes working, watching Pep. How hard his press was. You only need to look at Crystal Palace's pressing against Arsenal [at the start of April].
We will show some of those clips to our players because I thought that was fantastic. People questioned whether Patrick Vieira would be any good when he came to the Premier League. What he's shown is how he can adapt. From the French league where they keep the ball for fun, to England where top teams like Arsenal do that easily – but he's now the one doing the pressing.
Our ethos is about working hard and encouraging good players to be even better. By encouraging them to work even harder – and smarter. I want effort, spirit, fight, commitment. The one word that is common with all my successful teams, Crawley, Rotherham, Mansfield, Leeds, Peterbrough – I got them in the play-offs and I got sacked. I said to Darren that's harsh – he said that's not harsh – he's a good guy I speak to him regularly now. Gillingham under Paul Scally for two good seasons.
Every manager came in afterwards and said: 'Your team never stopped running. Never stopped working hard.' We didn't win every game of course we didn't but we were relentless. So we said to the players when we got here: Buy into the process -whether it's turning up on time for training – no sloppiness. For if you can't turn up on time it's a lack of respect for your teammates. Go home. There's been none of that here. We're set certain principles. And as Jurgen Klopp says it takes care of itself. The senior players manage that. So, I'm very grateful to Skip [Scott Cuthbert] to Bozzie, to Pros, to the senior boys. They can influence the dressing in a good way. And they do.
Nub News: Your passion is infectious but what's a Steve Evans hairdrier like?
Steve Evans: At the appropriate moment I can be strong, loud, opinionated. But a lack of effort is not for me. I would never blame anyone for missing a chance, how could I? I missed more chances than anyone in the history of football has missed chances. But giving it a go and getting in a position to take that chance is what I want.
We didn't play well at Exeter. I came away thinking that was a poor performance – full of endeavour, full of effort – but we only had two days to work with the players and we had a few Covid boys who were working their way back to fitness after having it. I think the players know you're not there to be messed about. I know Andy Robertson at Liverpool and I said to him: 'What's the boss like?' And he said: 'The boss is the boss.' Meaning he doesn't need to raise his voice. I'm sure he does at times but he doesn't need to. Same with Pep. We've all seen the videos of him in the dressing rooms.
If you set the benchmarks for a group of young men full of spirit all wanting to be in the team, I said the one bonus you get with me is that it doesn't matter if you're 18 or 38, whether you're black, white, green or blue, Celtic or Rangers, that doesn't matter to me, I judge it with my eyes. And if I'm a bad judge then I'll face consequences.
A SELECTION OF PREVIOUS HITCHIN NUB NEWS UP CLOSE FEATURES:
Up Close: You're never too old for body art - but think before you ink says talented Ela Lawrynowicz owner of acclaimed Femnink Tattoos
Up Close with the brilliant Willow Foundation
Up Close: Lockdown and challenging life events tested me - but now I have Penny says Kate Peto owner of successful VW campervan wedding company
Up Close: Bowled Over - Bowmans and Ickleford CC are the perfect match
Up Close: Angels' Share owners Harpreet and Preeti's exciting new plans for Lower Stondon's Bird in Hand pub
UP CLOSE: How backpacking trip led to Lauren and Toby creating acclaimed Bite Around the World - that has now catered for Nike, Google and Just Eat
UP CLOSE: Amanda Reed lollipop lady – our town's true unsung Hitchin hero
UP CLOSE EXCLUSIVE interview with Sir Kier Starmer
UP CLOSE: Matt Bean, owner of Cantina Carnitas
UP CLOSE: Chris Cheah, owner of Chicken George
UP CLOSE: Simmy and Jhai Dhillon, owners of Rice and Spice
UP CLOSE: Adam Howard, organiser BackToSchoolival
UP CLOSE: Hitchin's inspirational Black Lives Matter movement
UP CLOSE: RuPaul revolutionised positive perception of drag among mainstream says north Herts' Magenta
UP CLOSE: The brilliant Keith Jones - master butcher and master crooner
UP CLOSE: Freddy and Em, landlord and landlady of The Half Moon pub
UP CLOSE: Bim Afolami, Hitchin MP on racism, NHS, Brexit, lockdown, welfare, Marcus Rashford, Kier Starmer and much more
UP CLOSE: Fabio Vincenti, owner of Fabio's Gelato
UP CLOSE: Danny Pearson, Beano comic writer
UP CLOSE:Hitchin Squirrel Rescue
UP CLOSE: Tradee On Demand - the brilliant new app dubbed 'Uber for property maintenance'
UP CLOSE: Flip Connect and Hitchin Town - The Perfect Match
UP CLOSE: Introducing Wellington Evans - Hitchin's newest estate agents
......................
If you or your business or organisation would like to be featured in a future UP CLOSE please email [email protected] or tweet us @HitchinNubNews