Stevenage FC: From rock bottom to top of the table - how charismatic Steve Evans turned struggling Boro into League Two leaders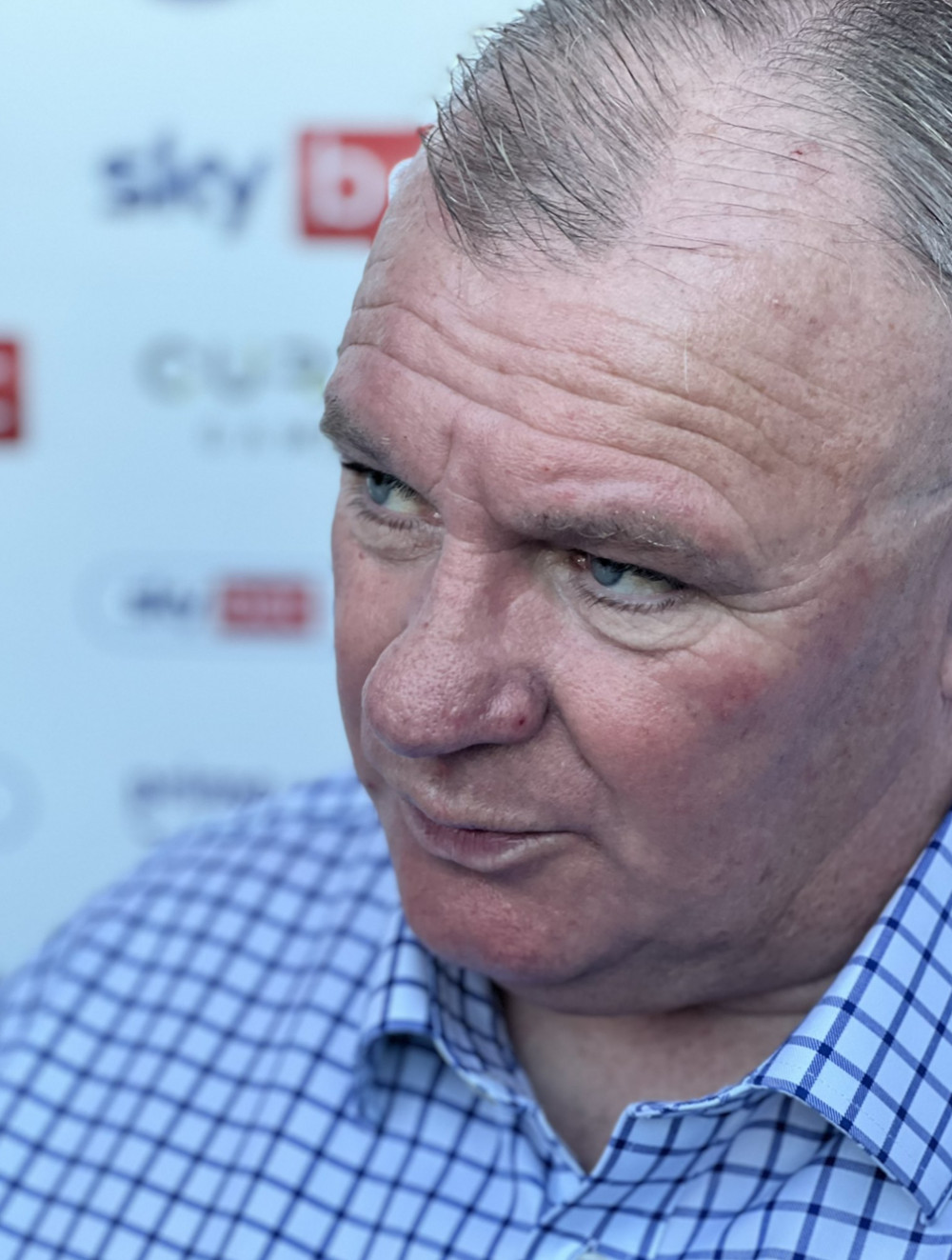 Steve Evans has guided Stevenage FC from top to bottom in six months. CREDIT: @laythy29
This weekend six months ago, Stevenage were bottom of League Two and careering towards relegation into the backwaters of non-league football.
Fast forward half a year and Steve Evans side eased to the top of the table after comprehensively beating Swindon Town 2-0 at Broadhall Way on Saturday.
A brace by the impressive Jordan Roberts, allied with his relentless work ethic - along with the whole team - saw the Lamex outfit leapfrog early pacesetters Leyton Orient to sit proudly at the head of the division.
How did this remarkable turnaround happen?
By the spring of this year, sorry Boro had already sacked two managers - the redoubtable Alex Revell and the underwhelming Paul Tisdale.
Evans had just taken over the listing North Herts club, and promptly lost his first game in charge, a 2-1 defeat at Exeter City.
His initial home game a week later saw Boro lose 1-0 to Oldham Athletic. Yet despite the loss to John Sheridan's Latics over Easter, there was enough promise in the display to give the canny Evans hope.
Speaking to Nub News following his side's buoyant 2-0 victory over Swindon Town to move to the top of the fourth tier, Evans recalled his early days at the club.
"There's not many times I get home after a game and want to study a defeat on video," said Evans, adding: "But I did for that Oldham match.
"Even their boss [John Sheridan] came into my office afterwards and said: 'You should have beat us by seven or eight.
"So, I went away that night thinking if we could reproduce that we would have a very good chance of staying up. So we got the group together and asked them to believe that we might have a chance of survival.
"We instilled that belief in them."
The Great Escape begins
Evans Boro went to Colchester the very next weekend and came away with a sterling 2-0 victory, to spark a run of 10 points from four games, including a 1-0 victory over Rochdale on Good Friday, with the winner coming from old warhorse and then captain Scott Cuthbert.
A hard-fought point at an already relegated Scunthorpe side, proved important, against a newly-liberated team finally freed from the pressure of failing to salvage league football after 77 years.
The impressive end-of-season form culminated in an entertaining 4-2 victory over Salford City at the Lamex in the final game of a difficult campaign, as Boro ended the year in the heady heights of 18th spot.
Ironically, Evans Stevenage finished a full nine points clear of Oldham, who were relegated along with the Iron, after barely picking up a point following their 1-0 win at the Lamex.
Yet Evans refused to rest on his laurels.
He already had his sights set on boosting his squad over the summer. Not least by picking up influential defender Carl Piergianni from the Latics.
Evans makes tough decisions
Evans also proved he could be ruthless. He made the decision to discard his club's respected captain Scott Cuthbert. Who at the age of 35 was deemed not to feature in the bosses long-term project.
Evans continued his rebuilding plans and overhauling the squad, which included bringing in former Hitchin Town defender Kane Smith and Danny Rose from Northampton.
With his focus now on the campaign ahead, Evans made his big summer decision to jettison the popular Cuthbert.
Yet, the Boro boss still had time to be fulsome in his praise of ageing warrior and former Celtic youth, Cuthbert, saying: "We had hard decisions to make over the summer. Scotty was one of them. I'd pick him everyday of the week, he's got a heart the size of Big Ben.
"But we had to go with our [new] identity and our type of players."
The type of players Evans required were those that would relentlessly press and harry their opponents from start to finish. All energy, all action.
The proof came during August and September that saw late winners - or equalisers - in six matches. With his side's new-found power, intensity and stamina levels helping pull back games from the dead to land vital points - and unexpected victories.
In total, Evans signed 12 players including David Amoo during the summer transfer window - all for a relative pittance, certainly compared to some of the budgets other teams had across the division.
New arrivals
"The chairman was well aware of the list of players that I wanted to attract to the club," explains Evans.
"I knew if I could get as many of the players I wanted as possible we could have a chance.
"I didn't get all of them, but we got a lot of them - and many times our chairman [Phil Wallace] stepped up and went above and beyond what was needed to attract the player.
"Not necessarily in terms of earnings, but it would sometimes mean help with location, help with hotels [in helping new players settling into a new environment], but every time I went to the chairman and asked the question Phil Wallace said 'yes'."
Former Gillingham boss Evans added mischievously:"It helps, of course, certainly after three and a half years of being told 'no' - isn't that nice?"
Glint in his eye, at the recollection of regularly being at loggerheads with the chairman of the Gills, Paul Scally, the engaging Scot introduces a non-footballing analogy to illuminate the memory of failing to land transfer targets during his time in Kent.
"It was like when I ask my wife for a kiss. Sometimes she says 'yes'," jokes Evans. "But sometimes we go three or four weeks without a kiss. And I have to kiss the mirror instead."
While it is difficult to envisage Evans and Scully ever getting that close - intriguingly Stevenage visit the Priestfiueld Stadium next weekend - Evans is loving life in North Herts.
Not least because his side have picked up four wins in the last five league games, and five in six.
"In all seriousness, we're pleased we won today. The boys have had a great week," Evans opines.
"There's no point dealing with Swindon if we can't deal with the Priestfield next weekend. That will be a tough place to go."
With Evans side playing so well, the spicy clash against his former club could be a blockbuster.
Yet, whatever happens, the leap from rock bottom to top spot is one that Evans is refusing to get carried away with.
"All I ask of my players is that they work hard. Of course I'll be looking at the league table tonight - but there's an awful long way to go yet."
With such a humble attitude, no wonder you suspect the larger-than-life Evans is only just getting started in his Stevenage project.
FOLLOW NUB NEWS HERE FOR OUR COVERAGE OF STEVENAGE FC
New hitchin Jobs Section Launched!!
Vacancies updated hourly!!
Click here: hitchin jobs