Monday Night Football: Hitchin Town 2-2 Coalville - honours even in action-packed Top Field draw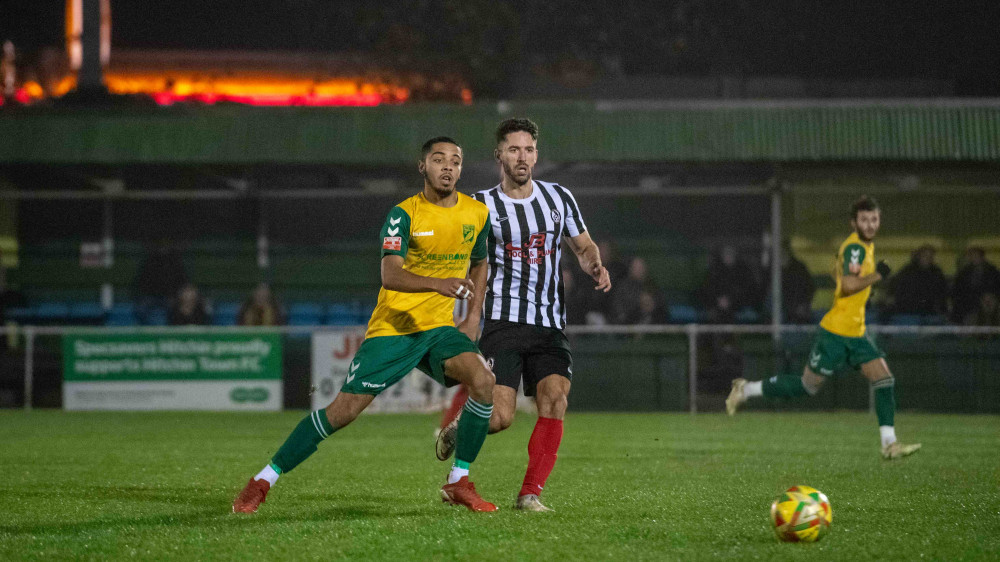 Monday Night Football: Hitchin Town 2-2 Coalville: Report by Pipeman, photographs by Peter Else
Monday Night Football: Hitchin Town 2-2 Coalville: Report by Pipeman, photographs by Peter Else
'I don't like Mondays' was the lyric I heard in the clubhouse as I entered after this somewhat dramatic game that involved a disallowed goal, a penalty, a host of bookings and after the game a dismissal for the Coalville manager, who, like many, felt that this was not the referee's most memorable performance.
When criticism comes from both sets of supporters as well as club officials, then it might be fair to say that some decisions might have been unreasonable.
Coalville came to Top Field with the memory of their exploits in the FA Cup still fresh in our minds, notably the away win at Notts County.
On many occasions I have heard from supporters of different clubs that Coalville, despite their relatively modest league position (albeit with games in hand), are the best team in the division. I would not argue too strongly against that, since they soon showed that they can attack with pace, defend with anticipation and regain possession in the blink of an eye. Their strike rate is also prolific.
It did occur to me that they might go all out on this one as they needed a late equaliser in their last game at Stratford Town, scored by Eliot Putman, who was also on the score sheet tonight. On the other hand, Hitchin notched up a fine win over Alvechurch on Saturday and the Worcestershire side are tipped for possible promotion.
So, having taken them both on, four points from six represents a satisfactory haul for the improving Canaries. The key factors have been character and determination, especially when under concerted pressure. It is, of course, noted that they are beginning to find the net at Top Field as well.
The team changes were interesting as Stephen Gleeson returned from suspension, with Bradley Bell in the number ten shirt, and there was a start for Kye Tearle, who was a late substitute in the Alvechurch game.
The game began in gentle rain, real drear November weather, which, but for a vital delay from Diogo Freitas-Gouveia, Hitchin might have had an 'Alvechurch' start, and by that I mean the joy of a really early goal. DFG was in the box and we expected him to shoot, but he tried to lay off a pass that was seized upon and the chance went.
It was almost as if the Coalville players were saying collectively, well, you have had your chance, and then they seemed to attack, blurring movement with pace and we were not entirely surprised that one of these electric moves resulted in the opening goal.
It came from really swift movement along the left flank and they exploited some defensive uncertainty. It came too, after a Hitchin supporter had remarked on how prolific Coalville were and hey presto Timothy Berridge whacked the ball into the net with unnecessary force.
Seven minutes it had taken and I did think that the next eighty-three might prove to be rather harrowing. Well, in a way it was, but what transpired was another gritty performance from Hitchin who came back twice from behind, shrugging off the reasonable belief that the second Coalville goal came from a penalty that showed the referee completely in error. I will add here that Coalville did deserve a 'legitimate' penalty later on and this was dismissed by the referee.
Such moments do not make for a harmonious conclusion to an already explosive match.
Good work from Alex Dean presented Thomas McGlinchy with a chance, and his decent shot was saved by the Sponsors' man of the match, Charlie Horlock, whose performance drew praise from Coalville supporters as well as the home contingent. There was a fine run in possession from Kye Tearle that earned a free kick and DFG's cross saw Hay flick just wide. This was just one of a number of chances created by Hitchin, who really had to work at it since Coalville were adept and regaining possession and starting a scamper towards the goal.
Berridge soon had another chance and again Horlock saved and another cross from DFG was defended. The Magpies made their defending look easy, but it was very much due to their ability to anticipate, and, without hesitation, start another attack. Berridge thought he had added a second when once again Horlock managed a magnificent save from the bullet of a header.
Both Hay and Tearle fired wide, the latter from an audacious range. Hitchin won an important free-kick just outside the area, following a foul on Jack Snelus, but only after the referee consulted an assistant. Coalville were imaginative an optimistic about the real length of ten yards, but it was an anti-climax when DFG fired wide.
Then McGlinchy after displaying some real artistry in the penalty box then blazed his shot unaccountably wide, when he really ought to have scored.
Coalville still pushed as half-time loomed and a late free kick was just tipped over the bar by Horlock. It was just one-nil to the Magpies at half-time and it could have been more, given the fluency of their play and the seemingly effortless creation of goal attempts. But we also remembered that Hitchin were there or thereabouts and had come close to scoring.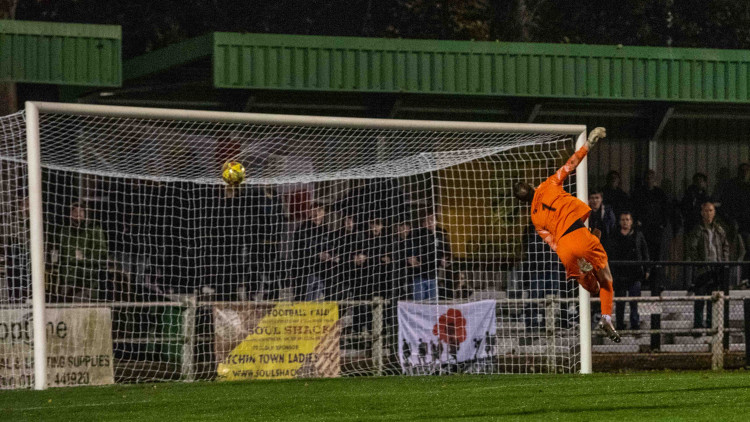 Monday Night Football: Hitchin Town 2-2 Coalville: Report by Pipeman, photographs by Peter Else
It had been a good half, with some splendid football played, and it was a pity that we had a below average attendance as this was to be as exciting as the Alvechurch game, but a lot more controversial, and the game did suffer from one or two unsavoury challenges, with a couple of incidents that produced snarling recriminations.
There was an impressive run in possession from Putman, thwarted by Lewis Barker who took a knock. Bradley Bell had a similar run, but his finish was rather meek, offering no serious challenge to Paul White. Then once again Horlock saved from a notable McGlinchy strike, and Robertson put the ball wide from close range – right near the foot of the post.
Hitchin were under pressure but there was a purposeful move when Bell sent in a wonderful cross that set up Diogo Freitas-Gouveia, our DFG, to score for the second game in succession and almost from the same spot. It might be deemed a little against the run of play but after fifty-four minutes the Canaries were level. The Magpie, both stunned and indignant, soon had a free kick in one of those areas that invite a 'worldy' but on this occasion it was deflected by Barker for a corner, then another, and all hands were manning the pumps.
Gleeson, who had been cautioned for the heinous crime of walking away with the ball a few yards after a free kick had been awarded, atoned for his 'sin' with some gritty defending in the penalty area. Syme conceded another corner and this brought a Barnes Wallis bouncing bomb of a header that cleared the bar. 'Damn'said a Coalville fan.
Then there was the incident of an Hitchin goal disallowed for offside, appealed against volubly, and the Hitchin manager received a reprimand for his disagreement. But for a moment it was wonderful to think that the lads had come from behind and actually taken the lead. Oh well.
Syme had defended a cross but an infringement was spotted. No, I will rephrase that. Ashley Chambers, manfully in possession and shrugging off the challenges clearly slipped on the greasy pitch, and astonishingly, the referee awarded a penalty. It will be seen as home bias, but some Coalville supporters near me agreed that it had been a slip and their players seemed to know they had got away with one here.
Putman obliged with a perfect penalty and with seventy-four minutes played and in a trice it increased Hitchin's workload. Bell was fouled in an attack and from the free-kick Syme had a rather shocking miss from an optimum position that was painful to watch given the time remaining.
Then there was a real miscarriage of justice when Magpies' substitute Tendai Chitiza was fouled in the area, bringing justified appeals for a penalty that was dismissed instantly. Was this atonement for the one that should not have been given? We had ten minutes to go when Hitchin broke forward with the improving Rio Dasilva sending in a low cross from the left. Bell met this with a sumptuous volley from twenty yards as he ran in from the right. We all thought it was going to clear the bar but it dipped and White could not reach it. What an equaliser.
The last minutes were volatile and short of pretty football, and in total there were three cautions for Hitchin, and four for the visitors, not counting the manager, Adam Stevens receiving first a yellow and then a red card after the whistle for a full-throated appeal in industrial language towards the referee, who might feel thankful that he did not award a penalty to Hitchin in stoppage time. No incident arose to make that real, but it was clear that there was a good deal of dissatisfaction shown towards the man in the middle, who might have inflamed matters if he had sent off Luke Shaw instead on just issuing a caution.
Coalville had no God given right to maximum points but the dropping of two of them means they have ground to make up on the leaders. A tighter grip on self-discipline from some players might well have kept this game from ending with a sour taste. The football had been good, and the game was exciting with Hitchin again giving a gutsy, never say die team performance. They deserved the draw and can feel happy that in these last two games against quality opposition they have matched their opponents for desire and positive attitude.
A glance at the table shows the Canaries in a solid mid-table position, and on Saturday there is the short trip to Royston and do not forget the 1330 kick-off.
So, with that BoomTown Rats song of 'I Don't Like Mondays' in my head I started for home thinking that this was a Monday Coalville might agree with the lyric. What a match and what a fine result for the Canaries, despite the controversial decisions.
HITCHIN TOWN
Charlie Horlock, captain, sponsors' man of the match, Kye Tearle, cautioned, Stan Georgiou, Stephen Gleeson, cautioned, Lewis Barker, cautioned, (Malaki Black), Toby Syme, (Josh Coldicott-Stevens), Diogo Freitas-Gouveia, GOAL, 54 MINUTES, Rio Dasilva, Ashley Hay, Bradley Bell, GOAL, 80 MINUTES, Jack Snelus. Substitutes not used- Stephen Cawley, Callum Kane and Delsin Ackom.
COALVILLE TOWN
Paul White, Alex Dean, cautioned, Eliot Putman, PENALTY GOAL, 74 MINUTES, Jake Eggleton, Chris Robertson, captain, Andi Thanoj, Luke Shaw, cautioned, George Wilson, cautioned, (Herve Pepe-Ngoma), Tim Berridge, Ashley Chambers, cautioned. GOAL, 7 MINUTES, (Tendai Chitiza). Substitutes not used- Billy Kee, Jake Laban and Connor Smith.
Referee, Mr A Cresswell, assisted by Mr T Rartherham Mr T Cartwright.
Attendance 293
REPORT BY PIPEMAN