Up Close: Q&A with courageous Ukraine refugee Alina Kurylova who now lives in Hitchin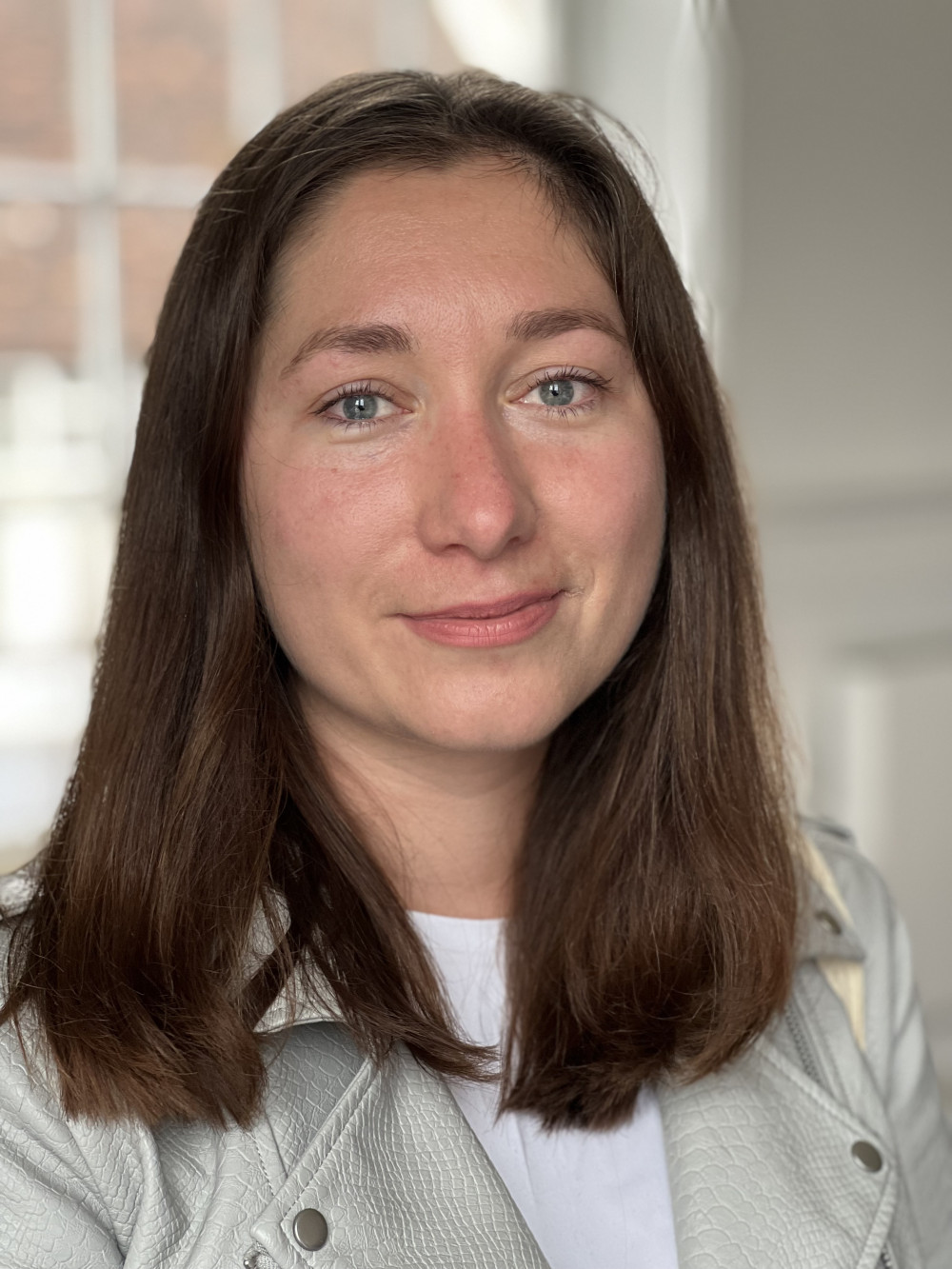 The inspirational Alina Kurylova. CREDIT: Hitchin Nub News
Hitchin played host to a drop-in session for Ukrainian refugees on Wednesday morning - and Hitchin Nub News was there to cover the extraordinary even that you can read about here
Among the people we met at the event at the Sun Hotel this week was the inspirational Alina Kurylova.
Before the war started, the 31-year-old animal-lover was a translator and copywriter back in her home town of Sumy in north-eastern Ukraine, in a region that borders Russia.
Read on for courageous Alina's amazing story in our latest Nub News Up Close feature.
.........
HITCHIN NUB NEWS: Thank you for your time and for agreeing to be interviewed Alina. You're here at a drop-in event for Ukrainian refugees hosted by Hitchin MP Bim Afolami. How important is such an event do you believe?
Alina Kurylova: I think it is very important for us because every Ukrainian here is already looking for a job. We have wonderful accommodation in Hitchin, we have wonderful home, but we still need some money. For example, in my case I need some money because I want to send to my family in Ukraine – as well as give some donations to army in Ukraine. We need money for heavy weapons. I also want to send money to help my home for animals. So, I know how much it is important to earn some money and to share it.
I am from Sumy. It is in the north-eastern part of Ukraine. It borders on Russia. It is near Kiev region and Kharkiv region. We are quite near the top of the country. I was a translator from English to Russian and Ukrainian. A copywriter too, so maybe we are a little bit colleagues…
HITCHIN NUB NEWS: Absolutely. So, if anyone reading this article has any translation or copyrighting work for Alina please do get in touch.
Alina Kurylova: Yes, that would be very good!
HITCHIN NUB NEWS: Forgive me for asking but how do you reflect on February 24, 2022 [the date of the Russian invasion of Ukraine]. How did your life change?
Alina Kurylova: No-one from our friends, from our family – no-one saw this would happen. We were so sure it was impossible. That it wouldn't happen. And I remember the morning of the twenty fourth of February. Someone called us and said: 'Do you know the war just started?' Because we don't have TV at home, we didn't watch too much news, mainly internet. And we thought: 'Wow, just wow – it's impossible.'
I started to collect some baggage because there were already some Russian military going through our city into Kiev – and some Russian military already went into shops in our town and robbed them for some products.
I didn't know what to do, what to expect. It was such a shock. I started looking for train tickets to get to the western parts of Ukraine as it was almost impossible to get there by car. Many people started to rush to the western part [of Ukraine] to get to Europe. But there were no train tickets. So we met with some of our friends and decided to stay at home. We decided it was the safest place for us.
And then the missile attacks started and we tried to stay safe.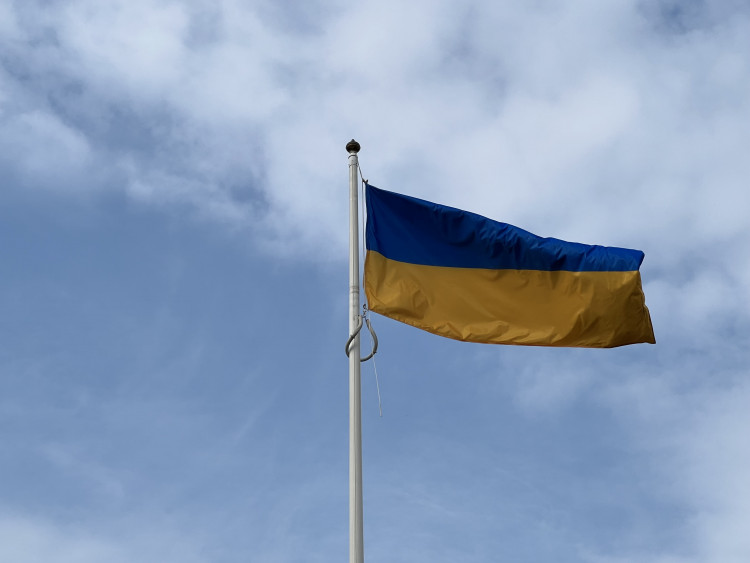 The Ukraine flag flying proudly over Hitchin Market Place this spring. CREDIT: @HitchinNubNews
HITCHIN NUB NEWS: I have to ask: How did you get to the UK? How did you get to Hitchin?
Alina Kurylova: It is a long story - I hope you have enough time!
HITCHIN NUB NEWS: Of course, don't worry, take as long as you need…
Alina Kurylova: I am a member of our local Baptist church so I was helping put some food for people when there was nothing left on the shelves. And I am also a volunteer at my local dogs organisation or shelter.
We started talking to some similar organisations from Poland that would help adopt some of our dogs [to keep the dogs safe during the war]. I agreed to go with the driver to bring 15 dogs to Lyviv. It was still dangerous and some checkpoints were still Russian military with others Russian military on the way. But I understood that it was very important to continue to help the dogs and to try and help save their lives because we didn't know what was going to happen – with constant bombing all the time.
This was my first trip and it took two days. To tell the truth you can get from Sumy in less than a day. But because of the Russian military checkpoints and the bombing of cities it was very dangerous.
HITCHIN NUB NEWS: How did you feel during that journey?
Alina Kurylova: I felt fine. I was praying all the time. Yes, it was dangerous and I felt afraid. Sometimes there were no cars on roads and if something bad would happen you wouldn't find any help. We saw soliders in the forest and we didn't know if they were our people or if they were Russian military.
Then we came back to Sumy. I continued to help and continued volunteering [with the war effort and saving dogs]. This was around March time. Everything was continuing with the shelling and the bombing. Then I made one more trip to Lyviv. But then I began having some panic attacks because you know when you hear a plane flying you cannot be sure it is our plane. It must be Russian. And for sure it has bombs. And you don't know if the bombs will fall on your house or your family or your friends, or on someone else's house. One family died near to us this way. Our city is not so big.
Then I asked some animal volunteers in Poland if they could get me and some animals to Poland. I asked my husband if he didn't mind that I would get some rest in Poland because the war is difficult for my health.
So, first we looked for organisations that helped my animals. And we found one in the Czech Republic.
So, I went to the Czech Republic and I have a friend there and she hosted me for a few weeks. Then I went back to Ukraine to help [the war effort] and I met my husband in Lutsk in northwestern Ukraine. because I haven't seen him for a month. It was very hard for me.
So then I went from Lutsk with the animals to the Polish border and gave the animals to animal welfare organisations – and then I was stuck on the border for 24 hours…
HITCHIN NUB NEWS: What was that like can I ask…
Alina Kurylova: There were lots of cars from Europe. Some military cars necessary for our army. I then went back to Ludz and spent with my husband a few weeks. It was then we started to look for a host family for me in the UK. My husband is a volunteer [in the war effort]. Because I can speak English I can go to the UK and I can continue helping.
My family and some volunteering organisations supported me and my husband he supported me too…[chokes back emotion]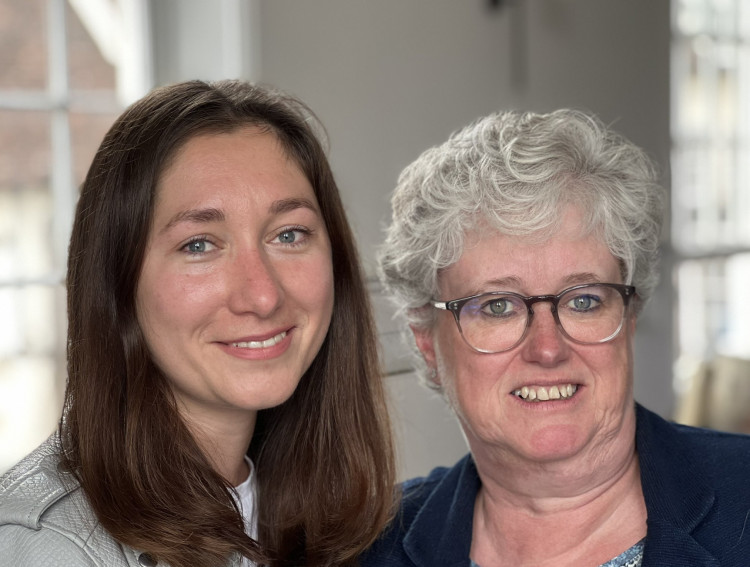 Alina Kurylova pictured with her Hitchin host Debbie Stalkarrt. CREDIT: @HitchinNubNews
HITCHIN NUB NEWS: You are incredibly brave, please take your time…
Alina Kurylova: You know somehow God provided everything in my life. I found groups on Facebook for groups sponsoring Ukrainian refugees. I just wrote a post about myself. I really wrote a lot of information about myself! A lot of people from the UK wrote to me but I didn't feel like it was a match. So I then decided to apply for Opora and so Debbie [Stalkarrt] is now my family.
Orginally she wrote me emails and we had our first chat. And I felt it was a match but we decided to have one more chat on WhatsApp with this nice couple from Hitchin. They said: "Alina, of course, we don't want to push you but we would love you to come to us in Hitchin.' And then I also said: 'I would also like to come to you.'
HITCHIN NUB NEWS: That's wonderful. Can I ask how you have found Hitchin, how you have found England?
Alina Kurylova: It is very lovely. The best thing I can say about living in Hitchin is that when you go out – everyone knows everyone! You always meet someone you already know! Everyone knows everyone. There are common friends. There is such a strong sense of community. Which is so important.
And you know there are so many interesting events every day. I went to this information centre in Hitchin and you can find all these booklets containing all the information you need to know about things that are going on. I just need to find time to visit all these wonderful events!
HITCHIN NUB NEWS: One final question. We are on day 124 now of the Russian invasion of Ukraine. What would you say to people who might be thinking: 'This will go on for years, why should we be interested any more…? Because it is vitally important to keep Ukraine in the public eye isn't it…
Alina Kurylova: Oh yes. It is such a difficult question for me this week because of the Russian missile attacks on Kremenchuck shopping centre...
Because of continuous shelling in my region too that is affecting my family and my relatives. What I understand is that even if I came to a safe place I need to continue supporting my country. It is important. Of course it is very nice to travel a little bit, to have some rest and relaxation but then we don't need to forget there is a war going on in Ukraine. It is very important to remember that.
HITCHIN NUB NEWS: Absolutely. What has struck me talking to a few people from Ukraine over the last few months and of course on the news on a daily basis - is that there is a real pride in your country and a real inner strength. It is incredible to see. There is genuine courage from everyone – from your President and from everyone else. The world has been impressed by such strength of character.
Alina Kurylova: Yes. I think maybe Ukrainians are like this because our roots and our backgrounds is brave Cossacks and all these historical events
Do you know every hundred years we have some war with Russia. It is in our history that we always protect our freedom which is in our blood.
HITCHIN NUB NEWS: You must be so proud. Of yourself, your family and your fellow Ukrainians.
Alina Kurylova: I am so proud of my family. Especially of my mum. She says to me: I cannot leave my husband and my [Alina's] brother [who is 19 and can't travel].
I say to her: Mum, you must go to the safe place. But you know, she has been working since the first day of the war as a shop assistant – people needed food when there was no food on the shelves. And she stayed to help, to make sure there was food for everyone on the shelves. She was not afraid of anything I was more afraid for her, living in Hitchin in a peaceful place.
My mum, she says: Oh Alina, everything is fine. We will stay alive – because we have to be free.
HITCHIN NUB NEWS: Amazing. Thank you so much for your time, it has been humbling to interview you.
Alina Kurylova: Thank you. And can I just say thank you so much to people from Hitchin, to people from whole of UK for all your support.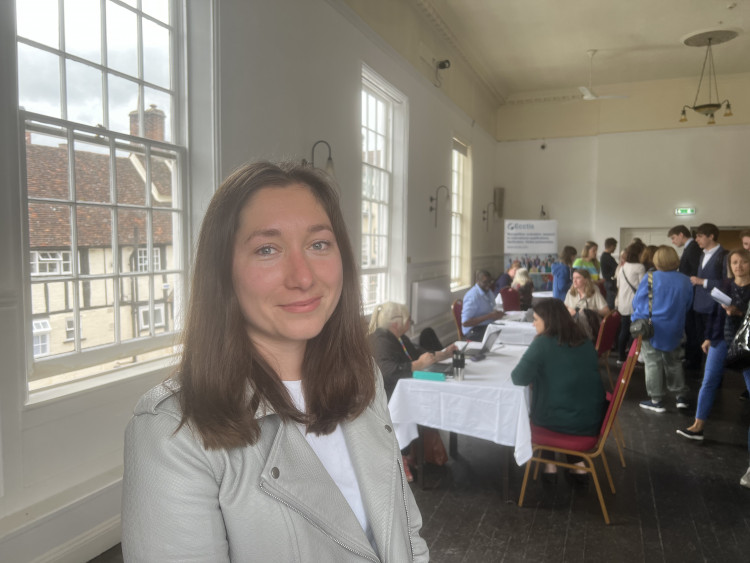 Alina Kurylova pictured at the drop-in session for guests from Ukraine who have settled in Hitchin. CREDIT: @HitchinNubNews
.............
A FEW RELATED NUB NEWS UKRAINE STORIES
Hitchin Nub News Special Report and Gallery: Drop-in day hosted by Bim Afolami MP for Ukraine refugees
Hitchin: St Mary's Church open for people to pray for peace in Ukraine
As Klitschko brothers defend Ukraine Hitchin boxer Tom Ansell hails former World Champions for exemplary courage
Hitchin MP Bim Afolami: Russian invasion of Ukraine is an attack on democracy
Ukraine: Read full transcript of Hitchin MP Bim Afolami's speech in House of Commons on Russia sanctions
Hitchin: Let's help Ukraine - let's come together as a community once again to help those in need say supply drop organisers
Ukraine flag flies proudly in Hitchin Market Place in solidarity with its brave people
We Stand With Ukraine says Hitchin pub boss after Bucket on a Bar inspires acts of generosity
Hitchin: Judi Billing reflects on the dreadful war in Ukraine
See Hitchin Nub News for coverage of Sun Hotel drop-in event - including moving story of a Ukrainian refugee and exclusive interview Bim Afolami MP
Hitchin: A Churchwarden Writes - £2,300 raised for Ukraine
...........
PREVIOUS HITCHIN NUB NEWS UP CLOSE FEATURES
Up Close: You're never too old for body art - but think before you ink says talented Ela Lawrynowicz owner of acclaimed Femnink Tattoos
Up Close with the brilliant Willow Foundation
Up Close: Lockdown and challenging life events tested me - but now I have Penny says Kate Peto owner of successful VW campervan wedding company
Up Close: Lyndhurst Financial Management's Joe Pritchard - A Story of Success
Up Close: Stevenage FC boss Steve Evans on loving life at Boro, Sir Alex Ferguson, Pep Guardiola and so much more
Up Close: Bowled Over - Bowmans and Ickleford CC are the perfect match
Up Close: Angels' Share owners Harpreet and Preeti's exciting new plans for Lower Stondon's Bird in Hand pub
UP CLOSE: How backpacking trip led to Lauren and Toby creating acclaimed Bite Around the World - that has now catered for Nike, Google and Just Eat
UP CLOSE: Amanda Reed lollipop lady – our town's true unsung Hitchin hero
UP CLOSE EXCLUSIVE interview with Sir Kier Starmer
UP CLOSE: Matt Bean, owner of Cantina Carnitas
UP CLOSE: Chris Cheah, owner of Chicken George
UP CLOSE: Simmy and Jhai Dhillon, owners of Rice and Spice
UP CLOSE: Adam Howard, organiser BackToSchoolival
UP CLOSE: Hitchin's inspirational Black Lives Matter movement
UP CLOSE: RuPaul revolutionised positive perception of drag among mainstream says north Herts' Magenta
UP CLOSE: The brilliant Keith Jones - master butcher and master crooner
UP CLOSE: Freddy and Em, landlord and landlady of The Half Moon pub
UP CLOSE: Bim Afolami, Hitchin MP on racism, NHS, Brexit, lockdown, welfare, Marcus Rashford, Kier Starmer and much more
UP CLOSE: Fabio Vincenti, owner of Fabio's Gelato
UP CLOSE: Danny Pearson, Beano comic writer
UP CLOSE:Hitchin Squirrel Rescue
UP CLOSE: Tradee On Demand - the brilliant new app dubbed 'Uber for property maintenance'